Blue Month Sale 2020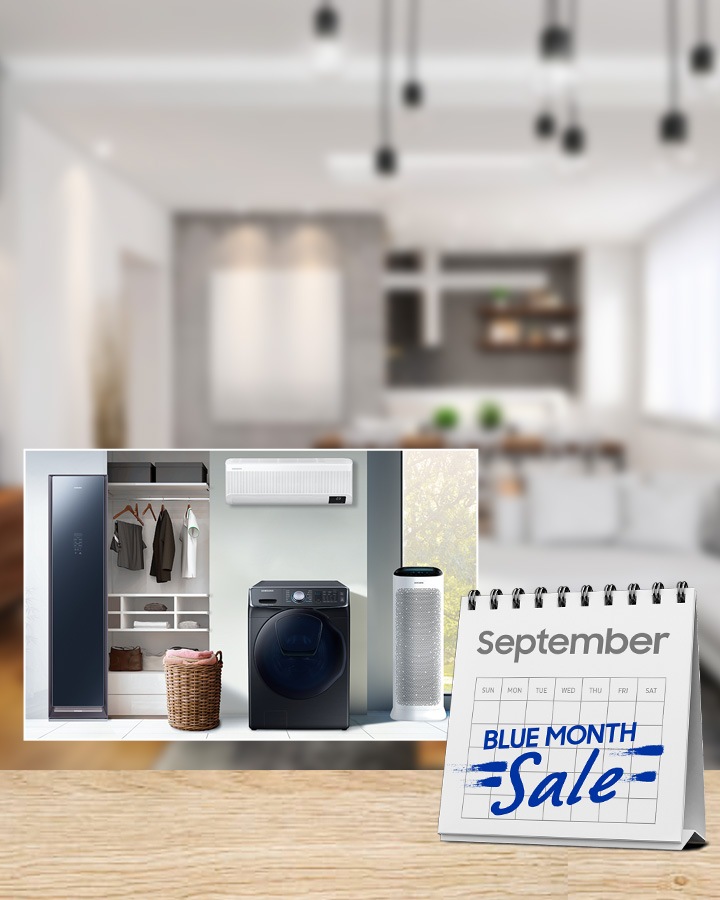 Stay safe with clean clothes and a sanitized home
Valid from September 1 - 30, 2020
Health Offer
*See full promo mechanics below.
PROMO MECHANICS
1.
Promo Duration: September 1-30, 2020
2.
Participating Dealers: All Samsung DA Retailer and e-Retailer Partners
3.
Token may be used for any item in the store, or the main unit.
4.
Gray units/parallel imported Samsung products are not eligible for this promotion.
5.
The promotion offers are not applicable to B2B or Institutional transactions.
6.
Promotion is valid for purchases made online and offline. Online purchases cover purchases on participating dealers' online shopping sites (retailer.com) and pure player platforms (dealer stores on Lazada and Shopee), but not social media accounts. Offline purchases cover purchases made from participating Samsung Authorized Dealers only.
7.
This promotion is non-customizable and will only be implemented as a bundle.
8.
This promotion is on top of National Promotion, and any other online promotions currently implemented (Free Delivery Subsidy).
9.
Dealers will implement the promo based on the aforementioned promo mechanics.
10.
Dealer Claim Mechanics for National Promo will still be applied based on the previously presented external memo for National Promotion September-October 2020 (Flexideals).

AIR CONDITIONER
MODEL
SRP
NET CASH
FREEBIE
Wind Free Plus
AR10TYCAGWKNTC
₱49,995
₱43,995
Steam Microwave Oven
MS28J5255UB/TC
Wind Free Plus
AR13TYCAGWKNTC
₱53,995
₱47,515
Steam Microwave Oven
MS28J5255UB/TC
Wind Free Plus
AR18TYCAGWKNTC
₱64,995
₱57,195
Steam Microwave Oven
MS28J5255UB/TC
Wind Free Plus
AR24TYCAGWKNTC
₱73,995
₱65,115
Steam Microwave Oven
MS28J5255UB/TC

AIR PURIFIER
MODEL
SRP
NET CASH
FREEBIE
90sqm Air Purifier
AX90T7080WD/TC
₱45,995
₱36,795
Steam Microwave Oven
MS28J5255UB/TC
60sqm Air Purifier
AX60T5080WD/TC
₱30,995
₱24,795
Galaxy M11
SM-M115FZKDXTC

WASHER / DRYER
MODEL
SRP
NET CASH
FREEBIE
Frontload Combo
WD17N7510KV/TC
₱84,995
₱67,995
Galaxy A21s
SM-A217FZKFXTC
Frontload Combo
WD10K6410OX/TC
₱64,995
₱51,995
Galaxy A11
SM-A115FZKGXTC
Frontload Washer
WW10K6410QX/TC
₱54,995
₱43,995
Steam Microwave Oven
MS28J5255UB/TC
Heatpump Dryer
DV90M5200QW/TC
₱54,995
₱43,995
Solo Microwave Oven
MS23K3513AW/TC

AIRDRESSER
MODEL
SRP
NET CASH
FREEBIE
Fabric Care Machine
DF60R8600CG/TC
₱129,995
₱103,995
43" CRYSTAL UHD TV (2020)
UA43TU7000GXXP
Claiming Mechanics for Samsung Freebie
1.
Customers must purchase from our participating E-Retailers and or authorized Dealer Retail Stores.
2.
When customer purchases a participating Digital Appliance during the promo period, customer is eligible to claim a TV/Mobile/Digital Appliance Bundle via RMS.
3.
Only upon delivery of the unit where the customer can register on Samsung Redemption (RMS) website to claim of the bundle.
4.
Customer must sign up on the RMS Website.
5.
Customer must give the ff. details to RMS:

| | |
| --- | --- |
| a. | Complete Name/ Company Name (for Corporate Purchases) |
| b. | Model Code of Appliance |
| c. | Serial Number of Appliance |
| d. | Date of Purchase of Appliance |
| e. | E-retailer/Retailer Purchased from: |

6.
Customer must upload the ff. documents on the RMS Form:

| | |
| --- | --- |
| a. | Photo of O.R. with Compete Name of Customer |
| b. | Screenshot of Confirmation of Purchase Online (If bought online) |
| c. | Photo of Serial Number |
| d. | Photo of Valid ID of Customer |

7.
Photo of Valid ID of Customer
8.
RMS Team to validate the information uploaded. Once validated, RMS will send an email to the customer for confirmation of Freebie.
9.
Redemption period for TV/Mobile/Digital Appliance Bundle will be until December 31, 2020.
Images are simulated for illustration purposes only.
DTI Fair Trade Permit No. FTEB-104288 Series of 2020.
Terms and Conditions apply.
Home essentials for the next normal
Get huge discounts up to 28% off, and enjoy premium Samsung freebies and bundles worth up to ₱80,000.
Get the in-store experience online!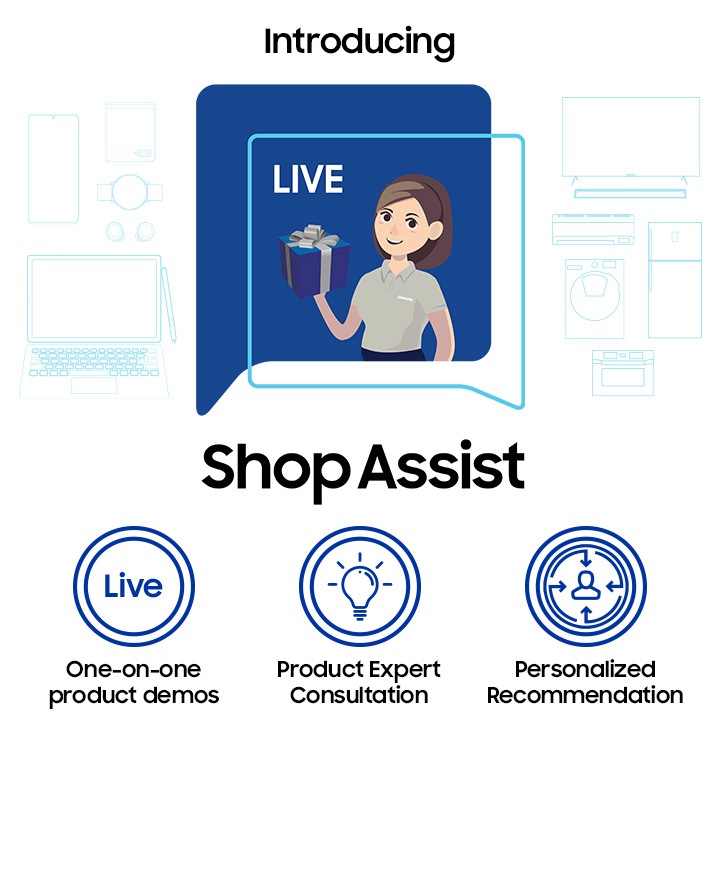 Request stock alerts
Opt into email alerts to find out when this item is back in stock and available to buy. Simply provide your email address and agree to the terms below.
We will email you when inventory is added.
Thank you.
Create your wishlist
Don't miss out on the products you love.
Sign in/Sign up now to access your wishlist on all your devices and get updates on great promotions.
Add to wishlist
Do you want to add this product to your wishlist?
Wishlist
This product has been added to your wishlist.
Oops. The product you are adding to your wish list is not available.
Remove item?
Are you sure you want to delete this option?
Estimate your installment plan
Installment Calculate
Installments are provided by Santander Consumer Bank S.A.