Join the Game Lab
with Gino Quillamor!
Valid from Apr 01. 2019 to Apr 15. 2019 Expired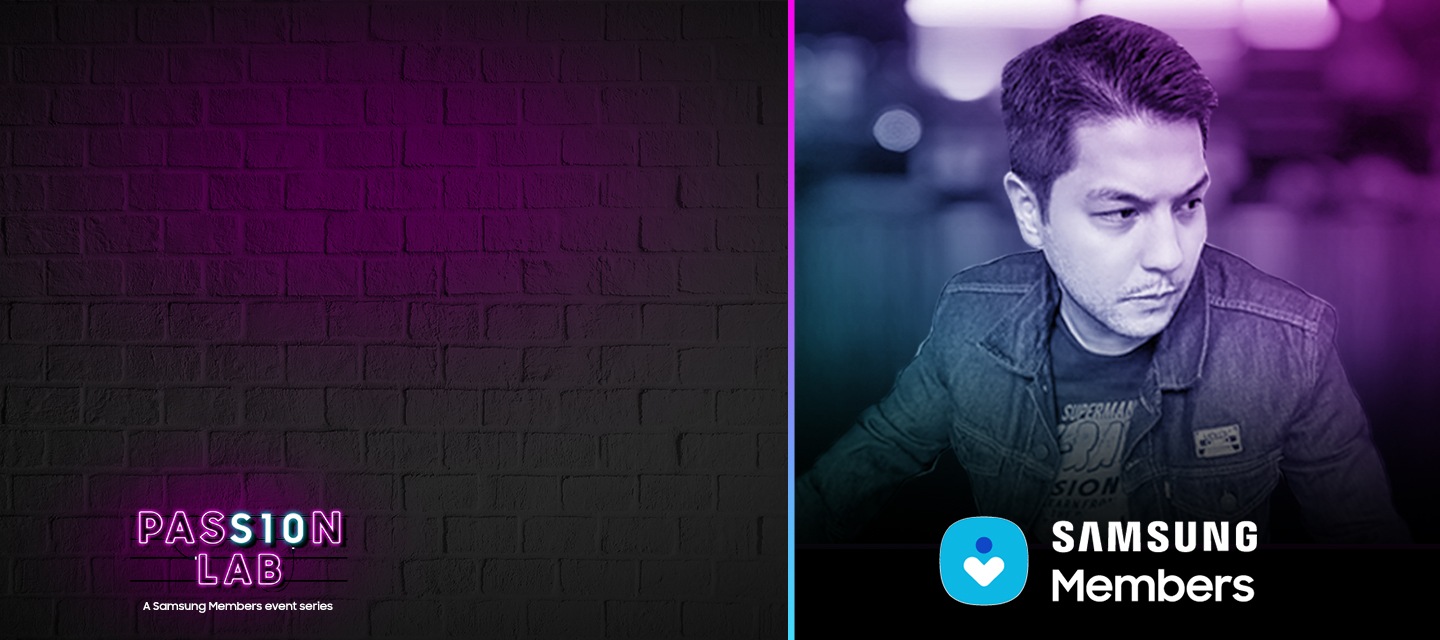 List of Winners:
Allen Arwin Culla
Beatriz Rica Alipio
Ben Ronald Godeloson
Camille Jane Del Rosario
Francis Raymund Fernandez
Hupert Chriss Manaligod
Joaquin Reyes
John Lester Ocampo
Lenny De Vera
Marjorie Galman
Ralph Theodore Urmeneta
Rommel Junio
| | |
| --- | --- |
| | All the winners must confirm their attendance (including their guest) until April 26, 2019 via the RSVP card visible on the Samsung Members app. |
•
Entry Submission: April 1-15, 2019
•
Draw: April 16, 2019
•
Screening: April 17-22, 2019
•
Announcement of Winners: April 23, 2019
•
RSVP: April 23-26, 2019
•
Event Schedule:

Maximized Gaming experience
with GINO QUILLAMOR
May 13, 2019 | 1:00 – 3:00PM
Clock In, BGC
| | |
| --- | --- |
| • | User must own the Samsung device used into entering the promo: Existing Samsung account name and name inputted into the promo form must be the same. |
| • | User must be 18 y/o and above. |
| • | Participating devices: Galaxy S10e | S10 | S10+, Note9, S9 | S9+, Note8, S8 | S8+, Note FE, S7 | S7 Edge |
1.
Promo is open only to owners of participating devices bought from Authorized dealers and channels in the Philippines nationwide.
2.
To participate in the raffle, users must download the Samsung Members app; and click on the promo banner on the Samsung Members home screen and benefits section; and register by completing the entry form.
3.
One Samsung account / device= 1 entry to 1 class
4.
User enters into the promo by submitting the following:

| | |
| --- | --- |
| • | Name (First name, Surname) |
| • | Birthday |
| • | Mobile phone number |
| • | E-mail address |
| • | Home Address |
| • | Answer the question: What kind of mobile games do you enjoy playing? |

5.
Submission forms entered via Samsung Members app during the promo duration will be entered into the e-raffle draw.
6.
As a condition of entry, users must give consent to receiving marketing communications. Users can unsubscribe at any time.
7.
Account should be set in public for verification of post by Samsung during day of draw on April 16, 2019
8.
12 winners with complete and valid entries will be selected through an e-raffle via random.org.
9.
Users can join in multiple classes however user can only attend 1 class.
10.
In the event that user wins a slot in 2 or more classes, he needs to choose 1 in the RSVP card.
11.
An electronic raffle draw will be performed at the Samsung Electronics Philippines Office at the 9th Floor Science Hub Tower 4, McKinley Hill, Taguig in the presence of a DTI Representative on April 16, 2019. Cut-off period of entries is on April 15 11:59 PM.
12.
Winners with incomplete entries or photo/ answer with inappropriate content or are grossly unrelated to the theme/ question will be invalidated and shall be subject to a re draw.
13.
The draw and Samsung's decision in relation this promo is final, and no correspondence will be entered into, including in the event of a dispute with concurrence of DTI.
14.
Event invite is non-transferable and cannot be converted to cash. Event invite is strictly not for sale.
| | |
| --- | --- |
| • | Winners will be notified via registered e-mail from Samsung Electronics Philippines after e-raffle draw. Winners will get a call from a Samsung Representative to confirm attendance. |
| • | 1 winner may bring 1 other person of legal age to the event. |
| • | An RSVP card will be set up on the Samsung Members app of the mobile device used for the promo to confirm participation and indicate details of his/her +1. |
| | |
| --- | --- |
| • | One (1) e-invite is equivalent to two (2) entries to the event. E-invite is only applicable for the Passion lab event series. |
| • | In the event that winner cannot go to the event, he/she may NOT pass it on to his/her guest. |
| • | All unconfirmed slots by April 26, 2019 5pm will be forfeited. |
| • | The winner shall shoulder all costs he/she may incur in going to and from the event (Bus Fares, Taxi Fares, Gas, Parking, etc.) |
| • | Event invite is strictly not for sale. In the event that +1 invite is put up for sale by the winner, slot may be forfeited. |
| • | Failure to adhere to the mechanics/conditions may invalidate the winner's entry. |
| • | Employees, talents and consultants of Samsung Corporation including their relatives up to second degree of consanguinity or affinity are not qualified to join the Promo. The winner's identity shall be subject to verification |
| • | In case of dispute in respect to the customer's eligibility, Samsung's decision shall prevail. All questions or disputes regarding the eligibility for the promo shall be resolved by Samsung at its discretion with the concurrence of DTI. |
DTI-FTEB Permit No. 5441, Series of 2019
Terms and Conditions apply.