Trade-in Your Phone
Towards a New Galaxy
Valid from Mar 01. 2018 to Oct 31. 2018 Expired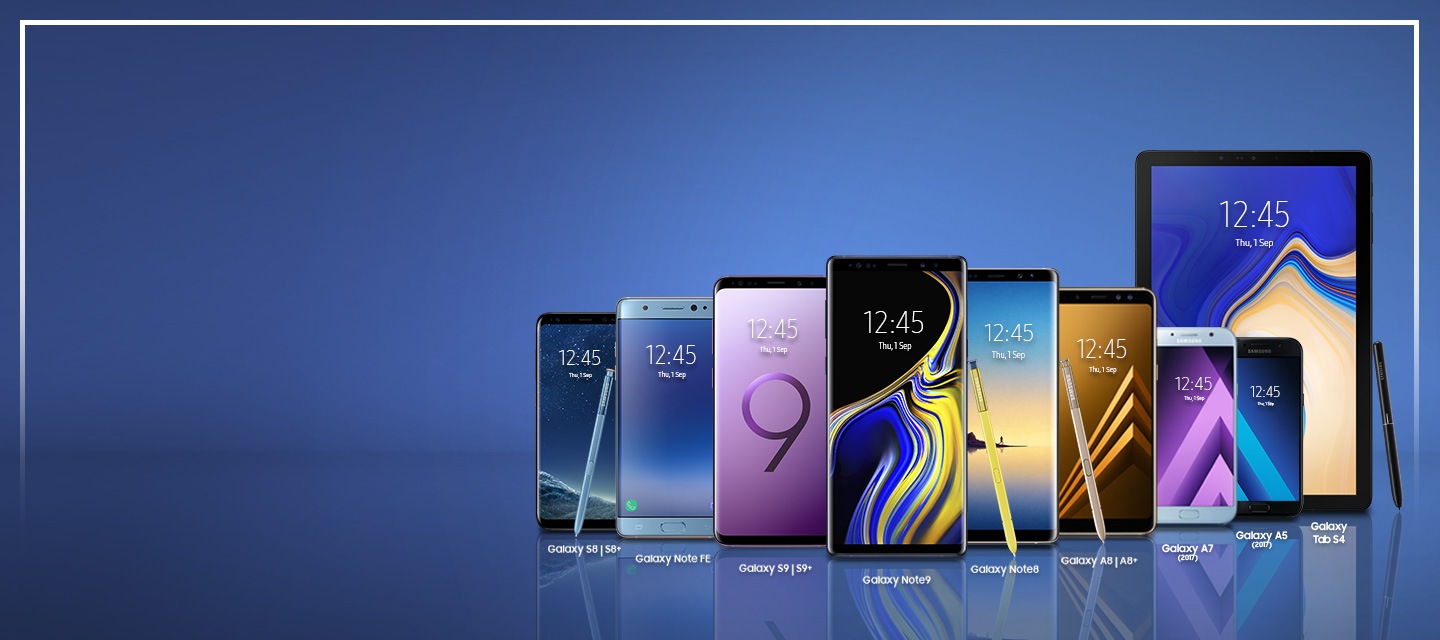 MECHANICS
1.
Customers may trade-in their old premium smartphone (any brand) to a new Galaxy device at any of the participating stores from October 1 - 31 2018.

Model
SRP
Color
Galaxy Note9 (512GB)
Php 75,990
Ocean Blue
Galaxy Note9 (128GB)
Php 55,990
Midnight Black
Ocean Blue
Mettalic Copper
Galaxy S9+ (256GB)
Php 60,990
Midnight Black
Coral Blue
Galaxy S9+ (1128GB)
Php 55,990
Midnight Black
Coral Blue
Lilac Purple
Galaxy S9+ (64GB)
Php 52,990
Lilac Purple
Midnight Black
Galaxy S9 (64GB)
Php 45,990
Lilac Purple
Midnight Black
Galaxy Note8
Php 49,990
Maple Gold
Midnight Black
Galaxy S8
Php 37,990
Mignight Black
Maple Gold
Orchid Gray
Rose Pink
Galaxy S8+
Php 41,990
Mignight Black
Maple Gold
Orchid Gray
Rose Pink
Galaxy Note FE
Php 27,990
Black Onyx
Blue Coral
Galaxy A8
Php 26,990
Black
Gold
Galaxy A8+
Php 32,900
Black
Gold
Galaxy A6
Php 11,990
Black
Gold
Galaxy A6+
Php 17,990
Black
Blue
Galaxy A7 (2018)
Php 17,990
Gold
Black
Blue
Galaxy J7 Pro
Php 13,990
Gold
Black
Blue
Pink
Galaxy J7+
Php 19,990
Gold
Black
Pink
Galaxy J8
Php 13,990
Gold
Black
Purple
Galaxy J6
Php 9,990
Black
Gold
Galaxy J7 Core
Php 8,990
Black
Gold
Galaxy J7 Prime
Php 11,990
Black
White
Pink
Galaxy J2 Core
Php 6,990
Black
Gold
Galaxy J2 Prime
Php 5,990
Gold
Silver
Galaxy J1 (2016)
Php 4,990
White
Gold
Galaxy J4+
Php 6,990
Gold
Black
Galaxy J6+
Php 10,990
Gray
Red
Galaxy J1 Mini Prime
Php 3,990
Black
Gold
B105E
Php 990
Black
White
B350E
Php 1,990
White
Blue
Galaxy Tab 3V 3G
Php 6,490
Black
White
Galaxy Tab A (2016)
Php 7,990
Black
White
Galaxy Tab A w/ S Pen
Php 13,990
White
Grey
Galaxy Tab S2 8" LTE
Php 22,990
Black
Gold
Galaxy Book 10.6"
Php 44,990
Silver
Galaxy S3 Frontier
Php 12,990
Black
Galaxy 360 (2017)
Php 10,990
White
Gear Fit2 Pro
Php 8,990
Black Red
Gear Sport
Php 10,990
Black
Gear IconX
Php 8,490
Black
Gear VR with Controller
Php 5,990
Black
Galaxy Tab S4
Php 44,990
Black
Gray
Galaxy Tab A 10.5
Php 23,990
Black
Galaxy Watch (46mm)
Php 16,990
Silver
Galaxy Watch (42mm)
Php 15,990
Rose Gold

2.
Customer surrenders their old phone to the agent for evaluation. Only selected smartphones in good working condition will be accepted. The agent may make deductions to the value if they find any defects.
3.
Customers will be given a coupon representing the appraised values of the surrendered phones.
4.
Customers will be given a coupon representing the appraised values of the surrendered phones.
5.
Customers may choose only one of the two payment options - either via straight payment or installment only:

a.
Straight Payment (Credit Card / Debit / Cash Card / Cash)

| | |
| --- | --- |
| i. | Customers who choose this payment method will get additional TITU Top-Up depending on the new Galaxy Device being purchased. |
| ii. | The top-ups will be a discount on top of the collective value of the traded-in phones, and will only be applied once per transaction. |

b.
0% Credit Card Installment

| | |
| --- | --- |
| a. | Customers who choose this payment method will not have additional TITU Top-Up |

c.
Home Credit Installment

•
Customers without credit cards may now trade-in, trade-up via Home Credit monthly installments by approaching Home Credit Agent in participating store.
•
Customers will surrender their old device to Home Credit Agent handling evaluation. Only those in good condition will be accepted. Home credit agent may make deductions to the appraised value depending on the assessment.
•
Once application has been approved, Customer will be required the following:

| | |
| --- | --- |
| - | Downpayment amount (20% of SRP of new model) |
| - | Processing Fee (3% of SRP of new model) |
| - | Monthly payments will be on top of downpayment, and will include interest rates to be covered by customers, not 0%. |

•
Customers shall use the residual value of old device to pay for downpayment and processing fee. If residual value is less than payable amount, customers will pay the difference. If residual value is more, remaining amount will be deducted from total loan amount.
•
Home Credit Agent will process customer's purchase of new phone in participating store by giving the coupon representing the appraised value of the surrendered device to the cashier. Net valuation will be deducted from SRP of the new device.

Trade-In Trade-Up Top-Up Table
Model
Installment
Straight
0% Monthly
Credit Card
Debit / Cash Card
Cash
Galaxy Note9 (512GB)
No Top-Up
PhP 4,000
PhP 4,000
PhP 4,000
Galaxy Note9 (128GB)
PhP 4,000
PhP 4,000
PhP 4,000
Galaxy S9+ (256GB)
PhP 4,000
PhP 4,000
PhP 4,000
Galaxy S9+ (128GB)
PhP 4,000
PhP 4,000
PhP 4,000
Galaxy S9+ (64GB)
PhP 4,000
PhP 4,000
PhP 4,000
Galaxy S9 (64GB)
PhP 4,000
PhP 4,000
PhP 4,000
Galaxy Note8
PhP 4,000
PhP 4,000
PhP 4,000
Galaxy S8
PhP 3,500
PhP 3,500
PhP 3,500
Galaxy A8+
PhP 2,500
PhP 2,500
PhP 2,500
Galaxy A8
PhP 2,500
PhP 2,500
PhP 2,500
Galaxy A7(2018)
PhP 1,000
PhP 1,000
PhP 1,000
Galaxy Tab S4
PhP 4,000
PhP 4,000
PhP 4,000
Galaxy Book 10.6"
PhP 4,000
PhP 4,000
PhP 4,000
All other models
No Top-Up

6.
Customers may trade-in more than one phone for valuation for one (1) new device.
7.
The net valuation and additional top-up (if any) are not convertible to cash.
8.
This offer cannot be combined with other promotions
List of Participating Stores:
Samsung Experience Stores
Alabang Town Center
Ayala Center Cebu
Ayala Centrio Mall
Gaisano Iligan
Gaisano Mall Davao
Glorietta 2
Glorietta 3
Island City Mall Bohol
J Centre Mall Cebu
KCC Mall Gensan
Market Market
Robinsons Magnolia
Robinsons Malolos
Robinsons Place Manila
SM Aura
SM Baguio
SM Calamba
SM City Bacolod
SM City Bacoor
SM City Cebu
SM City Davao
SM City East Ortigas
SM City Fairview
SM City Manila
SM Lanang Premiere
SM Mall of Asia
SM Mandurriao Iloilo
SM Marikina
SM Megamall
SM Muntinlupa
SM North EDSA
SM San Lazaro
SM Seaside Cebu
SM Southmall
SM Sta. Rosa
Sta. Lucia East Grand Mall
Trinoma
Tutuban Mall
Samsung Galaxy Studio
(until June 30, 2018 only)
Abenson Store
(until May 31, 2018 only)
Ascott
Glorietta 1
Trinoma
* Additional smartphones may be accepted subject to the 3rd party agent's discretion.
* Samsung phones bought from other countries are subject to the third party agent's approval.
DTI-FTEB Permit Nos. 3295, 5445, 7149, 9771, 11941, 14177, 16087 and 18281, Series of 2018.
Terms and Conditions apply.