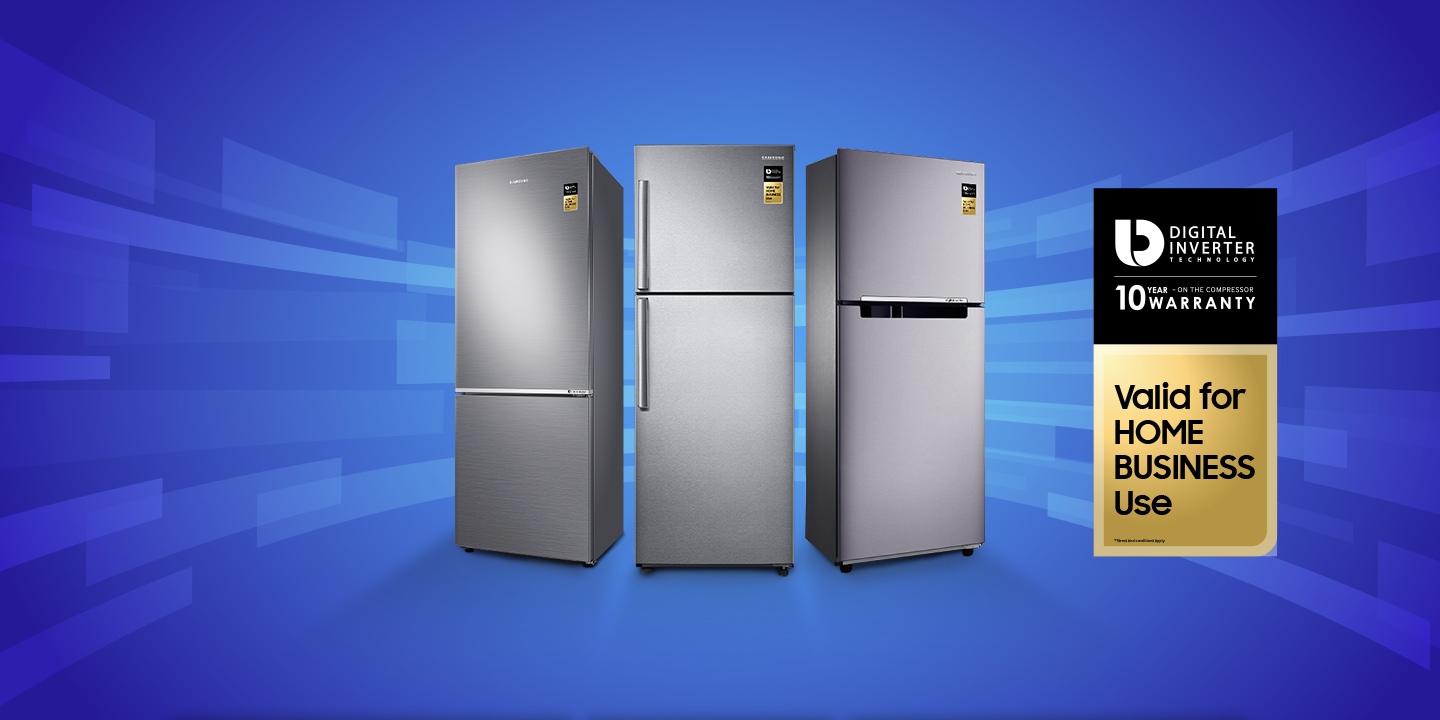 Home
Business
Refrigerators
Home Business
Refrigerators
Invest Smart with Samsung Refrigerators
for Your Home Business
As Samsung continues to be a partner for home businesses and budding entrepreneurs, we are offering breakthrough technologies to help you grow your business in the comfort of your home. With innovations such as Twin Cooling Plus1, SpaceMax Interior2 and Digital Inverter Technology and its 10-Year Warranty3 extended to home businesses, there are more reasons to invest in Samsung Refrigerators4.
Bottom Mount
1Twin Cooling Plus is for high capacity Top Mount
freezer models only (300L and above).
2Spacemax for Bottom Mount freezer
(RB9000 models only).
310-year warranty covers Digital Inverter
Compressor Part Only.
4Top Mount and Bottom Mount Refrigerator models shown above are covered by home business warranty. To see complete Samsung refrigerator models, click here.
Samsung Innovations for Home Business Use
With a wide selection of Top Mount and Bottom Mount Freezer Refrigerator models, we are able to offer the technologies that are perfect for your needs:
Twin Cooling Plus

Ensure best quality freshness for your food business with the Twin Cooling Plus. Keep them fresh for twice longer by retaining up to 70% humidity compared to the conventional 30%.

With two separate cooling compartments, you can also retain the food's flavour at its original best by keeping the odors from mixing unnecessarily.

*Available in High Capacity Top Mount Refrigerators only

Smart Conversion

Store more goods and make the most space out of your refrigerator with the Smart Conversion.

It provides the ultimate storage flexibility with 5 different conversion modes that you can control at the tip of your fingers. Now you can convert your freezer to fridge for more space for fresh goods or adjust settings based on occasion.

*Available in High Capacity Top Mount Refrigerators only

SpaceMax Technology Interior

Get more space inside but occupy the same space outside with the SpaceMax Technology Interior.

It uses smaller but evenly spread foam cells for its material, providing you with better insulation performance without taking up more space.

*Available in Bottom Mount Refrigerators only

Optimal Fresh Zone

Save time cause there is no need for defrosting with Optimal Fresh Zone. By keeping the optimal temperature of -1˚C, you can ensure your goods' freshness, original flavour, and texture for twice longer without having them frozen.

*Available in Bottom Mount Refrigerators only

Tempered Glass Shelves

With the Tempered Glass Shelve, you can store and stack multiple goods as it can withstand weight of up to 150 kilograms

Digital Inverter Technology

Less energy, bigger savings with the Digital Inverter Technology. With 5 different moving cycles based on humidity levels and usage patterns, you can maintain consistent temperature for your goods while keeping your energy consumption at a minimum.