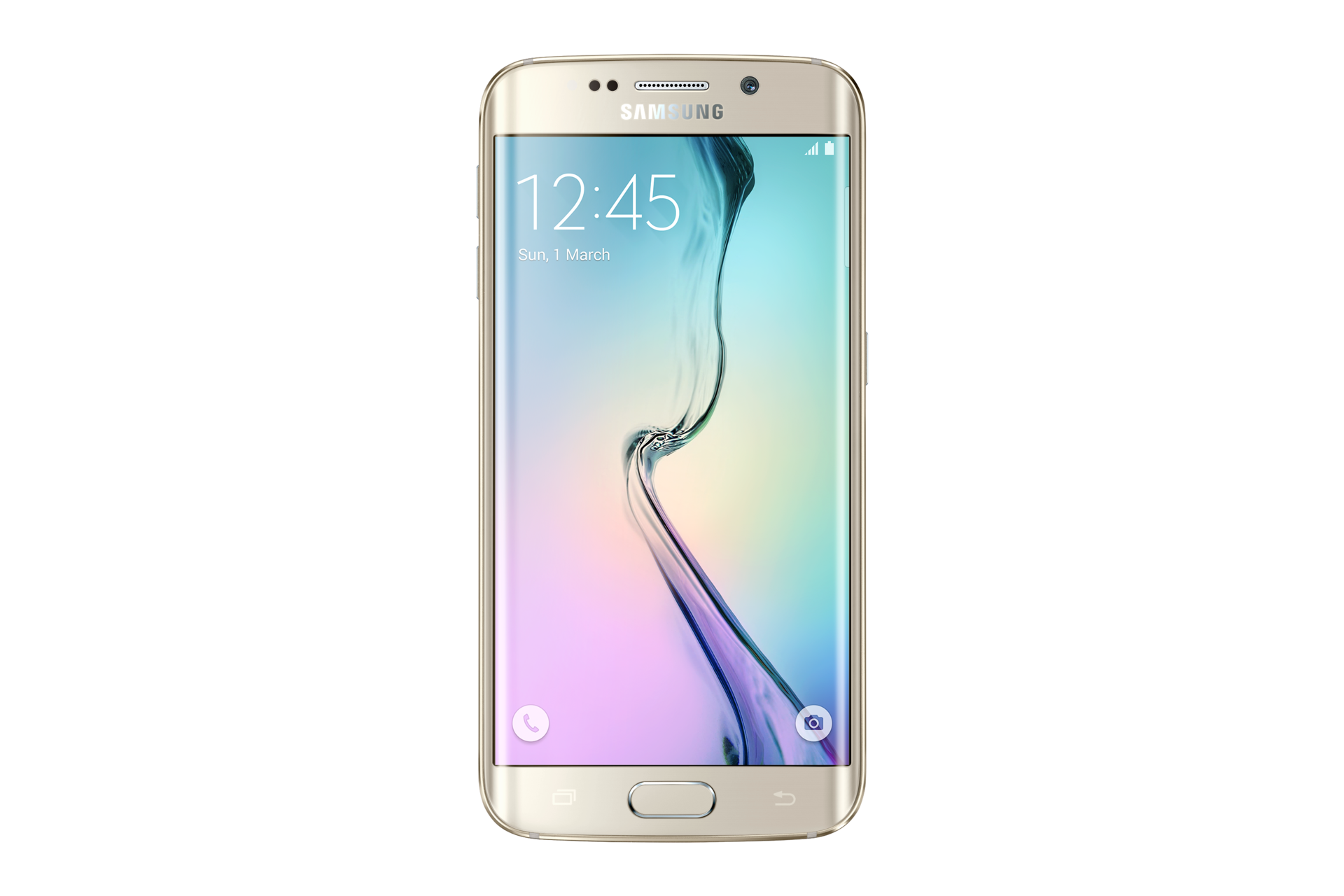 Galaxy S6 edge
SM-G925FZDAXTC
Sorry! This product is no longer available
Wireless Charging
Edge Display
5.1" (129.2mm)
Size (Main Display)
CMOS 16.0 MP
Main Camera - Resolution
Exquisitely Crafted, Captivatingly Brilliant
Inspired by the works of glassblowers and artisan metalsmiths, the Samsung Galaxy S6 edge represents a seamless fusion of glass and metal. Make a breathtaking design statement with the world's first dual-edge display, beautiful curves and radiant glass surfaces that reflect a wide spectrum of dazzling colors.
Richer Interactions With Your Edge
Add some color to your interactions with the Samsung Galaxy S6 edge. Color-code the five people you care most about and simply tab a contact's color on the Edge display to call, text or email them. Thanks to innovative color-coded notifications, you can easily see who is trying to get in touch, even when your device is upside down.
Improved Aperture, Clearer Pictures
Both the Samsung Galaxy S6 edge's front and rear cameras feature higher resolution and F1.9 aperture, allowing you to take clearer images wherever you are. Press the home button twice to go straight into camera mode ― and never miss an important moment again.
Fast charging
Never worry about your battery again. After charging for just 10 minutes*, you can get 4 hours* of usage thanks to fast charging speed. Its wireless charging compatibility means you can simply pop the Samsung Galaxy S6 edge onto a compatible charging pad for a wire-free recharge.
* Recharge time and duration may vary according to individual usage patterns. Battery life may last for less than 2 hours when watching HD movie or the higher resolution movie. * Wireless charging pad not included. * Available with WPC- or PMA-compatible wireless charging pads.
Peerless Performance
With super-fast boot up and app launching, the Samsung Galaxy S6 edge gives you unbeatable results and improved energy efficiency. Its 64-bit architecture, LPDDR4 and advanced GPU delivers truly powerful performance, letting you take multitasking and multimedia functions to the next level.
Dazzling Display
Equipped with a 5.1" Quad HD (2,560 x 1,440) Super AMOLED display, the Samsung Galaxy S6 edge provides an impeccably sharp viewing experience, and its adaptive display provides unbeatable clarity both indoors and outside. Improved brightness levels and pixel density let you take superb images wherever you are.
Quick and Easy Mobile Payment
Shopping has never been this easy thanks to the Samsung Galaxy S6 edge's all-in-one payment application, compatible with NFC and Barcode. Enjoy a convenient and consistent app experience, no matter how you choose to pay.
* Mobile payment options may vary from store to store.
* Mobile payment options may vary from store to store.
Enhanced Security
Enjoy unprecedented peace of mind with the Samsung Galaxy S6 edge's powerful security solutions: KNOX, a fingerprint scanner.
Seamless Contents Sharing
A simple touch is all it takes to pair the Samsung Galaxy S6 edge with a Samsung Smart TV via BLE (Bluetooth Low Energy). Mirror movies from you're Galaxy to a TV screen or share current TV screen from a TV to your phone.
* Only available when paired with a Samsung H5500 series Smart TV or subsequent model.
* Only available when paired with a Samsung H5500 series Smart TV or subsequent model.
Smart Manager
The new Smart Manager application lets you check an array of useful information on battery status, storage, RAM, security and more at a glance.
5.1" (129.2mm)

Size (Main Display)

CMOS 16.0 MP

Main Camera - Resolution

132

Weight (g)

2600

Standard Battery Capacity (mAh)

Up to 50

Audio Playback Time (Hours)

2.1 GHz, 1.5 GHz

CPU Speed
Smart Simulator
User manual & Downloads
Live Chat
* Product Information stated herein is meant as a guide for the consumer and may not be accurate at all times. Features, specifications, design, color, and price may be changed without prior notice to the public.

* Features and specifications indicated have been verified as accurate at the time when the product was introduced to the market. However, these features and specifications may be updated, modified, or removed as required by local conditions. Such changes may be effected without prior notice to the public.

* Usable memory size is less than the total memory size due to storage of the operating system and software required to operate the phones' features. Actual usable memory size will also vary depending on the mobile phone operator and may change after software upgrades are performed.

*The bandwidths supported by the device may vary depending on the region or service provider.