Connect your S Pen error displays on Galaxy Note
Last Update date :
Aug 24. 2020
If you receive an error that says you need to connect your S Pen to your phone or tablet, it could be because the pen needs to charge or because it's too far away from your device. Another possibility is that there is magnetic interference with the S Pen.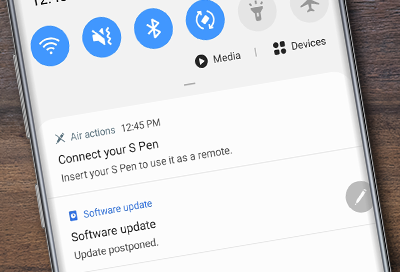 Before you try out below recommendations as to your solutions, be sure to check if your device's software and related apps are updated with latest version. Please check how to update your mobile device's software in following order. 
Step 1. Go to Settings > Software update.
Step 2. Tap on Download and install. 
Step 3. Follow the on-screen instructions. 
Check for battery status and interfence
If you want to view the S Pen's battery percentage, tap on the floating Air Actions icon. The remaining battery power will be displayed at the top of the screen.
Remove and reinsert the S Pen
If your S Pen becomes disconnected from your phone or tablet while it is not being used, remove the S Pen and then reinsert it into your phone or reattach it to the tablet for a couple minutes. It will automatically reconnect.
Check for magnetic interference with your S Pen
If the back of your Galaxy phone  comes into contact with a magnet, the S Pen may not be recognized.C ases made by Samsung may contain magnets  but they have been specifically designed to fit your phone or tablet without interfering with any function, including the S Pen. Verify that your case, or other accessories, are not magnetic.

Reset the S Pen
If your S Pen won't connect to your phone or if it doesn't seem to be charging, resetting the S Pen is a quick fix.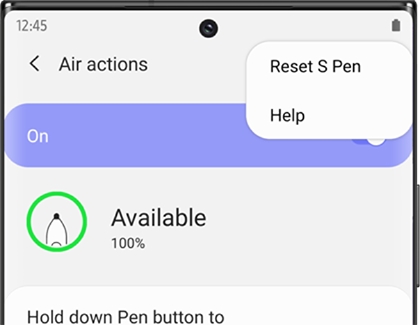 1
Insert the S Pen.
Insert the S Pen into your Galaxy phone until it clicks into place, or attach it to your Galaxy tablet.
2
Navigate to Air actions or S Pen remote.
From Settings , search for and select Air actions or S Pen, remote.
3
Reset the S Pen.
Tap More options (the three vertical dots), and then tap Reset S Pen.
Please answer all questions.