Galaxy S10 wakes up in pocket or bag
Last Update date :
Feb 03. 2022
While your phone is stored in a pocket or bag, the normal motions automatically wakes up the Galaxy S10 leading to unintended touches and actions. This could be due to an advanced feature you have enabled within your settings.
Lift to wake: Set the device to turn on the screen when you pick it up.
Double-tap to wake up: Set the device to turn on the screen by double-tapping anywhere on the screen while the screen is turned off.
Ensure that you disabled the Lift to Wake or Double tap to wake up on the device's Advanced Feature Settings. To deactivate these motions and gestures, follow these steps:
1
Open Settings.Then select Advanced features
2
Tap on Motion and Gestures
3
Toggle off Lift to wake and Double tap to wake up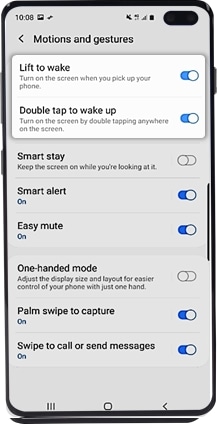 Note:
The availability of this feature may differ by device and model.
Device screenshots and menus may vary depending on the device model and software version.
We would love to know your feedback to help us improve. Please click the submit button to tell us what you think.
Please answer all questions.