How do I restart my Gear S3 if device appears to be "frozen" or not responding?
Last Update date :
Sep 21. 2020
If your Gear freezes or hangs, you may need to close apps or turn off the Gear and turn it on again.
If your Gear is frozen and unresponsive, press and hold the Home key( Power key) for more than 7 seconds to restart it.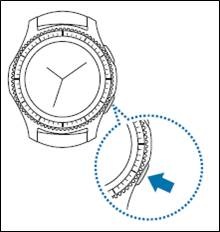 If this does not solve the problem (i.e. the device still sometimes freezes after rebooting it as described above), perform a factory data reset.
Turn the bezel clockwise till you see the Apps screen, then tap on
(1) Settings → (2) then tap on Gear info → (3) then tap on Reset Gear → (4) tap on the "Tick" symbol
Since all data will be erased from Gear memory after Factory reset, before performing the factory data reset, remember to make backup copies of all important data stored on the Gear.
---
Not the solution you are looking for? Get in touch with us!
• Call our Customer Contact Center. Check the numbers here
• Chat with our customer service representative through this link.
• Email us through this link.
• You can also leave your contact details (name, phone number, & email) on our survey form below
and we'll get in touch with you as soon as possible.
---