Low or Poor Audio Quality on your Galaxy Buds or Gear IconX
Last Update date :
Sep 22. 2020
If your Galaxy Buds, Galaxy Buds+, or Gear IconX earbuds have no, low, or poor sound quality during a call or while listening to music, there may be a couple reasons why. You might be wearing the earbuds incorrectly, or the buds could have accumulated dust or debris. Additionally, the audio quality could be affected by outdated software, a low battery, and several other things.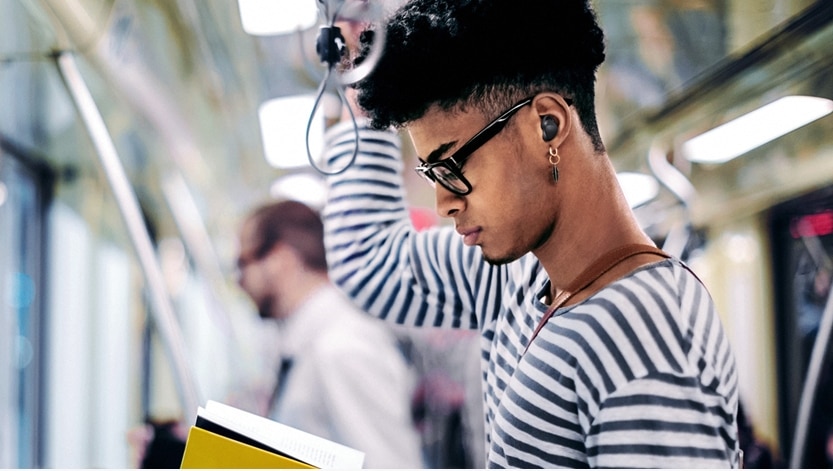 1
Check the direction of each earbud.
When you insert the earbuds into your ears, make sure the wing tips are facing upwards until they sit comfortably. Then, rotate the earbuds left or right for a snug fit.
2
Adjust the volume on your device.
You can increase the sound on the connected phone using the Volume up key. If the volume is set to max but the sound output is low, it is probably because the phone and earbuds have two separate volume controls.
To control the volume on the earbuds themselves, you will need to set up touchpad commands. You should also should check the media volume limiter settings.
3
Make sure the microphone isn't muted.
If others cannot hear you during the call, make sure you haven't muted the microphone. When you tap and hold the touchpad during a call, you can actually turn off the microphone that's built into the earbuds. Nothing will be displayed on the device when you mute the call using the earbud touchpad.
To unmute the call, just tap and hold the touchpad to turn on the microphone again.
4
Check the earbuds' battery status.
If the earbuds have a low battery, it may be necessary to charge the earbuds. You can check the battery level in the Galaxy Wearable app.
Alternatively, you can insert the earbuds in the case to check the battery life. Depending on your earbuds, the charging case indicator light will be located on the front or rear of the case.
5
Inspect the earbuds for dirt and damage.
• Be sure to regularly clean the earbuds. The build-up of dust, earwax, or other debris in the earbuds can make it difficult to hear.
• Inspect for a cracked or lifted case, and broken, bent, or loose parts.
• If you see obvious damage, cracks or small chips on the earbuds, this means that the earbuds have suffered from an external impact. This can impair the earbuds and their functions.
• The earbuds are not impervious to water damage in any situation.
• Exposure to water, liquids or chemicals can cause damage or issues with the earbuds.
6
Restart both devices.
If you continue to experience problems, restart the earbuds, and then make sure the earbuds' software is up to date.