How to connect video devices?
Last Update date :
Sep 21. 2020
Make a proper video connection between your TV and other external devices.
Connecting with an HDMI cable
Connecting with a component cable (Models with Component IN / AV IN)
Connect the component cable to the component input connections of the TV and the component output connectors of the device using component and AV adapters as shown in the image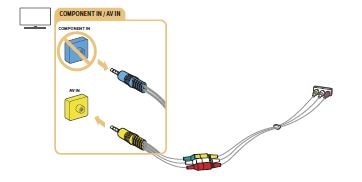 To use component equipment, connect both a component cable (blue) and an AV cable (yellow).
NOTE : Make sure the cable colors match the colors on the connector.

Connecting with a composite cable (Models with Component IN / AV IN port)
Connect the video and audio cables to the provided adapters after referencing the followingfigure and then connect the adapters between the component /AV IN port on your TV and the OUT port on an external device. When connecting the cables, be sure to match the colours between the cables and ports.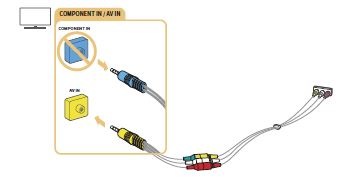 If you want to use AV (composite) equipment, remove the component adapter.