AddWash
Ecobubble Technology
Air Wash
AI-powered laundry
SmartThings
Do your laundry more easily and effectively. SmartThings smart management system* enhances performance based on your usage patterns**.'Laundry Recipe' recommends the best wash cycles***.'Laundry Planner' optimizes your laundry schedule****.'HomeCare Wizard' enables remote troubleshooting
AI-powered laundry
SmartThings
Do your laundry more easily and effectively. SmartThings smart management system* enhances performance based on your usage patterns**.'Laundry Recipe' recommends the best wash cycles***.'Laundry Planner' optimizes your laundry schedule****.'HomeCare Wizard' enables remote troubleshooting
AI-powered laundry
SmartThings
Do your laundry more easily and effectively. SmartThings smart management system* enhances performance based on your usage patterns**.'Laundry Recipe' recommends the best wash cycles***.'Laundry Planner' optimizes your laundry schedule****.'HomeCare Wizard' enables remote troubleshooting
* A Samsung application account is necessary and available on Android and iOS devices. A Wi-Fi connection is required. ** Stores user data, preferences and usage patterns to suggest the most useful options.*** The user will be solely responsible for any consequence(s) that may result, including but not limited to any damage or harm caused by incorrect information provided by the user.**** The recommended washing cycle is only based on time and may not be appropriate based on the type of fabric or stain level of the articles being washed.
Specialist cleaning
Cloud Cycle
Get a better washing performance for specific items or situations. Using the SmartThings App*, just select the Cloud Cycle option and pick from 10 cycles** designed to clean particular types of clothes. You also have an extra 6 cycles** for specific situations. It even remembers your last choice.
* Available on Android and iOS devices. A Wi-Fi connection is required.** The number of available cycles varies depending on the model.
Easily add more
Add Wash™
Relax when you're doing the laundry.If you've forgotten any clothes that need washing the Add Wash™ door lets you simply and quickly add extra items or more detergent* after your wash cycle has started**.It also allows you to easily pop in hand-washed clothes that you want to rinse or spin dry
* Only fabric items, clothing, detergent and softener can be added.** The Add Wash door only opens when the drum temperature is below 50°C.
Sanitize with air
AirWash
Air Wash technology deodorizes and sanitizes clothes and bedding, so they always smell fresh. Using just super-hot air,unpleasant odors, bacteria and allergens are removed without boiling or using chemicals.
Unleashing bubble power
Bubble & Water Shot
Eco Bubble™ technology generates foam that quickly activates detergent, so it removes stains more easily. Two Water Shots also use jets of water to help detergent penetrate clothes, before rinsing out any residue.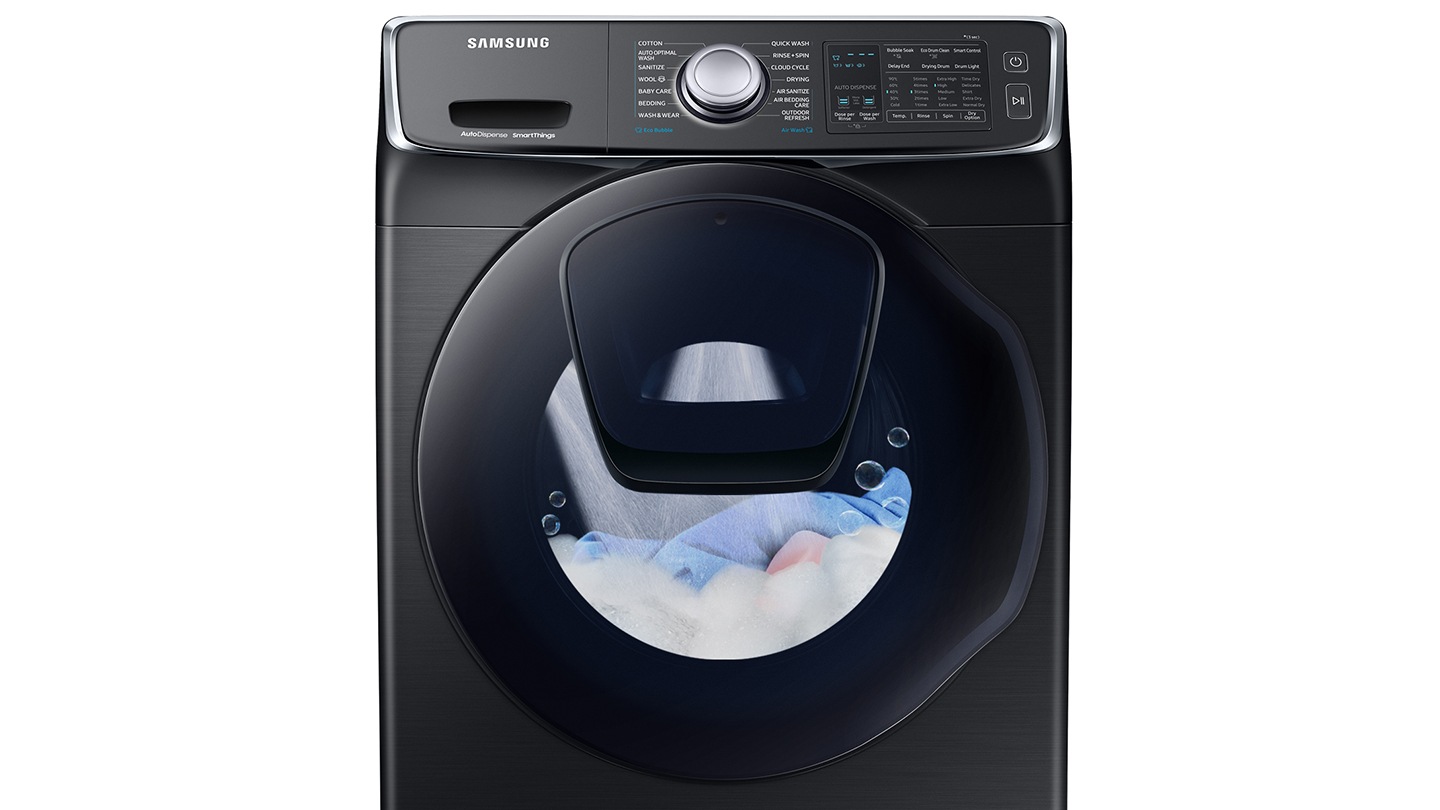 Black Caviar

Body Color

Crystal Blue

Door Color

Digital Inverter

Motor

LED

Panel

1100rpm

Spin Speed

Diamond Drum

Drum Type
User manual & Downloads
Live Chat
All specifications and descriptions provided herein may be different from the actual specifications and descriptions for the product. Samsung reserves the right to make changes to this document and the product described herein, at anytime, without obligation on Samsung to provide notification of such change. All functionality, features, specifications, GUI and other product information provided in this document including, but not limited to, the benefits, design, pricing, components, performance, availability, and capabilities of the product are subject to change without notice or obligation. The contents seen on or with the product are oftentimes simulated and are for demonstration purposes only.