Facts & Figures
Key Stats, Data and More
Let us proudly share our achievements in advancing sustainability management at Samsung Electronics.
Partner Collaboration Programs
To live by our business philosophy that 'our competitive edge at Samsung Electronics comes from the competitive edge of our suppliers', we further push the boundary of our win-win management initiatives to include both domestic and overseas suppliers. We provide a wide array of programs to support funding, education, and innovation to ensure that our suppliers become globally-competitive.
Customer value enhancement information
Customer Value Enhancement
2015
2016
2017
Customer Satisfaction (%)
83.7
84.0
83.9
Ratio of CS Career Path(in-house certification program)
-certified employees 1) (Point)
97
95
95.8
An Eco-friendly and safe workplace information

| An Eco-friendly and Safe Workplace | 2015 | 2016 | 2017 |
| --- | --- | --- | --- |
| Frequency rate 2)3) | 0.240 | 0.227 | 0.086 |
| Injury rate 2)4) | 0.045 | 0.044 | 0.017 |
2) Based on all domestic employees and employees at the overseas manufacturing subsidiaries
3) (No. of injuries ÷ No. of annual work hours) x 1,000,000
4) (No. of injured workers ÷ No. of workers) x 100
Sustainable supply chain information
Sustainable Supply Chain
2015
2016
2017
Suppliers rated excellent (%)
70
70
60
Investment in the Partner Collaboration Fund
(KRW 100 million)
8,649
8,232
8,228
Attendees at supplier training (No. of persons)
12,694
13,089
16,209
1st-tier suppliers (No. of persons)
11,002
12,673
12,687
2nd-tier suppliers (No. of persons)
1,692
416
3,522
Beneficiaries of the Smart Factory program 5)
(No. of companies)
120
479
487
Samsung suppliers (No. of companies)
24
39
66
SMEs without business transactions with Samsung
(No. of companies)
96
440
421
Third-party Initial Audits on
the supplier work environment 6) (No. of occasions)
170
190
214
On-site audits for suppliers'
conflict minerals management 6) (No. of occasions)
483
163
252
5) Aim to support more than 1,000 companies by 2017
6) Accumulated since 2013
employees information

| People First | 2015 | 2016 | 2017 |
| --- | --- | --- | --- |
| Total employees (No. of persons) | 325,677 | 308,745 | 320,671 |
| Korea | 96,902 | 93,204 | 96,458 |
| Southeast Asia/Southwest Asia/Japan | 140,437 | 134,386 | 145,577 |
| China | 44,948 | 37,070 | 34,843 |
| North America/Central & Latin America | 23,947 | 25,988 | 25,814 |
| Europe/CIS | 15,487 | 14,445 | 14,711 |
| Middle East | 2,998 | 2,810 | 2,592 |
| Africa | 958 | 842 | 676 |
| Ratio of female employees 7) (%) | 46 | 44 | 45 |
| Average training hours per person 8) (No. of hours) | 78 | 71 | 73.5 |
| Training expenditures per person 9) (KRW 1,000) | 1,335 | 1,198 | 1,137 |
7) Scope of data collection: Domestic employees
8) Based on online/offline training
9) Total training expenditure ÷ total No. of employees in Korea
Employees who received compliance information
Compliance Management
2015
2016
2017
Employees who received compliance training 7)10)
(No. of persons)
190,919
210,229
260,032
Employees who received anti-corruption training 7)
(No. of persons)
320,399
313,590
317,965
7) Based on the total number of global employees
10) Including redundancy
Corporate Citizenship information
Corporate Citizenship
2015
2016
2017
Total corporate citizenship management expenditures
(KRW million)
523,395
444,789
385,571
Total hours of domestic and global sites employee work
(No. of hours)
1,044,847
1,083,849
1,259,893
Accumulated No. of Samsung Smart School
beneficiaries (No. of persons)
667,326
1,401,776
2,228,150
No. of Samsung Smart School program 11)
(No. of programs)
2,360
3,231
3,587
Samsung Tech Institute expenditure
(No. of persons)
39,659
74,192
85,388
11) Accumulated since 2013
Social Performance Report
Customer value enhancement information
Customer Value Enhancement
2015
2016
2017
Customer Satisfaction (%)
83.7
84.0
83.9
Ratio of CS Career Path(in-house certification program)
-certified employees 1) (Point)
97
95
95.8
An Eco-friendly and safe workplace information

| An Eco-friendly and Safe Workplace | 2015 | 2016 | 2017 |
| --- | --- | --- | --- |
| Frequency rate 2)3) | 0.240 | 0.227 | 0.086 |
| Injury rate 2)4) | 0.045 | 0.044 | 0.017 |
2) Based on all domestic employees and employees at the overseas manufacturing subsidiaries
3) (No. of injuries ÷ No. of annual work hours) x 1,000,000
4) (No. of injured workers ÷ No. of workers) x 100
Sustainable supply chain information
Sustainable Supply Chain
2015
2016
2017
Suppliers rated excellent (%)
70
70
60
Investment in the Partner Collaboration Fund
(KRW 100 million)
8,649
8,232
8,228
Attendees at supplier training (No. of persons)
12,694
13,089
16,209
1st-tier suppliers (No. of persons)
11,002
12,673
12,687
2nd-tier suppliers (No. of persons)
1,692
416
3,522
Beneficiaries of the Smart Factory program 5)
(No. of companies)
120
479
487
Samsung suppliers (No. of companies)
24
39
66
SMEs without business transactions with Samsung
(No. of companies)
96
440
421
Third-party Initial Audits on
the supplier work environment 6) (No. of occasions)
170
190
214
On-site audits for suppliers'
conflict minerals management 6) (No. of occasions)
483
163
252
5) Aim to support more than 1,000 companies by 2017
6) Accumulated since 2013
employees information

| People First | 2015 | 2016 | 2017 |
| --- | --- | --- | --- |
| Total employees (No. of persons) | 325,677 | 308,745 | 320,671 |
| Korea | 96,902 | 93,204 | 96,458 |
| Southeast Asia/Southwest Asia/Japan | 140,437 | 134,386 | 145,577 |
| China | 44,948 | 37,070 | 34,843 |
| North America/Central & Latin America | 23,947 | 25,988 | 25,814 |
| Europe/CIS | 15,487 | 14,445 | 14,711 |
| Middle East | 2,998 | 2,810 | 2,592 |
| Africa | 958 | 842 | 676 |
| Ratio of female employees 7) (%) | 46 | 44 | 45 |
| Average training hours per person 8) (No. of hours) | 78 | 71 | 73.5 |
| Training expenditures per person 9) (KRW 1,000) | 1,335 | 1,198 | 1,137 |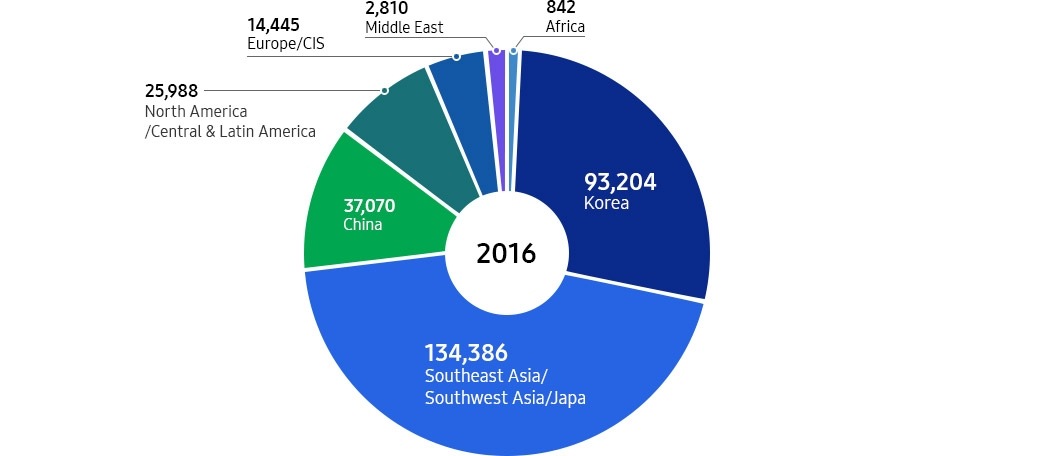 7) Scope of data collection: Domestic employees
8) Based on online/offline training
9) Total training expenditure ÷ total No. of employees in Korea
Employees who received compliance information
Compliance Management
2015
2016
2017
Employees who received compliance training 7)10)
(No. of persons)
190,919
210,229
260,032
Employees who received anti-corruption training 7)
(No. of persons)
320,399
313,590
317,965
7) Based on the total number of global employees
10) Including redundancy
Corporate Citizenship information
Corporate Citizenship
2015
2016
2017
Total corporate citizenship management expenditures
(KRW million)
523,395
444,789
385,571
Total hours of domestic and global sites employee work
(No. of hours)
1,044,847
1,083,849
1,259,893
Accumulated No. of Samsung Smart School
beneficiaries (No. of persons)
667,326
1,401,776
2,228,150
No. of Samsung Smart School program 11)
(No. of programs)
2,360
3,231
3,587
Samsung Tech Institute expenditure
(No. of persons)
39,659
74,192
85,388
11) Accumulated since 2013
Social Performance Report