51" HD Flat TV H4500 Series 4
PA51H4500ARXMM
TV with a touch of realism
The black optimiser picture option gives you the freedom to choose how you watch your TV. You get to experience 'real' atmosphere with three distinct options that will give you the best contrast that meets light conditions of your room. With dark room, bright room and auto options, you and your family can have the perfect movie night.
Watch movies from your USB
With ConnectShare Movie, simply plug your USB memory drive or HDD into the TV and instantaneously enjoy movies, photos or music. Now, you can experience a wide variety of content in the comfort of your living room on your TV.
Smoother images for greater clarity
Using the latest in subfield motion technology, Samsung Plasma TV flashes a single image up to 600 times a second. The result is smoother images with unprecedented picture quality, no matter how fast the images are moving.
All the excitement of the big match with Soccer Mode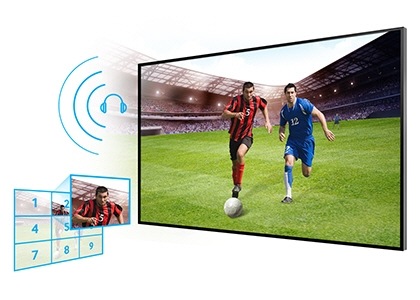 With Soccer Mode, it's like you're actually at the match. It sharply and vividly brings out the green grass of the pitch and all the other colours of the stadium. A powerful multi-surround sound effect also lets you hear all of the excitement. You can even zoom in to selected areas of the screen for a better view. With just a push of a button you can make the most of your favourite sport with all your friends.
* Key feature may different from Key Spec