Always connected compact system camera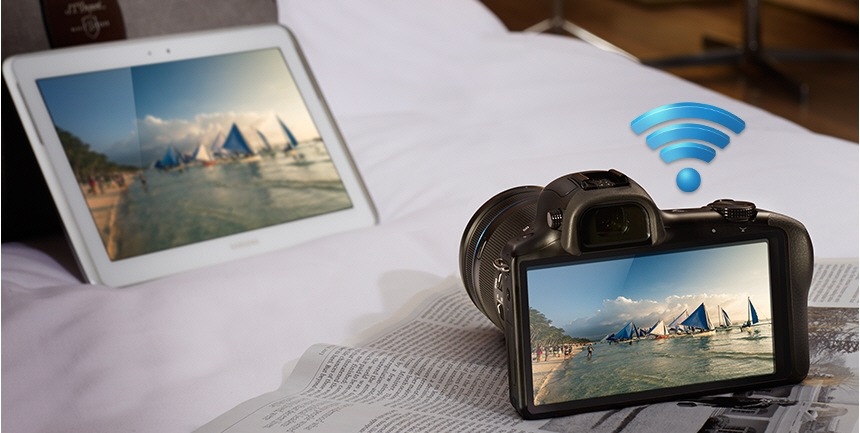 Seamless Connectivity (3G/4G & Wi-Fi) Carry less and bring more. The most connected compact system camera in the world, the Galaxy NX packs 3G/4G and Wi-Fi connectivity to let you upload, share, and even post to Facebook, Twitter, YouTube, Instagram and other social media. Plus you can choose and download Android apps to edit images and produce memorable presentations, and bring family and friends in on the fun. Capture, create and share everywhere you go with the Galaxy NX.
Make the most of every journey with location-based suggestions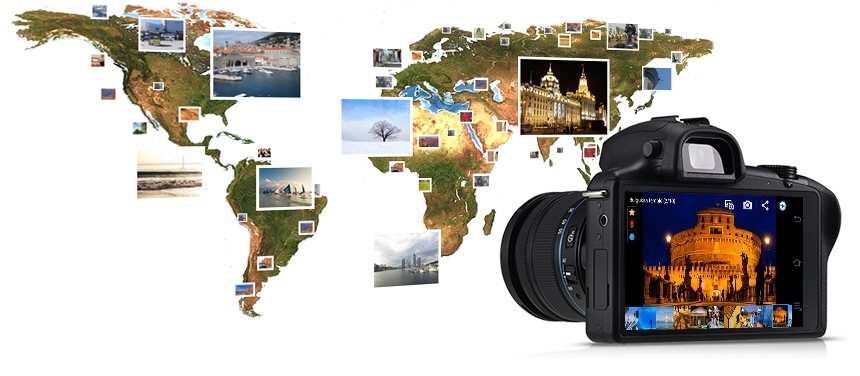 Photo Suggest Capture the scene and mood of every hotspot you visit. Photo Suggest instantly connects you to huge libraries of images taken by fellow photographers, to help you find and compose your best shots anywhere in the world. With Photo Suggest you can reference pictures taken by other people based on your location and create memories of your own.
Create your own photo album made of memories
Story Album Timeless memories: now available in real time. The NX's Story Album function lets you create, display and print photo albums of family gatherings, vacations, sporting events or any other experience that's worth sharing. Story Album organizes photos into timelines, and reframes and resizes them to create digital photo books that you can display on your camera's screen—or send anywhere for recipients to view on their own devices
Bigger sensor for better image quality
20.3 MP APS-C CMOS Sensor Advanced sensor technology makes your pictures come alive. Engineered with Hybrid Autofocus (phase detection plus contrast), the Galaxy NX's 20.3 MP APS-C CMOS sensor delivers high-quality images and lifelike colors with the highest resolution in its class. The largest sensor available in a mirrorless system lens camera produces stunning depth-of-field and out-focusing effects. Measuring 23.5 mm x 15.7 mm, the sensor captures the most light to create beautiful, noise-free pictures and video.
Advanced Hybrid Autofocus: thinks fast, acts faster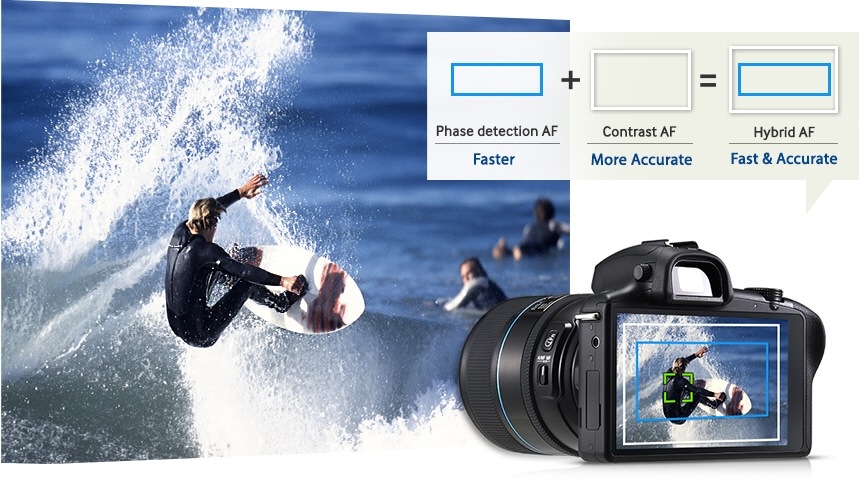 Fast AF (Hybrid AF System) The Advanced Hybrid Autofocus (AF) system combines phase detection AF and contrast AF to deliver brilliant images with nearly zero shutter lag, indoors or out. Phase detection AF quickly calculates and sets the distance of your subject, while contrast AF instantly fine-tunes focus for maximum contrast. Together, these elements of Samsung's Advanced Hybrid AF system allow you to capture moments as fast as they happen—in sharp, accurate detail.
Change the lens and change how you view the world
Interchangeable Lens Equip the Galaxy NX with any of a growing range of interchangeable lenses to experience almost infinite imaging possibilities. Take advantage of the camera's Advanced Hybrid autofocus system and superior light-capture capabilities. Take wide-angle and deep-focus shots with confidence and ease. Use optical effects to bring richness and impact to visual storytelling. And enjoy picture-taking in ways you've barely imagined.
The intelligent OS for brilliant possibilities
Android 4.2 Jelly Bean™. The Galaxy NX Camera is powered by Android 4.2 Jelly Bean™, the latest release of the Android OS. Do more than just shoot amazing photographs and video. Experience an entire universe of Android apps for image personalization, video effects, or staying in touch with friends and family. And there are even more killer apps in store via the Galaxy NX's onboard S Suggest tool. You can also upload and store photos instantly online, browse the Internet, sync your devices and much more.
Shot settings and camera related apps in one place
Camera Studio The Camera Studio widget lets you customize the Galaxy NX to create, edit and present great images—better and more easily than ever. Save your favorite shooting modes and apps. Choose Photo Suggest to find unique shots and settings with location-based apps like TourWrist and TripAdvisor. Gallery and Story Album make it easy to display and share your work. You can even edit and produce videos with Video Maker or use Paper Artist to create unique still shots. And when you've created your masterpiece, load it into Dropbox for handy access from anywhere.
Compose and capture shoots with the best possible settings
Smart Mode Stop worrying about settings, and start taking professional-quality artistic shots. A quick tap of the Smart Mode button gives you access to a wide range of special modes. Use Drama Shot to merge continuous shots of moving objects into a single composed image, or Action Freeze to instantly capture high-speed action. Using Light Trace, unleash your inner Picasso and have your subject draw with a handheld light to capture prolonged exposure effects. Multi Exposure shot lets you blend two shots into a single beautifully composed image. You can also record sound to your photo to relive the moment exactly how it happened with Sound & Shot. Just choose the mode you want and go
* Key feature may different from Key Spec