Missions from Successful
Young Entrepreneurs
Inspiring advice and the missions behind their hustle, just in time for the new year.
Be confident in what you're doing
Sonny McCracken always thought he would be the one who piggybacks on someone else's great idea. Until he had his own. His product, a plant-based protein drink called Après, is now in more than 500 stores across the country. "I think one of the biggest blessings as a first-time entrepreneur is that you don't know how hard it's going to be." With a small team, and visiting many fitness studios a day, it's crucial for Sonny to be on top of things while always on the move. Phone calls, texts, emails, feedback to designers, spreadsheets, inventory – whatever fire he needs to put out, he has the tools to get it done on the go. To those starting their own businesses, he shares a piece of entrepreneur advice: "As an entrepreneur, and as somebody creating something that's never existed before, you have to be willing to knock down walls, and you have to be confident in what you're doing. Otherwise, nobody's going to come with you."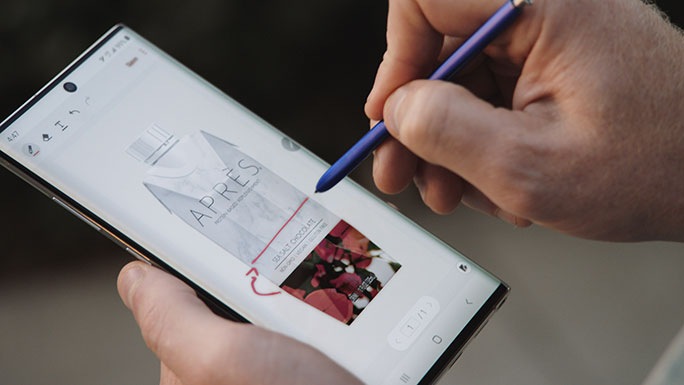 S Pen
Write and draw on top of images and PDFs in a variety of colors. As natural as putting pen to paper.
"The fact that something
doesn't exist is exactly why it's needed."
– Sonny McCracken, Co-Founder and CEO of Après
Work with people you actually like
Kevin Lin never thought he could impact anybody. Now he's one of the biggest connectors in the world. As the co-founder of Twitch, the world's leading live streaming platform for gamers, and Gold House, a powerful community influencing how Asians are perceived in business and media, Kevin stresses the importance of working with people you like, and trust. Constantly connecting with partners, mentoring young entrepreneurs, and always in motion, Kevin relies on his Galaxy Note10+ to keep up with his busy schedule and express his thoughts. "On a good day, I'll get some time to play some games, too."

Screen off memo
Ready when you need it. Pop out the S Pen, write, draw, then save your screen to Samsung Notes.
"No topic is off limits when it comes to figuring out how to build a business."
– Kevin Lin, Co-Founder of Twitch and Gold House

Listen to yourself, not to naysayers
Katerina Schneider is living proof you can start a business and a family at the same time. She was four months pregnant when she quit her full-time job to create a daily vitamin she could trust. Her entrepreneur tip? Ignore the people who say you can't do it. "I remember walking into a well-known investor's office, telling him my idea, and how excited I was, and he said: 'You can either build a company, or a family – but you can't do both.' So I decided to do both." Taking on a 36-billion-dollar industry while being a new mom definitely required some multitasking skills. Keeping an eye on the baby monitor while working on a spreadsheet, giving feedback to employees while preparing a snack, doing video calls while taking the stroller around the block. It was not easy, but Katerina's hustle paid off – as Ritual went on to raise 40 million dollars and reshape the vitamin industry. Oh, and she's about to have her third kid.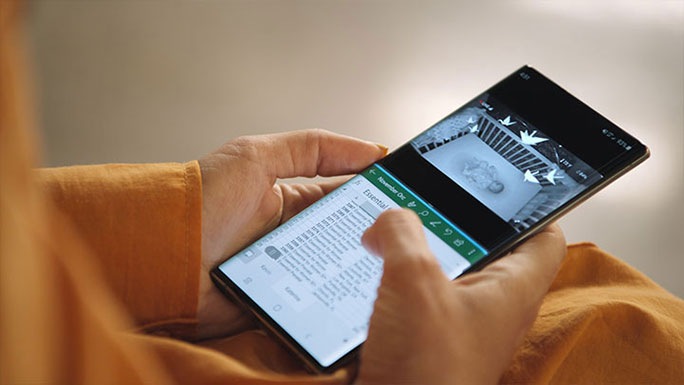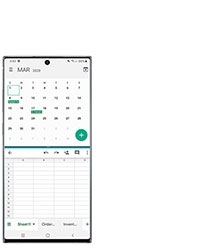 App Pair
The Galaxy Note10+ lets you launch two apps at the same time. Perfect for multitasking.*
"You don't have to choose between a career and a family."
– Katerina Schneider, Founder and CEO of Ritual
Get inspired to find your mission
Sonny McCracken, Kevin Lin, and Katerina Schneider are all on a mission to make a difference in the world. Watch as they share what they've learned in the entrepreneurial world and how they use the Galaxy Note10+ to make things happen.

Entrepreneurs and their missions: Sonny McCracken, Kevin Lin, and Katerina Schneider
Meet your new business partner
Every entrepreneur needs a powerful tool
to help them take their new business off the ground.
*Certain apps may not support App Pair.