Twin Cooling™
Water Dispenser
908 x 1774
Net Dimension (WxH)(mm)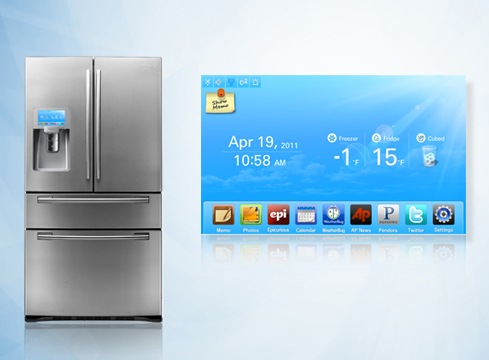 A Refrigerator that Organizes More than just Your Food
Introducing the Samsung 4-door refrigerator, now available with a Wi-Fi enabled LCD screen. Loaded with apps like Google Calendar, Notes and Whether Bug and a customizable counter-height drawer. It's never been easier to organize your food and your family. That's the wonder of Samsung.
Style for the kitchen, convenience for the family.
We've positioned refrigerator drawers situating evenly with average kitchen counter height for a seamless, sophisticated, built-in look that styles-up any modern-day kitchen interior. The independent mid drawers of the AW3-11 are essentially easy access drawers and let all the family members get what they want quickly and easily—party platters for Mom, chilled beers for Dad, juice boxes, sandwiches, and other snacks for the kids.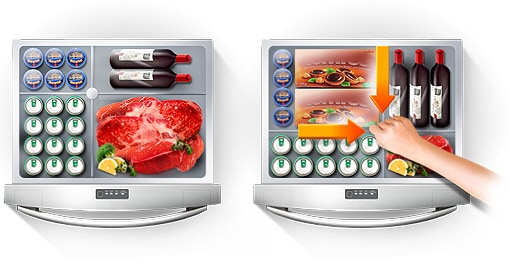 Helping you find the right spot for everything.
Optimized for the family of four, the Smart Divider is exactly that—a smart way to divide refrigerator contents—use the independent mid-drawer for the most frequently used items, and for everything else, the Smart Divider simply and conveniently helps you organize and sort fridge items whether by family preference, food type, or any way else that best suits you.
The refrigerator within the refrigerator.
Designed to meet the unique demands of your family's tastes and needs, Samsung's Temp. Control is an independent drawer that functions as a refrigerator within your refrigerator. Just select the mode required for the type of food you're storing from four settings – 29 ℉ (Meat / Fish), 33 ℉ (Cold Drinks), 37 ℉ (Deli / Snacks), 42 ℉ (Wine / Party Dishes) – and the drawer good changes temperature to match your unique needs. All it takes is the touch of a button.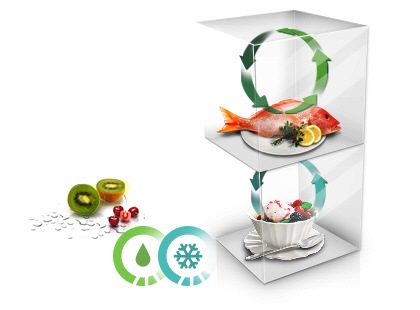 Keeping foods in peak condition starts with Twin Cooling Plus™.
Now, Samsung brings you the cooling technology of refrigerators five times the price. Our Twin Cooling Plus™ inside fans each chamber independently. Freezer air stays dry, fridge air stays humid so foods are kept in their peak condition. It's the kind of technology you'd find in professional refrigerators, but it's built into every Samsung – where what's inside counts. Smart Thinking, Simple Living.
The stylish way to save energy.
LED lighting on the outside give your fridge some style‡ strategically placed Samsung LED lighting inside the AW3-11 perfectly illuminates every inch of its storage compartments for a brighter, easier way to find what you need. These semi-permanent LED light bulbs, besides their bright shine consume 20x less energy than typical refrigerator lighting for unbeatable energy-saving, eco-friendliness.
Conveniently sized dispenser makes it easy.
Samsung Wi-Fi LCD display dispenser upgrades the taller and widier, so pitchers and statuesque glasses can finally be quickly and easily filled with filtered water from the dispenser. No matter what you're drinking or pouring form, it's all right there at your fingertips.
More storage means fewer trips to the grocery store.
The storage-maximizing French door-style refrigerator provides bigger space for just about everything—drinks, frozen foods, todays breakfast, lunch and dinner, the weekend's breakfast lunch and dinner, even next week's family reunion picnic lunch. The problem won't be finding enough space, but buying enough groceries to fill it.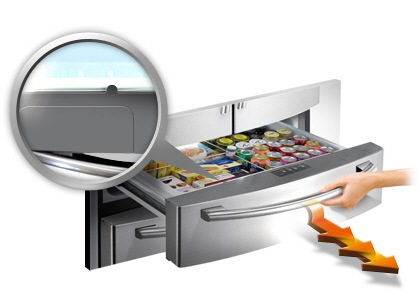 Engineered for ease.
Samsung's new clean-look easy handle makes it, well, easy. So easy, in fact, that even a child could do it. Crafted with your comfort and convenience in mind, this innovative handle makes opening the sturdy door of Samsung's French door refrigerator a breeze. No extra force required. Finally.
Energy Star
Samsung continues to strive for the most environmentally friendly energy-saving refrigerator. With energy grade certifications for most of its products, Samsung's refrigerators received Energy Star in the U.S.

R134a
Our eco-friendly Planet First™ fridges are engineered for impressive, impactful energy efficiency, helping you and your family maintain a healthier, greener lifestyle while also lowering your energy bill.
‎614‎

Net Total (Liter)

908 x 1774

Net Dimension (WxH)(mm)
How It Stacks Up
Twin Cooling™

Water Dispenser

Net Total (Liter)

‎614‎

Net Dimension (WxH)(mm)

908 x 1774
Triple & Metal Cooling System

Wi-Fi Embedded

Net Total(Liter)

822

Net Weight(kg)

160
* Key feature may different from Key Spec