Galaxy A5/A7 2017: How to install the SIM or USIM card on Dual SIM model
Last Update Date :
May 17. 2018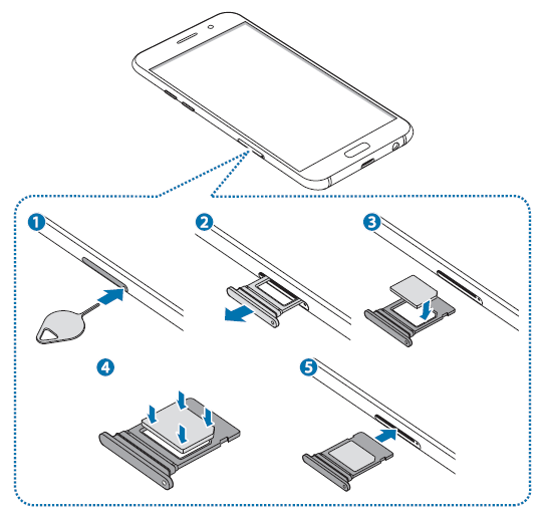 1
Insert the ejection pin into the hole on the tray to loosen the tray.
Note : Ensure that the ejection pin is perpendicular to the hole.
Otherwise, the device may be damaged.
2
Pull out the tray gently from the tray slot.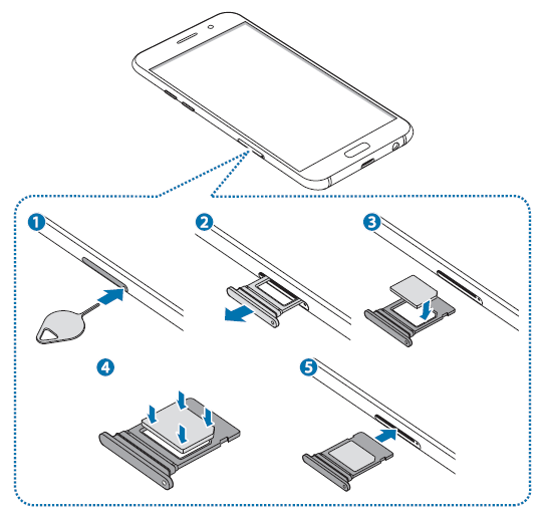 3
Place the SIM or USIM card on the tray with the gold-coloured contacts facing downwards.
Use only a nano-SIM card. Place the primary SIM or USIM card on the tray 1 ( 1 ) and the secondary SIM or USIM card on the tray 2 ( 2 ).
4
Gently press the SIM or USIM card into the tray to secure it.
Note : If the card is not fixed firmly into the tray, the SIM card may leave or fall out of the tray.

5
Insert the tray back into the tray slot.
Note :
• If you insert the tray into your device while the tray is wet, your device may be damaged. Always make sure the tray is dry.
• Fully insert the tray into the tray slot to prevent liquid from entering your device.
• You cannot insert a nano-SIM card and a microSD card in tray 2 at the same time.

Not finding what you're looking for? We're here to help.
Call
For your Inquiries on Samsung Products
(Inside Saudi Arabia)
8002474357
24 hours all days a week

(Outside Saudi Arabia)
+966112974690
24 hours all days a week

* May Call Charges will be applied
* For any printer related enquiries please visit the HP website .
Face-to-face support
Samsung Support Center

The latest Coronavirus (COVID-19) updates (Service Centers)
With the global spread of COVID-19 impacting most communities, Samsung is adapting its practices to protect the health and wellbeing of our people and customers.

As such, our customer service centers are operating with extremely limited resources and we are unable to serve you as usual.

We apologize for any inconvenience this may cause.
Contact Us