Galaxy Note5: What is the UHQ (Ultra High Quality) audio feature?
Last Update Date :
Apr 16. 2018
The Galaxy Note5 supports an audio technology which upscales the
quality of sound closer to the original sound. 
- Converts regular quality sound(CD, mp3, streaming) to ultra high quality sounds
- Also supported over the air(BT) without any loss (should support UHQ-BT codec)
- LEVEL on Pro, LEVEL U Pro and LEVEL Box2 supported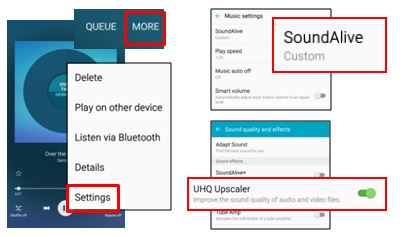 Tap "SoundAlive" and turn on "UHQ Upscaler"
Note: To enable, the headset must be connected on the device.
You can enhance quality of sound automatically and enjoy ultra high quality audio close to the original sound.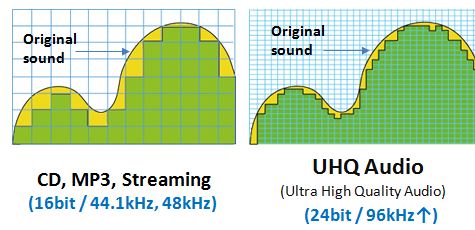 UHQ Audio automatically estimates and recovers the loss produced during the playback of CD, MP3, streaming quality sound and converts it closer to the original sound. 

The file size does not increase compared to original file after the conversion .
Not finding what you're looking for? We're here to help.
Call
For your Inquiries on Samsung Products
(Inside Saudi Arabia)
8002474357
24 hours all days a week

(Outside Saudi Arabia)
+966112974690
24 hours all days a week

* May Call Charges will be applied
* For any printer related enquiries please visit the HP website .
Face-to-face support
Samsung Support Center

The latest Coronavirus (COVID-19) updates (Service Centers)
With the global spread of COVID-19 impacting most communities, Samsung is adapting its practices to protect the health and wellbeing of our people and customers.

As such, our customer service centers are operating with extremely limited resources and we are unable to serve you as usual.

We apologize for any inconvenience this may cause.
Contact Us