[Galaxy S6/S6 EDGE] Why device automatically unlocks even if it has lock settings?
Last Update Date :
Apr 09. 2018
If you locked your device but it seems to have "unlocked" itself please check
whether Smart Lock feature is enabled.
Smart Lock feature supports the unlocking of your mobile device (without you
needed to unlock the device using the screen lock type you activated) when
trusted locations or other devices which have been registered in advance have
been detected.
(*Smart Lock is new feature implemented by Google since Android OS 5.0 Lollipop)
In other words, via Smart Lock feature if you register trusted devices such as a
Bluetooth watch, your car's Bluetooth system, an NFC sticker on the phone dock in
your car, the Galaxy S6 will go to unlocked state when connected to trusted device.
(Note : this will mean your device will be unlocked while it is in range of the Bluetooth
signal of the device)
Similarly, you can add trusted locations through Google Maps and device will keep
unlocked state within the locations.
At that time, your Galaxy S6 is unlocked without using a screen lock type except just
dragging the screen.
You are able to enable Smart lock after setting one of the Lock methods such as
PIN, Pattern, Password or Fingerprints lock type. Please refer to screenshots below.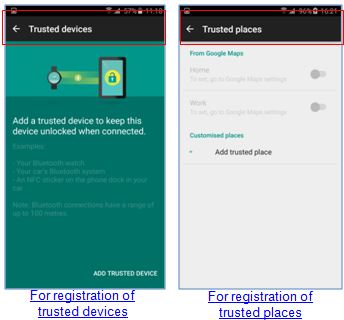 Not finding what you're looking for? We're here to help.
Call
For your Inquiries on Samsung Products
(Inside Saudi Arabia)
8002474357
24 hours all days a week

(Outside Saudi Arabia)
+966112974690
24 hours all days a week

* May Call Charges will be applied
* For any printer related enquiries please visit the HP website .
Face-to-face support
Samsung Support Center

The latest Coronavirus (COVID-19) updates (Service Centers)
With the global spread of COVID-19 impacting most communities, Samsung is adapting its practices to protect the health and wellbeing of our people and customers.

As such, our customer service centers are operating with extremely limited resources and we are unable to serve you as usual.

We apologize for any inconvenience this may cause.
Contact Us