[Galaxy S8/S8+]What to do if screen color appears reddish?
Last Update Date :
May 10. 2018
Step 1. Tap Settings
S8/S8+ has applied Super AMOLED. Color is expressive and rich and can be more sensitive
to subtle color changes, and color accuracy is higher. And, adaptive display mode of S8/S8+
automatically optimize the color range, saturation, and sharpness of your display.
As each user may have different preferred colors for super AMOLED, if you do not satisfy default
screen color, we recommend to adjust full screen color balance of your display to change the appearance
of white tones.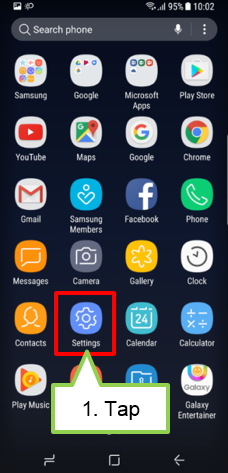 Step 2. Tap Display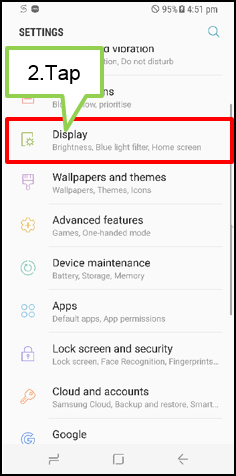 Step 3. Tap Screen mode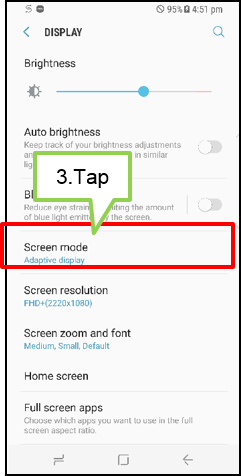 Step 4. Adjust Full screen Color balance
Adjust full screen colors of display to Cool or Warm tone depending on your preference.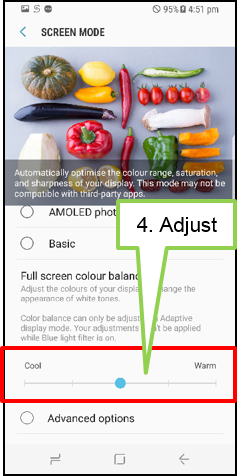 Step 5. Tap Advanced optios
Through Advanced options, you can also adjust each value of Red, Green, Blue color
for full screen color balance and this feature had been improved to optimize more broad
and detailed the color range, saturation and sharpness of display in comparison
of previous software version.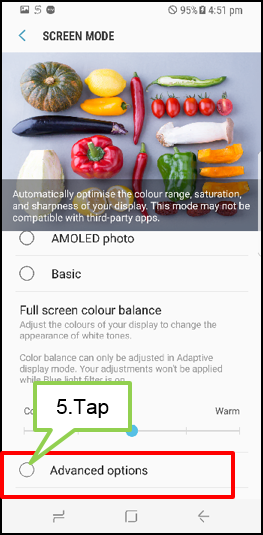 Step 6. Adjust the colors of the display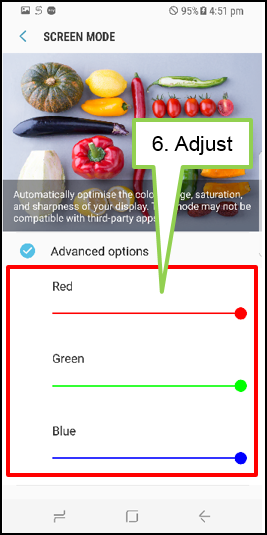 Step 7. Tap Screen edge color balance
If further adjustment is needed near the edges after adjusting the full screen color balance, you can adjust the colors at the edges of the screen to change the appearance of white tones.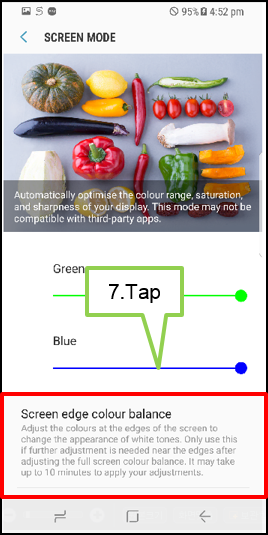 Step 8. Adjust the color edge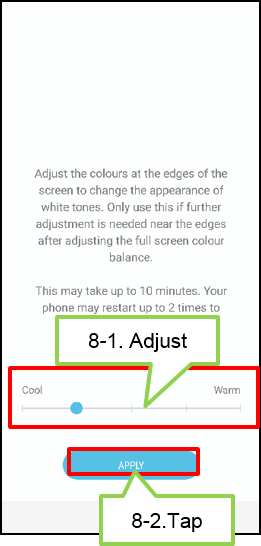 Step 9.
Adjust the colors at the edges of the screen. Optimizing screen edge colors may
take up 10 minutes and your device may restart up to 2 times to apply your adjustments.
Do not turn off or leave the screen during the optimization.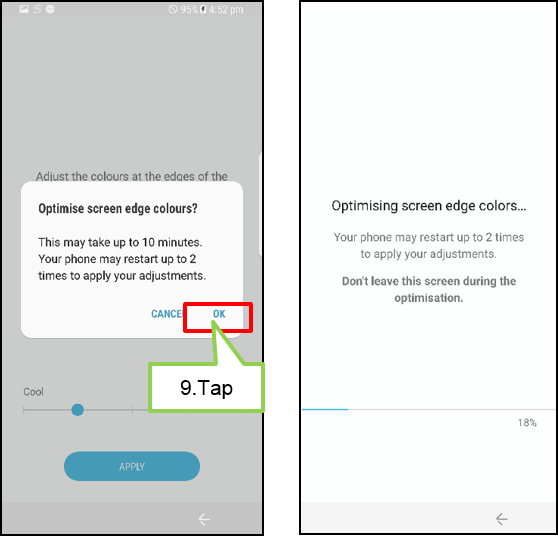 Not finding what you're looking for? We're here to help.
Call
For your Inquiries on Samsung Products
(Inside Saudi Arabia)
8002474357
24 hours all days a week

(Outside Saudi Arabia)
+966112974690
24 hours all days a week

* May Call Charges will be applied
* For any printer related enquiries please visit the HP website .
Face-to-face support
Samsung Support Center

The latest Coronavirus (COVID-19) updates (Service Centers)
With the global spread of COVID-19 impacting most communities, Samsung is adapting its practices to protect the health and wellbeing of our people and customers.

As such, our customer service centers are operating with extremely limited resources and we are unable to serve you as usual.

We apologize for any inconvenience this may cause.
Contact Us