Gear S3: How do I connect to a mobile device?
Last Update Date :
Apr 09. 2018
You need to connect your Gear to your mobile device before using the Gear.
To connect your Gear to a mobile device, install the Samsung Gear app on the mobile device.
Launch Galaxy Apps and search for Samsung Gear Manager
or visit apps.samsung.com/gear to download it.
(You cannot install the Samsung Gear app on the mobile devices that does not support Gear syncing.
Ensure that your mobile device is compatible with Gear S3 device. Supported mobile devices may vary depending
on your region, service provider, and device manufacturer. Visit www.samsung.com for more information.)
1. (On Gear side)Turn on the Gear
2. (On mobile device)On Apps screen, tap Samsung Gear. If necessary,
update the Samsung Gear app to the version.
3. Tap CONNECT TO GEAR.
4. When the Bluetooth pairing request window appears,
confirm the passkeys displayed on your Gear and mobile match.
Then Tap OK (4.2).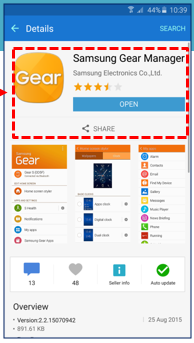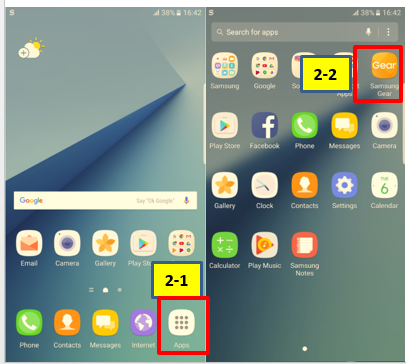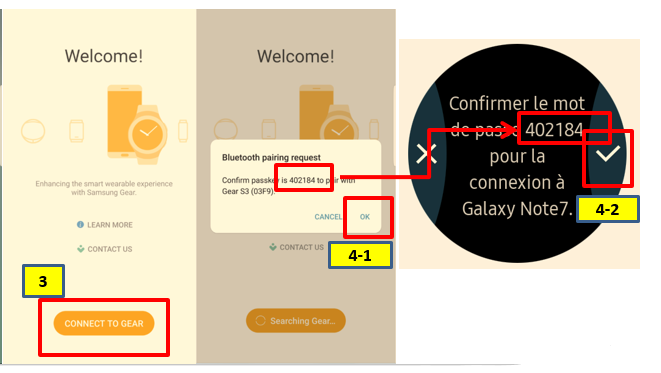 5. Read the Terms and Conditions on screen instructions and tick the check boxes .
If completed, then tap NEXT.
6. If you want to sign in to your Samsung account , tap SIGN IN.
Or, If you want to sign at later, just tap SKIP.
7. When the devices are connected, the Samsung Gear app's main screen will be displayed on the mobile device, and the Clock screen will be displayed on the Gear.
An on-screen tutorial will appear on the Gear's screen. Follow the on-screen instructions to learn the Gear's basic controls.
When you connect the Gear to another mobile device, the Gear will be reset automatically and all data will be removed from its memory. Make sure you make back up any important data stored in the Gear's memory.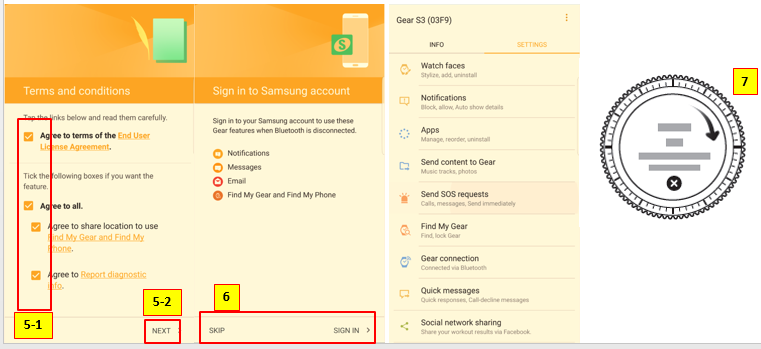 Not finding what you're looking for? We're here to help.
Call
For your Inquiries on Samsung Products
(Inside Saudi Arabia)
8002474357
24 hours all days a week

(Outside Saudi Arabia)
+966112974690
24 hours all days a week

* May Call Charges will be applied
* For any printer related enquiries please visit the HP website .
Face-to-face support
Samsung Support Center

The latest Coronavirus (COVID-19) updates (Service Centers)
With the global spread of COVID-19 impacting most communities, Samsung is adapting its practices to protect the health and wellbeing of our people and customers.

As such, our customer service centers are operating with extremely limited resources and we are unable to serve you as usual.

We apologize for any inconvenience this may cause.
Contact Us