How to set up the S-Health app in Galaxy Alpha?
Last Update Date :
Apr 09. 2018
1. On the home screen tap "Apps"
2. Tap "S Health"
3. When the S health app opens, tap on "Next",
4. Tap "Next" and then sign in Samsung account to back up and restore your health data to
and from the server.

5. Then when the Terms and conditions screen appears, tap in the box next to "I agree",
then tap "Next".
6. Select the Backup frequency.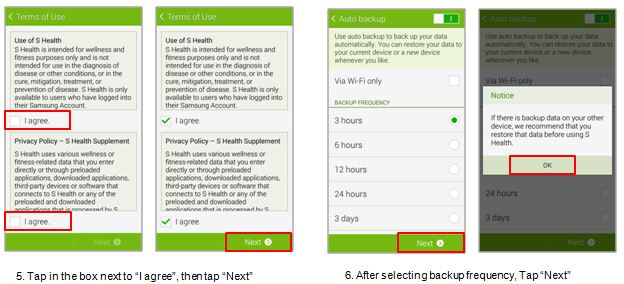 7. When the Create Profile screen appears, tap in the "name" box and enter your name.
Then tap "Done"
8. Tap on the Gender icon, then use the up and down arrows on the screen to edit the Date of
Birth to your birthday.If you do not wish to share your profile information with other S health
users, tap in the box in the bottom left corner and then tap "Next".
The Body measurements screen will appear.
9. You can now enter your height and weight. If you want to change the units from feet and
inches to centimetres tap in the box next to the height details.
Then tap in the individual boxes and use to on screen keyboard to alter the information
displayed. Enter your weight details then tap "Next"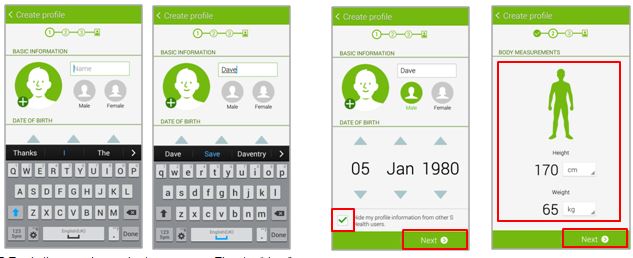 10.Select your Activity Level, then tap on "Next".
11. Now your profile has been created tap on "Start". You can now begin using the S Health app.
12. Tap on "Heart Rate"
13. Tap on OK when the Information pop up screen appears.
Note: If you have a Galaxy Gear device equipped with a Heart rate Monitor sensor,
and you have used the Heart rate Monitor app your latest Heart Rate measurement will
be displayed.

14. To see your Heart rate data, tap on the "graph" icon in the corner of the screen.
15. Tap on the "Heart" icon to return to the previous screen.
16. To access S Health settings, tap on the Menu icon and then tap "Settings".
17. Use the "back" key on your Galaxy Alpha to return to the S Health app main screen.

18. The S Health app is also equipped with a Pedometer. Tap on Pedometer.
19. Tap on Start to begin counting your steps as you move.
20. Tap on "Pause" to end.
21. Tap on "Ok" to exit the Pedometer.
Note; To exit the Pedometer without stopping it counting use the back key.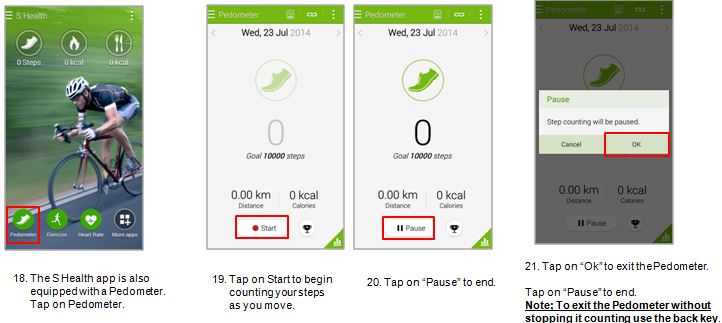 22. The S Health app is also equipped with an Exercise feature that can help create your own
Exercise routine. Tap on "Exercise".
23. Tap on "Set Workout Goal" to access the menu for the different setting areas
24. You can edit to help you set up your own exercise program.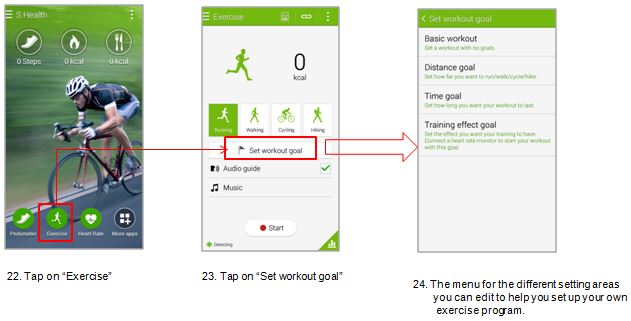 Not finding what you're looking for? We're here to help.
Call
+966 11 268 2725Outside Saudia Arabia
* Extra charges may apply during international calls.
* For any printer related enquiries please visit the HP website .
Contact Us