Samsung Gear 360 (2017): How to charge the battery?
Last Update Date :
Apr 16. 2018
1
Plug the small end of the charger into the multipurpose jack of the Gear 360, and plug the large end of the charger into an electric socket.
NOTE: If the Samsung Gear 360 is not charging properly, take the Samsung Gear 360 and the charger to a Samsung Service Center.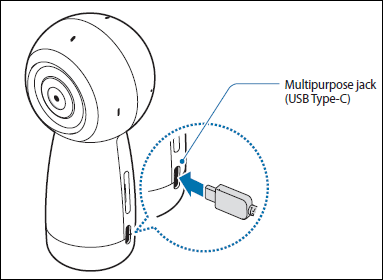 2
After fully charging, disconnect the Gear 360 from the charger.
First unplug the charger from the Gear 360, and then unplug it from the electric socket.
Notes:
• Use only Samsung-approved chargers, batteries, and cables. Unapproved chargers or cables can cause the battery to explode or damage the Gear.
• Connecting the charger improperly may cause serious damage to the device. Any damage caused by misuse is not covered by the warranty.
• If the battery is completely discharged, the device cannot be turned on immediately when the charger is connected. Allow a depleted battery to charge for a few minutes before turning on the device.
• You cannot charge the Samsung Gear 360 while recording a video, using the time lapse feature, or using the viewfinder remotely on the connected mobile device.
• To save the battery power, activate the auto shut-off feature.

Not finding what you're looking for? We're here to help.
Call
For your Inquiries on Samsung Products
(Inside Saudi Arabia)
8002474357
24 hours all days a week

(Outside Saudi Arabia)
+966112974690
24 hours all days a week

* May Call Charges will be applied
* For any printer related enquiries please visit the HP website .
Face-to-face support
Samsung Support Center

The latest Coronavirus (COVID-19) updates (Service Centers)
With the global spread of COVID-19 impacting most communities, Samsung is adapting its practices to protect the health and wellbeing of our people and customers.

As such, our customer service centers are operating with extremely limited resources and we are unable to serve you as usual.

We apologize for any inconvenience this may cause.
Contact Us