What is the screen write feature of Air Command in Galaxy Note4?
Last Update Date :
Apr 09. 2018
---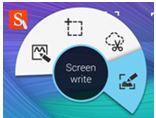 Use the screenwrite application to capture, edit, and write memos on screenshots.
Then you can share them also.
How to use Screen Write feature in Galaxy Note 4?
1. Hover the pen over the screen and press the pen button.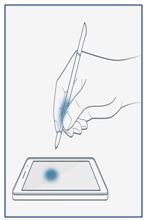 2. Tap Screen Write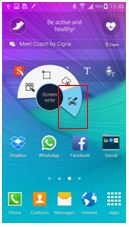 3. Toolbar is displayed in captured screen.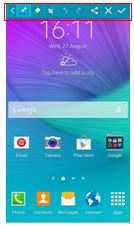 4. Tap on the Pen icon if you wish to adjust the Pen setting.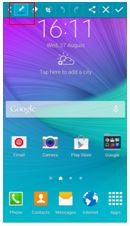 5. You can change the Pen settings.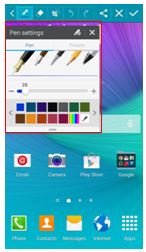 6. You can write or draw on top of your screen shot image.
Tap on the check icon to save the screenshot.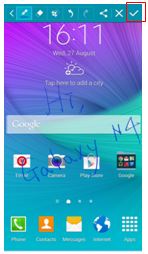 Screen shots will be saved in the Gallery
Not finding what you're looking for? We're here to help.
Call
For your Inquiries on Samsung Products
(Inside Saudi Arabia)
8002474357
24 hours all days a week

(Outside Saudi Arabia)
+966112974690
24 hours all days a week

* May Call Charges will be applied
* For any printer related enquiries please visit the HP website .
Face-to-face support
Samsung Support Center

The latest Coronavirus (COVID-19) updates (Service Centers)
With the global spread of COVID-19 impacting most communities, Samsung is adapting its practices to protect the health and wellbeing of our people and customers.

As such, our customer service centers are operating with extremely limited resources and we are unable to serve you as usual.

We apologize for any inconvenience this may cause.
Contact Us