Why does the display turn on even if I close the Flip cover?
Last Update Date :
Apr 09. 2018
Samsung has been notified that non-compatibility of some 3rd party application with device
may cause turning on display automatically. This phenomenon may happen after screen off,
flip cover closed or charging.
If you had ever installed new 3rd party application recently, we recommend to check your device
in "Safe mode" or after uninstalling it.
To check your device in Safe mode:
1. First please turn off your device.
2. After the device has fully turned off, please turn on your device again.
3. As the device is powering up, the device name logo will appear on the screen.
When you see this happening, press and hold the "Volume down key". Your device will power up
in "safe mode".
4. If you have successfully entered into Safe Mode, you will notice the text 'Safe Mode' at the bottom
left corner of the screen.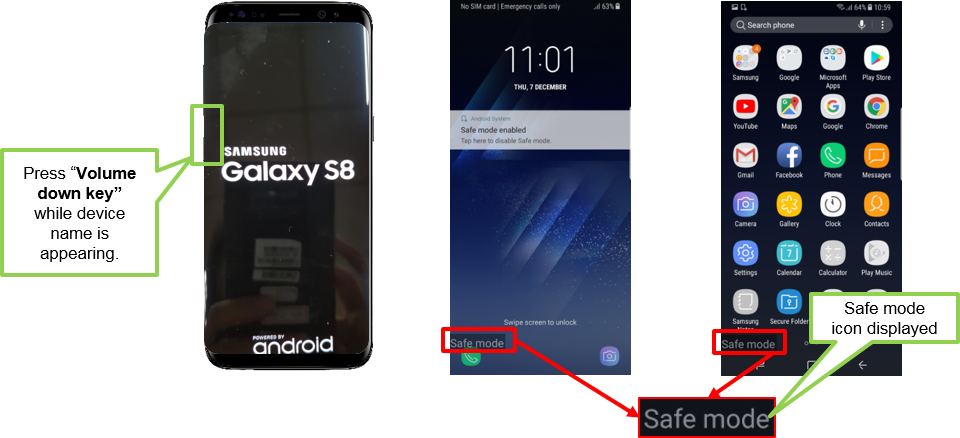 If your device support "Bixby Key" and this symptom occurred under "Safe mode", Please check
the "Bixby Key".
Press "Bixby key" several times and then check device working properly.
And if you used 3rd party wireless fast charger, it may be caused this symptom. Samsung recommend
to use Samsung authorized fast wireless charger.
As you may experience symptom as well at that time. Please contact a Samsung Service Centre with device for check.
Not finding what you're looking for? We're here to help.
Call
For your Inquiries on Samsung Products
(Inside Saudi Arabia)
8002474357
24 hours all days a week

(Outside Saudi Arabia)
+966112974690
24 hours all days a week

* May Call Charges will be applied
* For any printer related enquiries please visit the HP website .
Face-to-face support
Samsung Support Center

The latest Coronavirus (COVID-19) updates (Service Centers)
With the global spread of COVID-19 impacting most communities, Samsung is adapting its practices to protect the health and wellbeing of our people and customers.

As such, our customer service centers are operating with extremely limited resources and we are unable to serve you as usual.

We apologize for any inconvenience this may cause.
Contact Us