The TV does not retain the wireless network passkey settings. How to retain it?
Last Update Date :
May 17. 2018
ISSUE
The TV has previously been connected to a wireless network. However, the Security key information (which is entered with the Network Name or the SSID) is not saved within the Network Setting menu.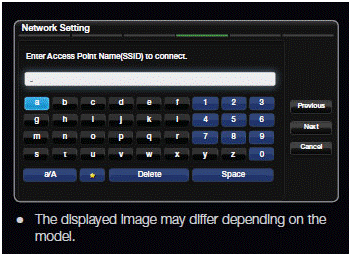 SOLUTION
The end-user will need to do both of the following solutions:
1. Use WPA-PSK (Wifi Protected Acess Pre-shared Key) security authentication encryption.
2. Make sure that the Samsung Wireless Link (SWL) setting has been disabled. This feature can be accessed via Netowrk settings->SWL or Settings ->Network, and then scrolling down to SWL.
Not finding what you're looking for? We're here to help.
Call
For your Inquiries on Samsung Products
(Inside Saudi Arabia)
8002474357
24 hours all days a week

(Outside Saudi Arabia)
+966112974690
24 hours all days a week

* May Call Charges will be applied
* For any printer related enquiries please visit the HP website .
Face-to-face support
Samsung Support Center

The latest Coronavirus (COVID-19) updates (Service Centers)
With the global spread of COVID-19 impacting most communities, Samsung is adapting its practices to protect the health and wellbeing of our people and customers.

As such, our customer service centers are operating with extremely limited resources and we are unable to serve you as usual.

We apologize for any inconvenience this may cause.
Contact Us