[TV] How to change channel?
Last Update Date :
May 17. 2018
[Solution]
Changing channel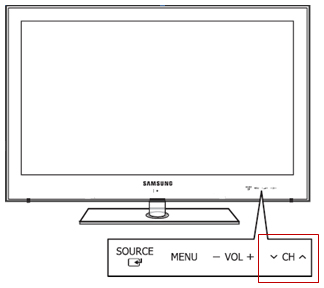 Method 1.

: Press to change channels. In the on-screen menu, use the

buttons on TV as you would use the ▼ and ▲ buttons on the remote control.
Method 2.
1. Using the Number Buttons
Press the number buttons to go directly to a channel. For example, to select channel 27, press 2, then 7.
• For quick channel change, press the number buttons, then press the ENTER button.
2. Using the

Button
The button is used to select stations that broadcast a digital signal. 1. For example, for Channel 7-1, press 7, then,

then 1.
• For quick channel change, press the number buttons, then press the ENTER button.
3. Using the PRE-CH Button to select the Previous Channel
Press the PRE-CH button. The TV will switch to the last channel viewed.
To quickly switch between two channels that are far apart, tune to one channel, then use the number button to select the second channel. Then use the PRE-CH button to quickly alternate between them.
[
Important Reminders]
The product color, shape and function may vary depending on the model.
Not finding what you're looking for? We're here to help.
Call
For your Inquiries on Samsung Products
(Inside Saudi Arabia)
8002474357
24 hours all days a week

(Outside Saudi Arabia)
+966112974690
24 hours all days a week

* May Call Charges will be applied
* For any printer related enquiries please visit the HP website .
Face-to-face support
Samsung Support Center

The latest Coronavirus (COVID-19) updates (Service Centers)
With the global spread of COVID-19 impacting most communities, Samsung is adapting its practices to protect the health and wellbeing of our people and customers.

As such, our customer service centers are operating with extremely limited resources and we are unable to serve you as usual.

We apologize for any inconvenience this may cause.
Contact Us