When I connect my PC to TV using HDMI, there is no sound. How to solve the issue?
Last Update Date :
May 17. 2018
Ans. There are two cases that we can consider in this issue. Please find below:
Case 1. When PC graphic card does not support S/PDIF connection between PC Sound Card, please do this set up: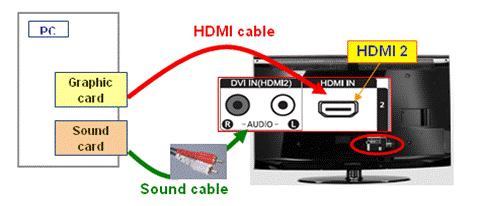 (Only 'HDMI IN 2; jack on the back of the TV supports Audio R/L input)
Case 2. When PC graphic card supports S/PDIF connection between PC sound card, do either of the following: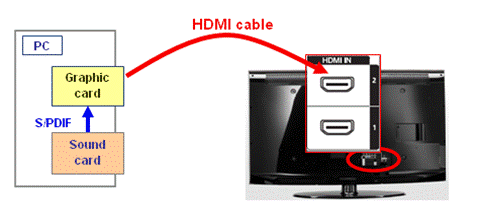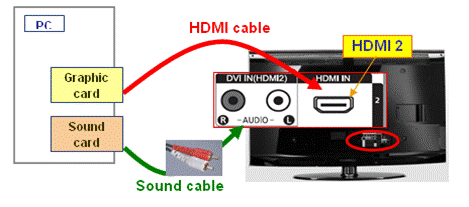 Note: If customers do not know their PC graphic card specification, they need to contact the manufacturer of their PC or check the graphic card user manual.
Not finding what you're looking for? We're here to help.
Call
For your Inquiries on Samsung Products
(Inside Saudi Arabia)
8002474357
24 hours all days a week

(Outside Saudi Arabia)
+966112974690
24 hours all days a week

* May Call Charges will be applied
* For any printer related enquiries please visit the HP website .
Face-to-face support
Samsung Support Center

The latest Coronavirus (COVID-19) updates (Service Centers)
With the global spread of COVID-19 impacting most communities, Samsung is adapting its practices to protect the health and wellbeing of our people and customers.

As such, our customer service centers are operating with extremely limited resources and we are unable to serve you as usual.

We apologize for any inconvenience this may cause.
Contact Us