75" Q70R Flat Smart 4K QLED TV (2019)
QA75Q70RARXUM
75" Q70R Flat Smart 4K QLED TV (2019)
is rated out of
5
by
1282
.
BUNDLE
Direct Full Array 4X
Quantum HDR 8X
Quantum Processor 4K
Colour Volume 100% by Quantum Dot
Dark and light, brought to life
* Product design and specifications may vary depending on the model and size of the TV.
1. Direct Full Array 4X
Experience bold contrast with every detail uncovered through Direct Full Array backlighting.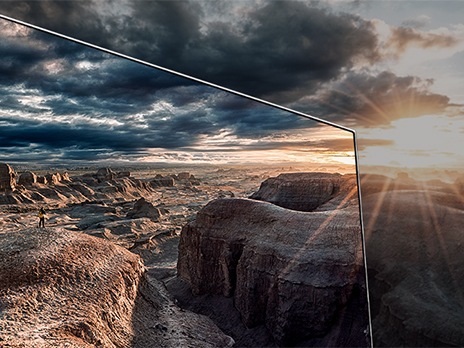 2. Quantum HDR 8X
A new level of HDR awaits you. With greater contrasts you'll uncover all the hidden details.
3. Quantum Processor 4K
Intelligence improves performance, optimizing to viewing condition and content in real time.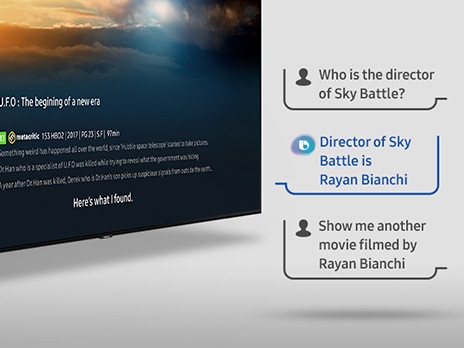 4. Bixby on TV
Do more with Bixby. Our intelligent assistant lets you interact with your TV more meaningfully.
QLED begins at reality
Colour Volume 100% by Quantum Dot
Colours as real as they should be. With Samsung's unique Quantum Dot technology, QLED cranks the colour volume to a full 100%, giving you realistic colours in dark or bright scene.
See the details in bold contrast
Direct Full Array 4X
Controlling the backlight makes all the difference. QLED's Direct Full Array 4X shows each scene in precise detail, offering greater depth in the dark.
* Direct Full Array Numerical Index based on backlighting, antireflection and contrast enhancement technologies.
See a new world with expanded HDR
Quantum HDR 8X
Quantum HDR 8X shows you more of nature than you could ever imagine. It boasts an expanded range of brightness that makes the sun shine brighter and rain clouds look darker. Discover a whole new world.
* The range of Quantum HDR claims luminance based on internal testing standards and is subject to change according to viewing environment or specific conditions.
See the bigger picture
with 82"
You've never been closer than this. Immerse yourself in a cinematic experience where details come alive. You'll experience every moment of the game, feel every explosion, and be right in the middle of the action. Everything gets very real on a bigger screen.
Win more games, have more controls
Low input lag and smooth motion
for full control of the game
Experience smooth game play and minimal input lag with FreeSync™ VRR (Variable Refresh Rate) technology* to give you the real-time gaming speed you need to climb to the top. Embrace Samsung QLED TV speed and get ready for some epic wins.
* FreeSync technology reduces input lag, with less tearing and stuttering.
* VRR (Variable Refresh Rate) lets a gaming source optimal video frame by each scene.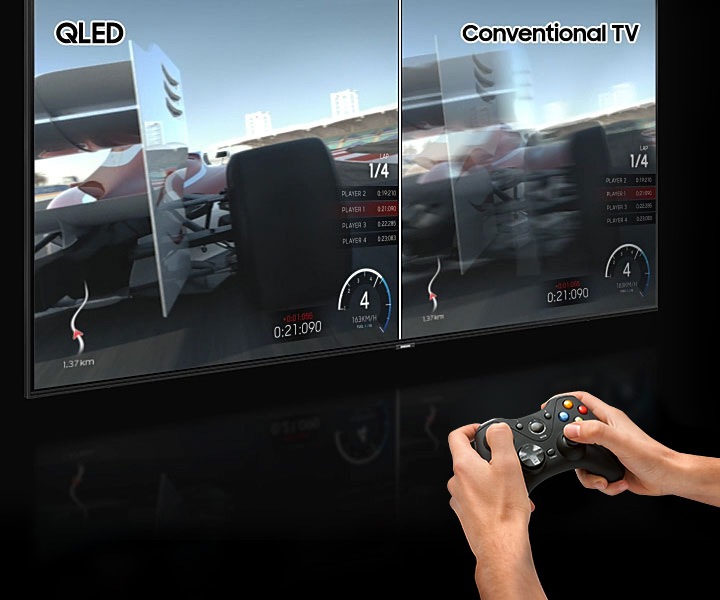 Up your game
with Game Enhancer
Be ahead of competition with Dynamic Black Equalizer which dramatically increases visibility in the dark so that you can see every detail and action. It also optimizes image quality through detailed scene analysis and enhances the sound so you can fully immerse yourself in the game.
* The content within the screen are simulated images and are for demonstration purposes only.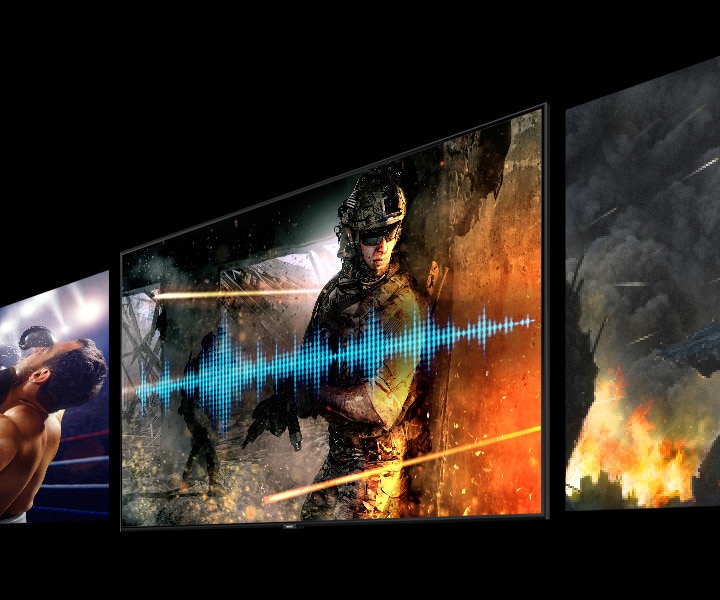 Performance powered by intelligence
Quantum Processor 4K
Experience the difference with Samsung QLED's AI-powered processor. It intelligently upscales every scene to deliver an improved resolution and optimizes brightness levels, so you get nothing short of an amazing experience.
AI Upscaling
QLED uses AI-powered machine learning to reduce image noise, restore lost detail, and even sharpen edges around objects and text. Now you can enjoy your content at near 4K resolution.
* Viewing experience may vary according to types of content and format. 'AI Upscaling' may not apply to PC connection, and certain conditions of Game Mode.
Automatically adapts to room conditions
with Intelligent Mode
Conditions in your room can change, and your TV needs to adapt. QLED's Intelligent Mode adjusts brightness and volume accordingly to match the TV's content and environment.
See the picture, not the TV
Beautiful TV design should keep your eyes on what's important: the picture. QLED's Boundless Design enhances the immersion effect with bezels that can hardly be seen. See what you want to see.
Personalize your wall
with Magic Screen
Magic Screen enables QLED to mingle with your home décor for a perfectly natural effect. Instead of a simple black screen, you'll see meaningful images that match your lifestyle, with easy settings and plenty of choices.
*The Magic screen background setting feature may vary depending on the environment where the TV is installed including, but not limited to, wall designs, patterns, and/or colours.
*Setup process requires a Samsung Account. TV must have an internet connection for mobile set-up.
Décor
Set your screen with an interactive background that matches your room décor perfectly.
Info
You can display info like the time and date on a beautiful background.
Photos
Display all your favorite photos from your mobile device*. It's your own personal gallery.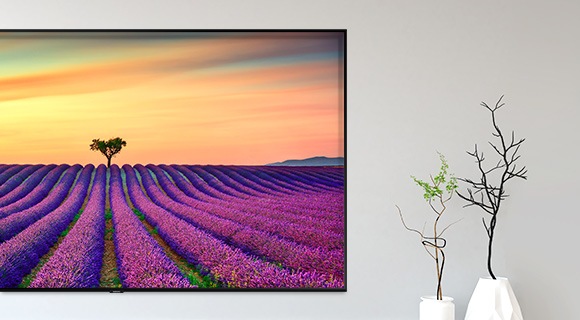 Artworks
Lovers of art will also enjoy beautiful pieces from well-known photographers and artists, all grouped on a variety of themes.
* Available art displayed may differ from image shown. Some art may require purchase or paid subscription with the Art Store. Art pieces in the Art Store are subject to change without prior notice.
Make the screen your own
Wall Setting
QLED uses a photo of your wall to recreate the pattern on screen. It's the perfect blend for your décor.
Décor Custom Design
QLED senses nearby colours in the room and applies them to a beautiful design on screen.
Photo Matte
Use various filters to transform your photos into beautiful works of art right before your eyes.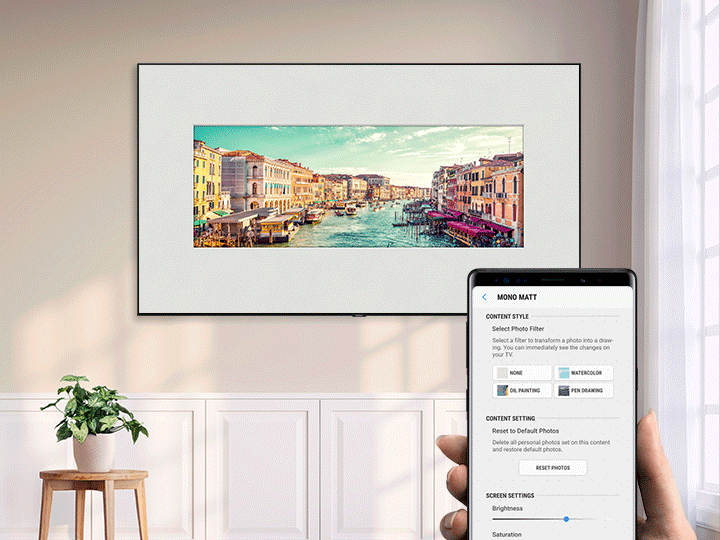 Light grid
Special lighting for special occasions. Select from a variety of options, like neon, and have some fun with your space.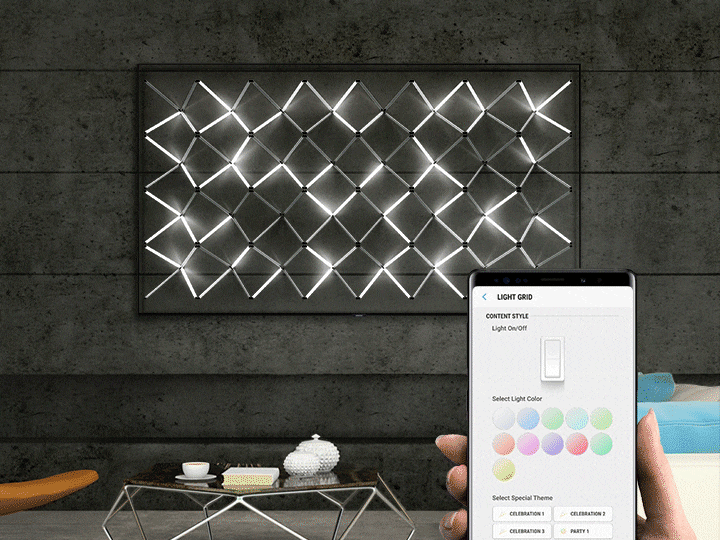 * The Magic screen background setting feature may vary depending on the environment where the TV is installed including, but not limited to, wall designs, patterns, and/or colours.
* Setup process requires a Samsung Account. TV must have an internet connection for mobile set-up.
* The set-up process can also be done by remote control.
*Auto recognition between mobile phone and TV may vary depending on the mobile device. For mobile devices that do not support auto recognition, open the SmartThings app on your mobile to begin set-up.
* Background feature accuracy may vary based on TV location, dependent on wall designs, patterns, and/or colours.
* Background feature accuracy may vary based on TV location, dependent on wall designs, patterns, and/or colours.
* Background feature accuracy may vary based on TV location, dependent on wall designs, patterns, and/or colours.
QLED makes everything easy
Smart Hub & One Remote
QLED gets even smarter with Smart Hub and Samsung One Remote. They place all the content you want right at your fingertips, from your set-top box to game console, apps, and live TV. All you need is one.
* Images are simulated and for illustration purposes only. The appearance, design and GUI specifications which is not affecting to product performance are subject to change without notice.
* Some features and functions provided by connected devices may not be supported or limited to use.
Hands-free control with your voice
Bixby on TV
Control the TV from the comfort of your couch simply with just your voice.
*Bixby service availability requires Samsung Account login and data connection. Available functions and features may vary by country, region, and language. Not all actions can be completed through voice control. Bixby only recognises certain accents and dialects of English (UK), English (US), French (France), German (Germany), Italian (Italy), Korean (South Korea) and Spanish (Spain). Other supported languages may be added in the future. Not all accents, dialects, and expressions are recognised, and actual performance may vary depending on pronunciation, voice level, and the surrounding environment.
* The content within the screen are simulated images and are for demonstration purposes only.
Build a Smart Home
with SmartThings
A truly intelligent home, tailored to your life. With Samsung SmartThings, connect all your smart home devices and control them from your Samsung Smart TV.
* Requires installation of SmartThings app on compatible mobile device.
* Requires an internet connection.
* Subject to device compatibility. Samsung SmartThings compatible devices may vary by region.
* Selected Samsung TV models are compatible with SmartThings.
Seamless connections
Works with
QLED can be the center of a new and more convenient connected lifestyle. It integrates seamlessly with smart speakers and mobile devices—even from other brands.
* Subject to device compatibility.
* Some features and functions provided by connected devices may not be supported or limited to use.
* Turn-on TV feature support may vary by model.
3,840 x 2,160

Resolution

7

Series

4

HDMI

2

USB
Rated

4

out of

5
by
CantFindAnotherName
from
Very good product, but software frustrating
The picture quality and performance is excellent, for sure. I've been very frustrated with two elements of the software, though. First, it won't "remember" that my sound default is HDMI - it always reverts to speaker sound. My TV's have remembered this for 20 years! Second, 90% of the time we watch YouTubeTV, but there is no way (that I can figure) to make this the default. The default is always a pay-per-view option that I'm sure Samsung gets a piece of. For what I paid for the TV, I should be able to go straight to whatever app I want! Frustrating. But again, picture performance and design are very good. [This review was collected as part of a promotion.]
Date published: 2019-07-23
Rated

5

out of

5
by
Rickiey4
from
Great TV , but a couple things.
This is my 3rd Samsung TV , it replaced my 2010 46C6500 LED , Which is now in the Bedroom and I have a LN26B460 in a spare room. I too Love Samsung TV's, but like someone else said I too feel this TV is not as bright as my 46C6500 edge Lite LED Samsung. I feel that this TV has a lot of great features and the sound is awesome for TV speakers. I highly recommend this TV, to anyone who is looking for a all around solid performer, and with the full array with Local dimming the Blacks look wonderful. I will say I was hoping for the one connect box so that was disappointing and I also hope that Samsung will improve the TV with updates down the road. But it's a 5Star
Date published: 2019-05-23
Rated

5

out of

5
by
TN2019
from
Super clear picture and sleek
After plugging in this gem, WOW!! I am so impressed with the picture quality, it is super clear and crisp and motivates me to turn it on. All the colors just seem to pop! The movie experience is extremely upgraded now and it feels like we are at the theater. The customization for the tv settings is endless and we can connect our devices seamlessly to our WiFi for streaming. You can also create your own custom look with these deep colors settings. We have been watching Avengers (all of them) movies since we got it, cannot get enough of the action on this 4K experience. This TV is super slim and we were able to mount it with barely any footprint. We are so happy with this TV!!!
Date published: 2019-05-21
Rated

5

out of

5
by
Anonymous
from
Great TV (with one quirk)
So, we've had this TV for about 6 months now and I feel confident that i can provide an accurate review. The picture on this thing is amazing! We upgraded from a 55" LG LCD that was about 8 years old and this blows the old one away. I also love the built in apps. We have Spectrum cable/internet, so we love that we can use the Spectrum app without the need for a cable box on this TV. Other apps like Disney+, HBO, Amazon, Netflix, and Google Play are also a huge plus. The only weird thing with the TV occurs when we turn it off. Every now and then, it will miraculously turn back on. I am not sure what is causing this, but so far we are just dealing with it. Overall, I would highly recommend this (or any other QLED) TV from Samsung.
Date published: 2020-02-28
Rated

5

out of

5
by
Gretty
from
Amazing TV
This Samsung Q70R QLED is absolutely amazing! The picture quality is so life-like that it has a 3D effect. To sit down and watch a show that I have seen before, but for the first time on QLED TV, is mind blowing! The Samsung Q70R enhances everything! The color is so vibrant and crisp that you can see peoples grey hair that I have never seen before or even their wrinkles. And the smart features are top notch! It's like a smart phone, but huge. I can even work the TV from my Samsung fridge, phone, Alexa, and of course the remote. With all the features this TV has, I don't have to hook up some of my other equipment that was cluttering my wall. The only negative thing I can say right now is the sound, but I'm still learning the TV and I have not worked with the sound yet. But overall, I Love This TV!
Date published: 2019-04-08
Rated

5

out of

5
by
Ruhul
from
Excellent TV!
So i have now owned this TV (Q70 75") for about 2 weeks and i am absolutely blown away!! Initially i purchased another different cheaper Samsung model however i returned after receiving a faulty unit, i then went ahead and purchased this Q70R. Being an owner of an LG OLED i knew this TV will not have deep blacks however i was wrong, the black levels are great! Using movie mode and then tweaking the settings a little you get an AWESOME IMAGE! Gaming on the beast feels very immersive and no lag whatsoever!. I cannot comment on the sound too much as i use external speakers! my only regret is maybe i should have got the 82" but that is me being greedy.
Date published: 2020-04-24
Rated

5

out of

5
by
Bigz3393
from
What's not to like?
I bought the 82 inch....go big or go home. I've seen a few deals on the 77 OLED lately for 4 grand, but this is a better fit for me. 1. It's bigger. 2. It's bigger...lol jk. If big was all that mattered to me I would've gone with the 85" sony 900f or new 850g... 3. FREESYNC or what people are calling VRR and having ALLM (auto low latency mode) made my choice very easy. I play a lot of games. Xbox one X and PS4 PRO....4. reality is oled's have burn in....so as a gamer that's a huge negative/risk you take. 5. Response times on the samsung's are getting close to my monitor's, so you can play shooters and not lose out to lag like you would with other large Sets. 6. Samsung's new game modes avoid crushing blacks too and looks awesome playing horizon zero dawn, tomb raider, and everything else. 7. The panel can do 120hz QHD....this is great for PC gaming/ Xbox one X. 8. having massive Viewing angles ( like those of an OLED) just dont matter to me. I sit in front of my TV, and you should too. 9. Cost. I found a discount on the set, and with Samsung's TV upgrade program I can sell this TV in a few years and still get a nice discount on another set from samsung. I'm pairing the TV with the HN-950 7.1.4 Samsung Dolby Atmos sound system. I'll share more on that once my setup is complete. Negatives- Big TV means heavy...Like 100 pounds heavy. Huge box made it tricky getting into the basement....but I managed. I would prefer just google integration. I have an S9+ and ive never used bixby and probably never will....so a little more google integration would be nice. This TV has full array local dimming, but it doesn't have the best picture ever....but im good with that as explained earlier. I'm using this with the HN-950 7.1.4 Samsung Dolby Atmos sound system. Why didn't I get the Q90R or go 8k? Because I'm not made of money....and the differences are only noticeable if the TV's are side by side. I'd much rather have the 82 inch then pay the same amount and get a smaller "higher end" TV. What do I want from samsung? An affordable 98 inch set please! Projectors just dont pack the punch for me, and I would go bigger if the price was reasonable. Looking forward to the Wall. I'll update my review once I've spent some more time with the set. Hope this was helpful!
Date published: 2019-03-28
Rated

1

out of

5
by
ZachN
from
Audio Video Sync Issue
I could not fix an audio video sync issue and needed to return the TV as a result. Resetting the TV will fix it for an hour or so but the issue always eventually rears its ugly head. The issue happens when watching cable or streaming prime through the built in app. I was connecting a Sony surround sound system to the TV through an optical cable. Perhaps connecting the surround sound to the TV with an HDMI ARC would fix this issue but my surround sound does not have an HDMI ARC input and I don't want to buy a new surround sound just after buying a new TV. I also went through all audio settings on the TV, cable box, and surround sound and could never get dolby digital to sync with the video. I prefer dolby digital to PCM. Perhaps I just received a defective unit because all the other reviews are glowing.
Date published: 2019-06-09
How It Stacks Up
Direct Full Array 4X

Quantum HDR 8X

Quantum Processor 4K

Colour Volume 100% by Quantum Dot
Infinity screen

Real 8K Resolution

OTS+

Quantum Processor 8K
* Key feature may different from Key Spec