AM071FNMDEH/EU
24,200BTU, DVM, MSP Duct, Indoor
Enjoy Powerful And Silent Air Conditioning At Your Disposal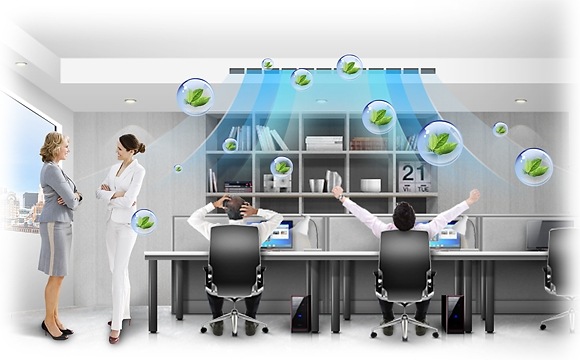 Efficient and Silent
Efficient and Silent
The external static pressure control combines with the simplicity of the MSP Duct's design to guarantee an efficient and silent operation. This means that this innovative air conditioning system is suitable not only for a broad range of work environments, but also in domestic or recreational settings. The benefits of this unit's outstanding performance can be enjoyed whether at work or play, and it causes such minimal disturbance that it is conducive for use at night-time when sleeping.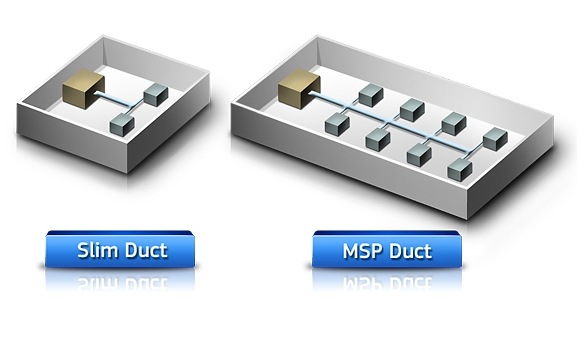 Large and Reliable Coverage Area with Static Pressure Control
Large and Reliable Coverage Area with Static Pressure Control
The MSP Duct design has the advantage of producing greater static pressure than most other slim duct units. This provides the opportunity of creating more inlets and outlets, benefiting users by offering a more flexible range of installation options. In turn, this results in larger and more reliable coverage areas, servicing more people with even more cool air for longer.
Anti-virus Filter

The anti-virus filter lets businesses and their users benefit from cleaner air in their premises. This feature is specifically designed to keep local air free from dust particles and to minimise the spread of mould spores and harmful bacteria. This generates a more comfortable and safe environment for business users.

Easy Filter Cleaning

An automatic indicator signals when the filter is due for cleaning after 1,000 hours of operation. The duct design system means this is an extremely simple process which reduces maintenance time and the subsequent financial impact on your business. In addition, the timer can be adjusted on the internal printed circuit board, offering greater flexibility for maintenance.
Smart Pressure Control

Whatever the environment, our Smart Pressure Control System supplies users with consistent cooling power. External Static Pressure (ESP) adjusts the unit's fan speed so that your ideal ambience is achieved with a quieter, more efficient operation.

Optional High Lift-up Drain Pump

Samsung ducted air conditioning technology includes the option of a high lift-up drain pump. This lifts condensed water up to 750mm compared with our competitors' 700mm limit. As a result, this system is more convenient because it allows users to be more flexible in terms of where they install the unit.
Specification
Features
Model Name

Indoor Unit

AM071FNMDEH/EU

Power Supply (Indoor Unit) [Φ, #, V, Hz]
System
Capacity

Cooling [kW]

7.10 kW

Cooling [Btu/h]

24,200 Btu/h

Power Input (Nominal)
Current Input (Nominal)
Fan

Type

Sirocco Fan

Motor (Output) [W]

124 x 1 W

Air Flow Rate (High / Mid / Low) [CMM]

18.50/17.00/15.50 CMM

Air Flow Rate(High/Mid/Low)[L/S]

308.33/283.33/258.33

External Static Pressure (Min / Std / Max) [mmAq]

0.00/4.00/8.00 mmAq

External Static Pressure (Min / Std / Max) [Pa]

0.00/39.23/78.45 Pa

Piping Connections

Liquid Pipe (Φ, mm)

9.52 mm

Liquid Pipe (Φ, inch)

3/8"

Gas Pipe (Φ, mm)

15.88 mm

Gas Pipe (Φ, inch)

5/8"

Drain Pipe (Φ,mm)

VP25 (OD 32,ID 25)

Field Wiring

Power Source Wire

1.5 ~ 2.5

Transmission Cable

0.75 ~ 1.50

Refrigerant

Type

R410A(Fluorinated greenhouse gas)

Control Method

EEV INCLUDED

Sound

Sound Pressure (High / Mid / Low) [dB(A)]

39.0/35.0/31.0 dBA

Sound Power

61.0 dBA

External Dimension (Indoor Unit)

Net Weight(kg)

29.00 kg

Shipping Weight (kg)

33.00 kg

Net Dimensions (WxHxD) (mm)

900 x 260 x 480 mm

Shipping Dimensions (WxHxD) (mm)

1170 x 340 x 595 mm

Additional Accessories
*Images are for illustration purposes only.
*Features and Specifications are accurate at time of launch and are subject to change without prior notification.

Manual Download
24,200BTU, DVM, MSP Duct, Indoor (AM071FNMDEH/EU)
Manuals

2020.09.19

User Manual ver 16

(ENGLISH)

2016.04.28

Safety Guide ver 1.0

(ENGLISH, FRENCH, GERMAN, GREEK, HUNGARIAN, ITALIAN, NEPALI, POLISH, PORTUGUESE, RUSSIAN, SPANISH)