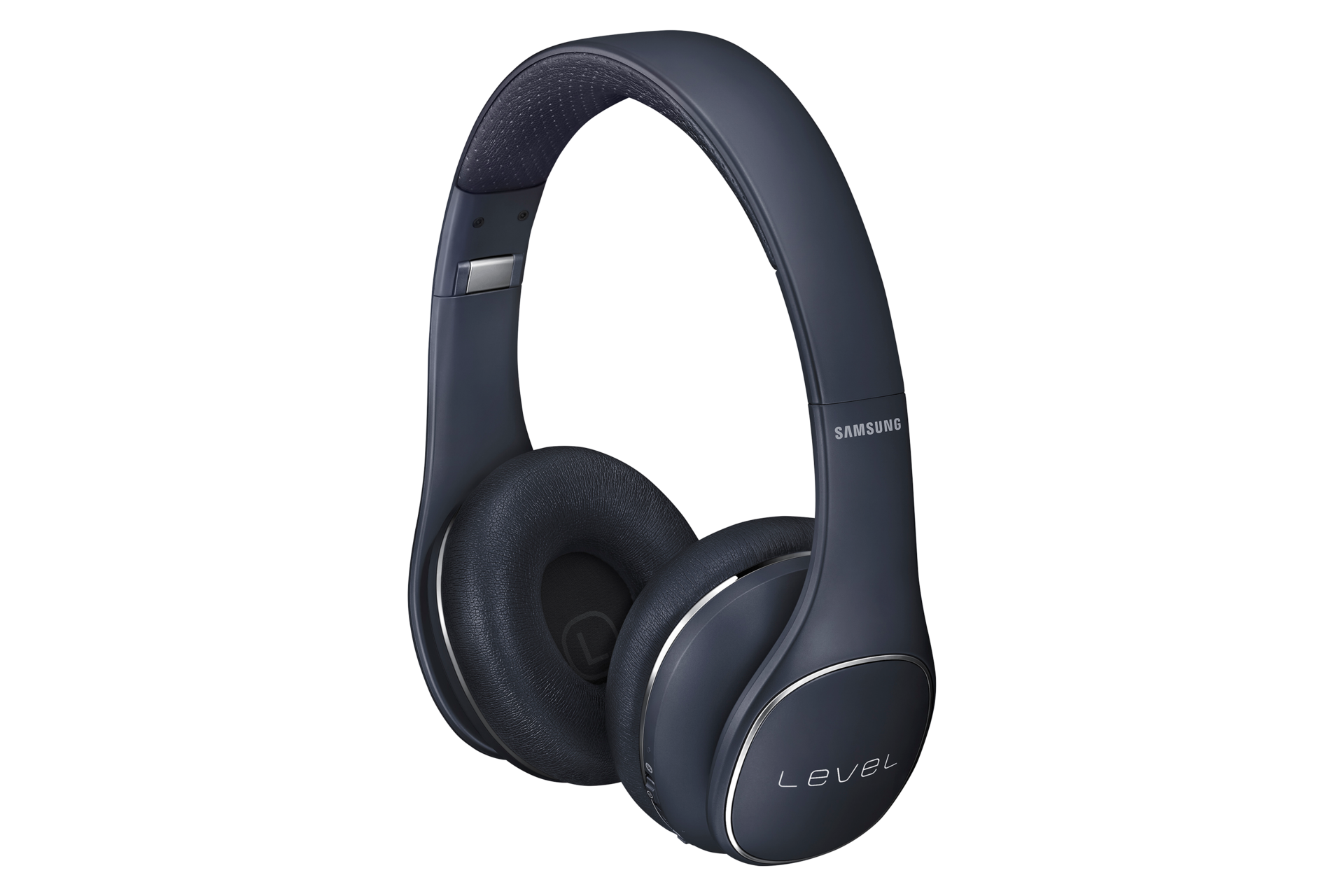 EO-PN900BBEGWW
Level On Wireless
Impeccable Stylish Design
Studio Sound
Easy Touch Controls
Stylish Design
Samsung Level On Wireless headphones incorporate not only premium quality sound, but also impeccable design. The headphones' circular earpad design is inspired by the alluring shape of pebbles, adding to their sophisticated feel. Level On Wireless headphones provide rich and balanced sound thanks to their high-performance speaker units.
Studio Sound
Equipped with advanced dual-layered diaphragm speaker units, Level On Wireless headphones not only deliver studio-quality sound, but also feature Active Noise Cancellation (ANC) functionality. Four built-in microphones, two on each earpiece, allow for an accurate mapping of the sounds around you.
Easy Touch Controls
Get the most out of your Level On Wireless headphones with a touch control pad that offers a variety of functions: activate S-Voice, adjust volume settings, play, pause or skip tracks ― without the need to touch the controls on your paired device.
Share Your Sounds
Level On Wireless headphones let you listen to music together with another Level On Wireless user. Share your favorite tunes with a friend using this unique function.
More Functionality with the Samsung Level App
Use Level On Wireless headphones in conjunction with Samsung's audio application for a customised listening experience. Use SoundAlive's graphic equalizer, a volume monitor to help prevent damage to your hearing. Get message notifications, schedule alarms, and do much more with this powerful app.
Comfortable and Convenient
Level On Wireless headphones are foldable, making them easy to carry and store. The earpads feature soft, high-elasticity memory foam cushioning ― making for a comfortable fit, no matter how long you wear them.
Toggle ANC On and Off with Ease
Level On Wireless headphones are equipped with an easy-to-use switch that allows you to quickly toggle between ANC On and Off modes. Battery run out? Not a problem! Just connect a cable and use the headphones the old-fashioned way.
Easy Connection with NFC
Level On Wireless headphones pair with other mobile devices using NFC. So long as you are in range of a Bluetooth-enabled device (such as a smartphone or tablet PC), you can enjoy a top-quality audio experience.
Longer Battery Life
Play for longer without having to pause to recharge ― when connected via Bluetooth, Level On Wireless headphones offer up to 11 hours of use in ANC On mode and up to 23 hours in ANC Off mode. When in wired mode, you can listen with ANC On for up to 20 hours.
Immersive Sound
A dual-layered diaphragm system helps suppress excessive vibration, reducing noise, and allowing Level On Wireless headphones to reproduce rich, balanced sound across a wide range of frequencies. Enjoy a richer listening experience, with crystal clear mids and highs, as well as an unbeatable bass sound.
Crisper, Clearer Sound
With full support for Samsung HD and the aptX codec, Level On Wireless headphones can deliver richer layers of sound than ever before. Using Bluetooth 3.0 technology, Level On Wireless headphones allow for larger data transfers ― meaning listeners can enjoy the clearest of audio experiences.
Specification
Type
Sound
Bluetooth®

Version Bluetooth® 3.0
Profiles

A2DP, AVRCP, HSP, HFP

Wireless Range

10 m

Audio Streaming

Yes

Multipoint

Yes

Etc Samsung Level app (downloadbable) compatibility: 1) The Samsung Level application is compatible with Samsung mobile devices running Android™ operating system 4.2.2 or later. Depending on your device's specifications, a partial blank screen may appear or some functions may not work on your device. 2) To use the application, ensure that the devices are connected via the Bluetooth® feature.

General Feature

Control Bluetooth® Smart Touch Control (Play / Pause, Song Movement, Volume Up / Down, S Voice (In Case of Compatible Samsung Smartphone), Call Receiving, Call Rejection)
Microphone

Yes

Packaging Contents

Carrying Pouch, Audio Cable, micro USB Cable

Speaker

40 mm Speakers with Dual-Layered Diaphragm

Call Function
Battery

Type Built-In Battery* (Li-Ion Battery)
* Battery time (Play / Talk / Standby) depends on factors such as configuration, connected mobile devices, signal strength, operating temperature, features selected, frequency of calls and voice, data and other application usage patterns.
Play Time Up to 11 hours (Bluetooth® Mode with ANC) / 23 hours (Bluetooth® Mode without ANC) / 20 hours (Wired Mode with ANC), Unlimited Listening Time (Wired Mode without ANC)
Talk Time Up to 11 hours (Bluetooth® Mode with ANC) / 23 hours (Bluetooth® Mode without ANC)
Standby Time Up to 200 hours (Bluetooth® Mode without ANC)

Connectivity

3.5mm headphone connector

Yes

Micro USB

Yes

Physical specification

Dimension (WxHxD)

161.9 x 184.6 x 74.1 mm

Weight

236 g

Cable Length

1.2 m

Colour
Manual Download
Level On Wireless (EO-PN900BBEGWW)
Manuals

2016.07.12

User Manual ver 1.1

(KOREAN, ENGLISH, ENGLISH(Latin America), ENGLISH(North America), FRENCH(North America), PORTUGUESE(Brazil), SPANISH(Latin America), SPANISH(North America), TRADITIONAL CHINESE(Hongkong), TRADITIONAL CHINESE(Taiwan), ARABIC, BULGARIAN, CHINESE, CHINESE, CROATIAN, CZECH, DANISH, DUTCH, ESTONIAN, PERSIAN, FINNISH, FRENCH, GERMAN, GREEK, HUNGARIAN, ITALIAN, KAZAKH, LATVIAN, LITHUANIAN, NORWEGIAN, POLISH, PORTUGUESE, ROMANIAN, RUSSIAN, SERBIAN, SLOVENIAN, SPANISH, SWEDISH, TURKISH, UKRAINIAN)

2016.07.12

Safety Guide ver 1.4

(KOREAN, ENGLISH, ENGLISH(Latin America), ENGLISH(North America), FRENCH(North America), PORTUGUESE(Brazil), SPANISH(Latin America), SPANISH(North America), TRADITIONAL CHINESE(Hongkong), TRADITIONAL CHINESE(Taiwan), ARABIC, BULGARIAN, CHINESE, CHINESE, CROATIAN, CZECH, DANISH, DUTCH, ESTONIAN, PERSIAN, FINNISH, FRENCH, GERMAN, GREEK, HUNGARIAN, ITALIAN, KAZAKH, LATVIAN, LITHUANIAN, NORWEGIAN, POLISH, PORTUGUESE, ROMANIAN, RUSSIAN, SERBIAN, SLOVENIAN, SPANISH, SWEDISH, TURKISH, UKRAINIAN)