LH55OHFPKBC/XY
Outdoor Signage OHF Series 55"
All-in-one solution complete with an embedded power box and an ultra-slim depth of 85mm
An optimum level of endurance equivalent to IK10 and extra durability with IP56 Ingress Protection
A filterless self-cooling system for easy maintenance and reduced Total Cost of Ownership (TCO)
Outdoor signage with simplified installation and upkeep, plus an all-encompassing array of pre-assembled features
OHF Series is conveniently and easily installed, designed and operated with a thin, all-in-one solution, which comes in a package which includes ingress protection, anti-reflection technology, an embedded power box, vandalism protection and a highly efficient cooling system. In addition, the embedded power box helps to condense operational components to the point where an ultra slim depth of 85mm can be attained, while the functionality of embedded network hub and Wi-Fi® allow for simple connection and easy installation.
Robust IK10* level of endurance against external impacts
Advanced display protection is provided through the 5 mm (0.19 in.) tempered Magic Glass featuring durability that is IK10-certified (European strength test), further referencing its robust level of strength that can endure external impacts. In addition, a gap between the Magic Glass and the LCD panel prevents LCD breakage when the protection glass suffers impact.


*IK rating refers to the degree of resistance against external impacts on a scale of 0 to 10, where 10 indicates the highest level of protection.
* Dual Protection Glass can be applied for stronger resistance if required
Possessing a self-cooling system with no need for filter or maintenance
Samsung's OHF Series comes complete with an advanced cooling system with heat exchanger, supported by advanced thermal control functionality. This enhances the overall efficiency in terms of both management and cost through its filter-less system. The system revolutionises outdoor signage design, abandoning the thick enclosures to accommodate a slimmer display package.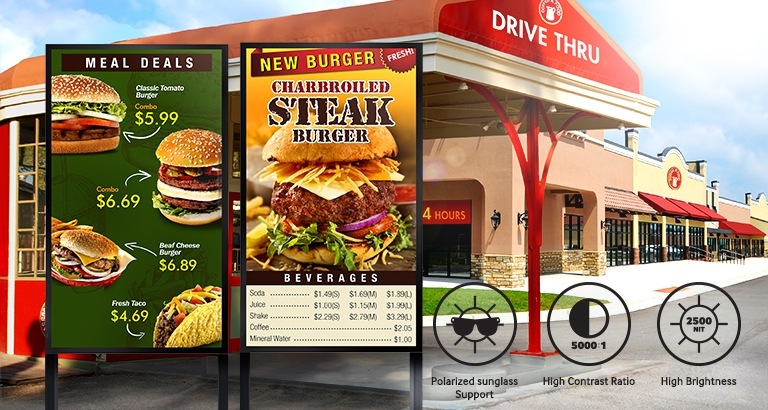 Captivate audiences with excellent visibility
• High Visibility
OHF Series displays feature innovative Magic Glass, TUV Certified Image Quality and an Auto Brightness Sensor to optimise brightness in order to optimally convey messaging to virtually any viewer. These powerful displays also feature circular polarising technology that eliminates display blindness caused by polarised sunglasses. OHF Series captivate viewers with superior messaging clarity delivered with high 2,500 nit brightness and 5,000:1 high contrast ratio in all inches above 24.

• Reflection Prevention
Greater content visibility is achieved under a combination of high brightness, lower reflection and high contrast ratio. The Magic Glass of the OHF Series that is in front of the displays' LCD panels removes the protection glass reflection, making the displayed images richer and clearer under direct sunlight.
Operate reliably in virtually any environment
To deal with dust, moisture and other environmental variables that can damage your outdoor signage and impede operation, OHF Series ensure a high level of ingress defense with IP56 level protection. As heat is a major factor due to outdoor signage being exposed to sunlight, operation of OHF Series has been made possible in temperatures that range from -30°C (-22°F) to 50°C (122°F) through a self-cooling system, allowing for a level of durability that can sustain 24/7 operations while negating the need for additional cooling systems.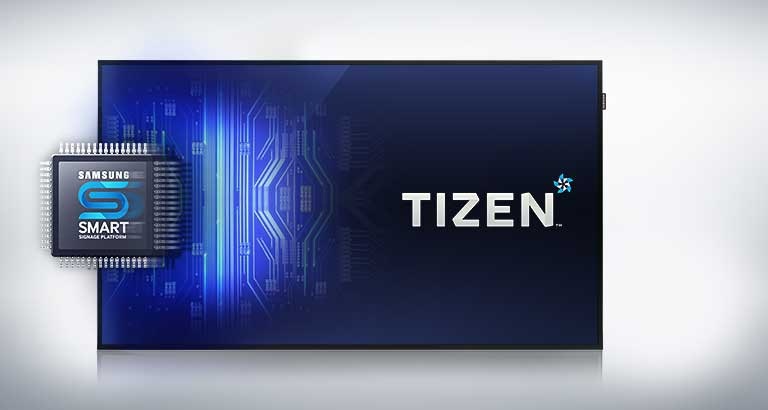 Offering robust options for content creation, management tools
Samsung's MagicInfo Player S4 empowers users with a new graphic engine applied to their signage that boosts the overall display performance while ensuring seamless transition of content. It also operates as an advanced content management solution that can allow you to play media files, set and edit media playback schedules, and much more. MagicInfo Player S4 is robust enough to enable large organisations to manage multiple digital signage through an integrated single server and also remotely monitor and manage it from a centralised location.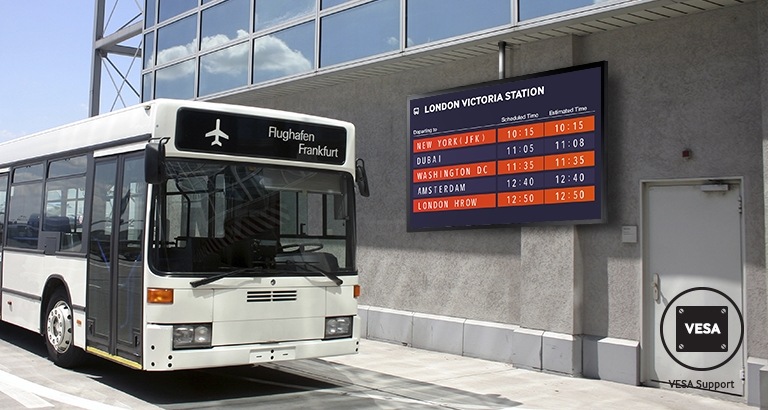 VESA-compliant for simplified mounting
The OHF Series comes complete with additional brackets (optional), in order to accommodate Standard VESA usage. Due to being VESA-compliant, the OHF series gives you the power and flexibility to mount your display according to your needs and without having to purchase a specific brand or model of wall mount. (Only applicable to 46" and 55").
Specification
Display

Diagonal Size

55"

Panel Type

S-VA

Resolution

1920 x 1080 (16:9)

Pixel Pitch (HxV)

0.630 x 0.630 mm

Active Display Size (HxV)

1209.60(H) x 680.40(V) mm

Response Time

6 ms

Display Color

8 bit - 16.7M

Color Gamut

72 %

H-Scanning Frequency

108 ~ 139.5 kHZ

Maximum Pixel Frequency

297MHz

V-Scanning Frequency

96 ~ 123 Hz

Brightness

2,500 nit

Dynamic Contrast Ratio

100,000:1

Connectivity

HDMI In

2

DP In

N/A

DVI In

N/A

Tuner In

N/A

USB

1

Component In

N/A

Composite In

N/A

RGB In

D-Sub

Audio In

N/A

Video Out

N/A

Audio Out

Stereo Mini Jack

RS232 In

Yes

RS232 Out

Yes

RJ45 In

Yes

RJ45 Out

Yes

IR In

N/A

IR Out

N/A

HDBaseT In

LAN

WiFi

N/A

SD Card Slot

No

Power

Power Supply

AC 100 - 240 V~ (+/- 10 %), 50/60 Hz

Power Consumption (Off Mode)

less than 0.5 W

Power Consumption (On Mode)

Max:500W, BTU:1705W

Power Consumption (Sleep Mode)

less than 0.5 W

Dimension

Set Dimension (WxHxD)

1260.6 x 731.4 x 85.0 mm

Package Dimension (WxHxD)

1358 x 845 x 230 mm

Weight

Set Weight

52.6 kg

Package Weight

58.1 kg

Mechanical Specification

VESA Mount

1186 x 560 (Basic), 1200 x 400 (Optional)

Bezel Width

24.9 mm

Operation Conditions

Temperature

-30~50 ℃

Humidity

10~80 (Non-condensing)

General Feature

Special

IP56 Certified for Simple Enclosure Outdoor, Protection Glass(IK-10 Level, Anti Graffiti, Infrared Reduce), Polarized Sun Glasses Viewable in any direction, HD Base T for Long Distance Installalling, Portrait /Landscape Installation Support, Lamp Error Detection, Auto Brightness Control with Ambient Brightness Sensor, Temperature Sensor, RJ45 MDC, Auto Source Switching & Recovery, Clock Battery(80hrs Clock Keeping), Kensington Lock

Optional Feature
Internal Player (MagicInfo)
Certification and Compliance

EMC

CE : EN55022:2006+A1:2007

Safety

CB : IEC60950-1/EN60950-1 (EN)

Accessory

Included

Quick Setup Guide, Regulatory Guide, Warranty Card, Power Cord, Remote Controller, Batteries
*Images are for illustration purposes only.
*Features and Specifications are accurate at time of launch and are subject to change without prior notification.
All images shown are for illustration purposes only and may not be an exact representation of the product.
Manual Download
Outdoor Signage OHF Series 55" (LH55OHFPKBC/XY)
Manuals

2019.04.03

User Manual ver 06

(ENGLISH)

2019.04.03

User Manual ver 06

(CHINESE(Simplified))

2019.04.03

User Manual ver 06

(CHINESE(Traditional))

2017.07.24

Quick Guide ver 01

(ENGLISH, ARABIC, CHINESE, FRENCH, PORTUGUESE, VIETNAMESE)

2018.05.02

Install Guide(MagicInfo Express 2 Setup for Windows ) ver 3.0 1011.8

(KOREAN, ENGLISH, ARABIC, BULGARIAN, CHINESE, CHINESE, CROATIAN, CZECH, DANISH, DUTCH, DUTCH(BEL), ESTONIAN, PERSIAN, FINNISH, FRENCH, , GERMAN, GREEK, HEBREW, HUNGARIAN, INDONESIAN, ITALIAN, LATVIAN, LITHUANIAN, NORWEGIAN, POLISH, PORTUGUESE, ROMANIAN, RUSSIAN, SERBIAN, SLOVAK, SLOVENIAN, SPANISH, SWEDISH, THAI, TURKISH, UKRAINIAN, VIETNAMESE)

2018.05.02

Install Guide(MagicInfo Express 2 Setup for MAC) ver 3.0 1011.8

(KOREAN, ENGLISH, ARABIC, BULGARIAN, CHINESE, CHINESE, CROATIAN, CZECH, DANISH, DUTCH, DUTCH(BEL), ESTONIAN, PERSIAN, FINNISH, FRENCH, , GERMAN, GREEK, HEBREW, HUNGARIAN, INDONESIAN, ITALIAN, LATVIAN, LITHUANIAN, NORWEGIAN, POLISH, PORTUGUESE, ROMANIAN, RUSSIAN, SERBIAN, SLOVAK, SLOVENIAN, SPANISH, SWEDISH, THAI, TURKISH, UKRAINIAN, VIETNAMESE)

2016.09.09

Install Guide(MagicInfo Express 2 User Manual) ver 2.6_1.2

(ENGLISH, ARABIC, BULGARIAN, CROATIAN, CZECH, DANISH, DUTCH, ESTONIAN, PERSIAN, FINNISH, GREEK, HEBREW, HUNGARIAN, INDONESIAN, LATVIAN, LITHUANIAN, NORWEGIAN, ROMANIAN, SERBIAN, SLOVAK, SLOVENIAN, UKRAINIAN, VIETNAMESE)