LH55PMFXTBC/XS
Touch Display PMF-BC Series 55"
Capacitive touch technology that enables up to 10 different touch points simultaneously
All-in-one display solution with embedded MagicInfo Player S4 powered by Tizen™
IP5x certification to withstand demanding usage environments
Achieve compelling customer engagement through all-in-one touchscreen displays
Samsung's PMF-BC displays combine the visual power of its signage with the touch-driven efficiency of its interactive offerings to better serve the needs of retail, public, corporate and transportation environments, among others. The displays allow consumers to seamlessly navigate a range of relevant content without interference from surrounding light or environmental conditions. The integrated, powerful TizenTM operating system grants PMF-BC users exciting capabilities to deliver rich, engaging content with minimal operational burden.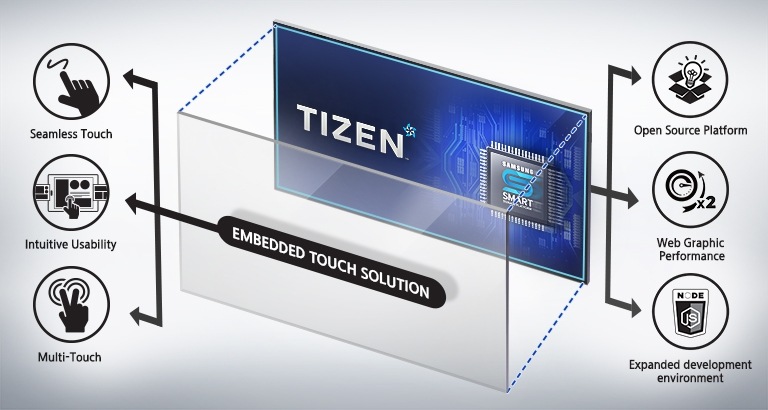 Powerful, Convenient Management through an All-in-One Composition
Samsung's PMF-BC displays condense several vital signage components – including a powerful operating system, embedded media player and capacitive touch technology – into an all-in-one solution. Backed by the versatile TizenTM OS, the PMF-BC displays deliver dynamic, touch-enabled content without requiring external PCs or devices. An intuitive interface further drives quick and convenient navigation across essential applications and content.
Comfortable, Multi-Point Capacitive Touch Communication
Through capacitive touch technology and a user-friendly design, Samsung's PMF-BC displays foster a comfortable, easy-to-navigate digital writing experience. The interactive displays can accommodate up to 10 unique touch points while maintaining the smooth, familiar feel of analog board or pen-and-paper writing and minimising interference from dust and other particles on the surface.
Brilliant, Glare-Free Visual Quality
Featuring elevated contrast ratios and 400nit brightness, the PMF-BC displays showcase highly visible content even in environments subject to variable lighting conditions. A non-glare, glass touch front panel further reduces the impact of natural and ambient light interference and guarantees consistent readability, while a complementary anti-haze coating drives smooth, uninterrupted on-screen navigation.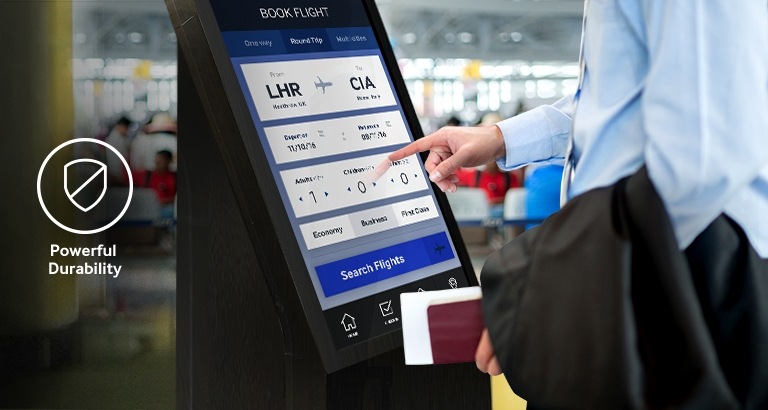 Reliable, Dust-Resistant Design for Continuous Content Delivery
Designed for 24/7 operations, Samsung's PMF-BC displays build trust for users looking to deliver unwavering messaging without ongoing maintenance. Each PMF-BC display undergoes rigorous IP5x certification to validate its resistance to dust, dirt and other environmental factors. Likewise, these benefits make the PMF-BC a welcome addition to train and bus stations, and other environments frequently subject to the elements.
Convenient Display Control through a Centralised Receiver
The PMF-BC displays drive user convenience through a centralised infrared receiver (IR). Contrary to standard displays which place their IR in a hard-to-access - and thus hard-to-control - location, the PMF-BC displays receive IR signals across their individual panels. As a result, users can activate IR functionalities from various locations and further augment quick and uninterrupted management.
Specification
Display

Diagonal Size

55"

Panel Type

S-VA

Resolution

1920x1080

Pixel Pitch (HxV)

0.63(H) x 0.63(V)

Brightness (Typical)

400

Contrast Ratio

4,000:1

Viewing Angle (H/V)

178/178

Response Time

6MS

Color Gamut

72%

Glass Haze

15% (with Touch glass)

H-Scanning Frequency

30 ~ 81kHZ

Maximum Pixel Frequency

148.5MHz

V-Scanning Frequency

48 ~ 75HZ

Dynamic Contrast Ratio

MEGA DCR

Connectivity

HDMI In

2

DP In

Yes

DVI In

1

Tuner In

N/A

USB

2

Component In

No

Composite In

No

RGB In

DVI-I Common

Audio In

Stereo Mini Jack, RGB/DVI/HDMI

Video Out

Yes

Audio Out

Stereo Mini Jack

Power Out

N/A

RS232 In

Mini Stereo Jack

RS232 Out

Mini Stereo Jack

RJ45 In

Yes

RJ45 Out

N/A

IR In

No

HDBaseT In

N/A

WiFi

Yes

3G Dongle

N/A

Power

Power Supply

AC100-240V~50/60Hz

Power Consumption (Off Mode)

N/A

Power Consumption (On Mode)

187

Power Consumption (Sleep Mode)

0.5 W

Dimension

Set Dimension (WxHxD)

1248.4 X 733.4 X 58.4 mm

Package Dimension (WxHxD)

1375 x 863 x 200 mm

Weight

Set Weight

26.4kg

Package Weight

31.6 kg

Mechanical Specification

VESA Mount

400x400 mm

Bezel Width

TOP/BOTTOM 25mm ,LEFT/RIGHT 17.9mm

Frame Material

Non-Glossy

Operation Conditions

Temperature

0℃~ 40℃

Humidity

10% ~ 80%, non-condensing

General Feature
Optional Feature

Mount

WMN4270SD

Stand

STN-L4655E

Internal Player (MagicInfo)

MagicInfo Daisychain Videowall Support

Yes

Certification and Compliance
Eco

Energy Efficiency (NEA)

N/A
*Images are for illustration purposes only.
*Features and Specifications are accurate at time of launch and are subject to change without prior notification.
All images shown are for illustration purposes only and may not be an exact representation of the product.

Manual Download
Touch Display PMF-BC Series 55" (LH55PMFXTBC/XS)
Manuals

2019.07.15

User Manual ver 04

(ENGLISH)

2017.08.01

User Manual ver 02

(ENGLISH)

2017.08.01

User Manual ver 02

(CHINESE(Traditional))

2017.03.03

Quick Guide ver 00

(ENGLISH, ARABIC, CHINESE, FRENCH, PORTUGUESE, VIETNAMESE)

2018.05.02

Install Guide(MagicInfo Express 2 Setup for Windows ) ver 3.0 1011.8

(KOREAN, ENGLISH, ARABIC, BULGARIAN, CHINESE, CHINESE, CROATIAN, CZECH, DANISH, DUTCH, DUTCH(BEL), ESTONIAN, PERSIAN, FINNISH, FRENCH, , GERMAN, GREEK, HEBREW, HUNGARIAN, INDONESIAN, ITALIAN, LATVIAN, LITHUANIAN, NORWEGIAN, POLISH, PORTUGUESE, ROMANIAN, RUSSIAN, SERBIAN, SLOVAK, SLOVENIAN, SPANISH, SWEDISH, THAI, TURKISH, UKRAINIAN, VIETNAMESE)

2018.05.02

Install Guide(MagicInfo Express 2 Setup for MAC) ver 3.0 1011.8

(KOREAN, ENGLISH, ARABIC, BULGARIAN, CHINESE, CHINESE, CROATIAN, CZECH, DANISH, DUTCH, DUTCH(BEL), ESTONIAN, PERSIAN, FINNISH, FRENCH, , GERMAN, GREEK, HEBREW, HUNGARIAN, INDONESIAN, ITALIAN, LATVIAN, LITHUANIAN, NORWEGIAN, POLISH, PORTUGUESE, ROMANIAN, RUSSIAN, SERBIAN, SLOVAK, SLOVENIAN, SPANISH, SWEDISH, THAI, TURKISH, UKRAINIAN, VIETNAMESE)

2016.09.09

Install Guide(MagicInfo Express 2 User Manual) ver 2.6_1.2

(ENGLISH, ARABIC, BULGARIAN, CROATIAN, CZECH, DANISH, DUTCH, ESTONIAN, PERSIAN, FINNISH, GREEK, HEBREW, HUNGARIAN, INDONESIAN, LATVIAN, LITHUANIAN, NORWEGIAN, ROMANIAN, SERBIAN, SLOVAK, SLOVENIAN, UKRAINIAN, VIETNAMESE)