Samsung Team of Empowered Partners
What is STEP
Collaborating with Business Partners is essential to ensure continued growth in the competitive business market. Samsung is committed to develop long-term, trust-based relationships with partners to optimize partner capabilities, support market navigation and connect to new opportunities.

Samsung Team of Empowered Partners (STEP) is designed to drive our mutual success in today's increasingly competitive market. Samsung specialists can provide you thought leadership, technical expertise and winning marketing strategies to enhance your business capabilities. Solidify your position as an industry innovator through STEP!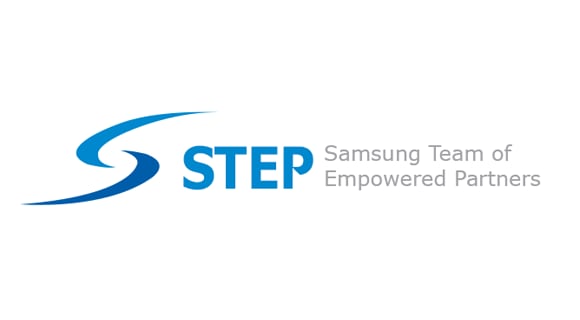 BENEFITS
With leading technology and an extensive range of products and offerings, STEP Program empowers your business to deliver added value and expertise to your customers. Drive your business with enablement tools and assistance as well as exclusive Samsung resources and be a part of our ongoing training programs, where we share market opportunities, our innovations, and ways to collaborate for a win-win partnership.
Thought leadership and technical expertise

Winning marketing strategies

Insight on new business opportunities

Methods to improve business operations

Opportunities to improve sales and consulting skills

Enhanced service support for Increased customer satisfaction
SAMSUNG TEAM OF EMPOWERED PARTNERS
Partner with Samsung and gain an extensive range of enterprise products, best-in-class solution offerings, proven marketing strategies and the expertise that create a new business experience. You will have access to Samsung resources, sales information, technical and sales assistance to create value to your customers. Build a solid foundation for your business and align yourself with the Global business leader. Become a Partner >