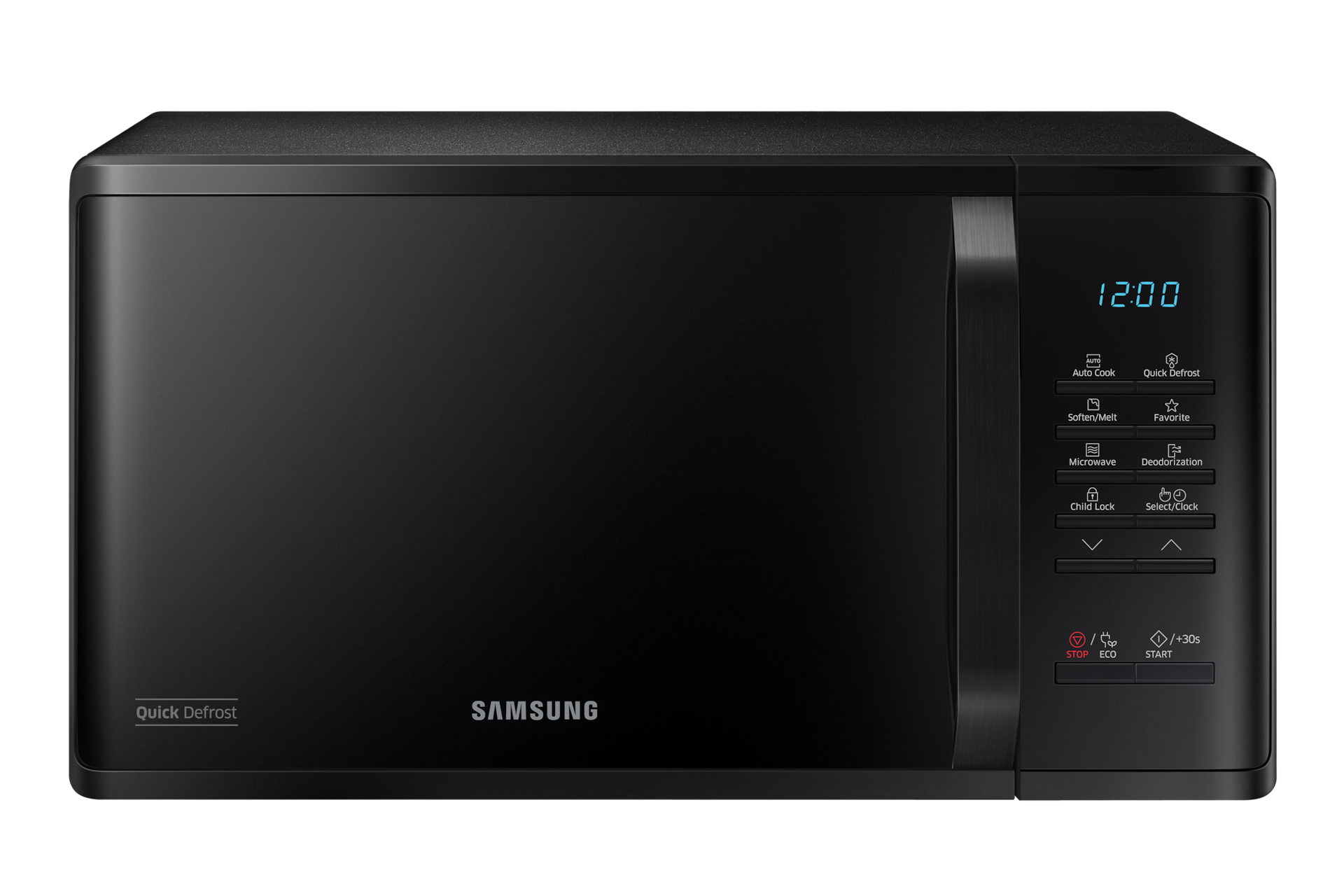 Ceramic Inside™, 23L, Solo Microwave Oven
MS23K3513AK/SP
CERAMIC INSIDE™
23L (0.8 Cu.ft)
Oven Capacity
1150 W
Power Consumption (Microwave)
Quick Defrost
The Quick Defrost function defrosts food rapidly and evenly. Its automatic defrost algorithm calculates the defrosting time for 5 common food types, so it takes much less time to prepare ingredients.
CERAMIC INSIDE™
The durable CERAMIC INSIDE™ is easy to keep clean and scratch-free. Its smooth surface can be cleaned without scrubbing and won't discolor over time. It also has a 99.9% protection against bacteria*.
*Based on test results by Hohenstein Laboratories GmbH & Co. KG, there is strong antibacterial activity with the test strains Staphylococcus aureus ATCC 6538 and Klebsiella pneumoniae ATCC 4352 under given test conditions. The reduction value in bacterial activity was more than 99% for each strain.
Auto Cook Programs
Satisfy your craving for a taste of traditional home cooking using a wide variety of pre-programmed local recipes. You can now create any of the dishes effortlessly with the simple touch of a button.
ECO Mode
The ECO Mode setting offers a low standby power consumption by turning the display off when not in use. When you're not cooking, the power used to maintain essential functions is minimal, saving you money on electricity bills.
Deodorisation
The Deodorisation setting forces air out of the interior cavity, so that any lingering odors are quickly dissipated. By eliminating the smell of each dish immediately your food will always taste fresh and delicious.
Solo

Product Type

23L (0.8 Cu.ft)

Oven Capacity

1150 W

Power Consumption (Microwave)

489x275x374mm

Outside (WxHxD)
How It Stacks Up
CERAMIC INSIDE™

Product Type

Solo

Oven Capacity

23L (0.8 Cu.ft)

Power Consumption (Microwave)

1150 W
Home Dessert

Full Glass Control Panel

Product Type

Solo

Oven Capacity

30L (1.0 Cu.ft)
* Key feature may different from Key Spec
All images shown are for illustration purposes only and may not be an exact representation of the product. Please check in-stores for more details.