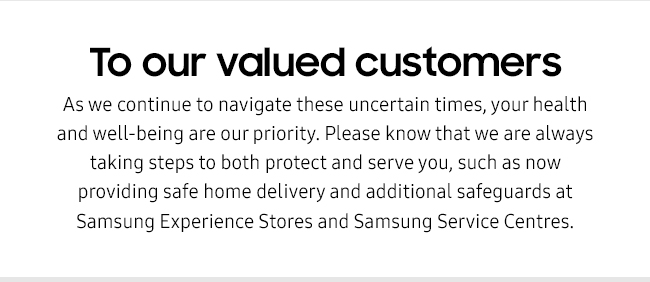 Legal | Privacy Policy

The email has been sent to members who have requested to join the mailing list.

Stay looped in to be the first to know about our latest news & promotions. We'd hate to see you go, but you can unsubscribe or adjust your mailing preferences here.

1Promotion is only valid for consumers who purchase the Galaxy Note20 series from Samsung Experience Stores at the Recommended Retail Price from 27 August to 4 October 2020, subject to stock availability. The cashback amount will automatically be offset against the purchase. Promotion is not valid with any other promotion, discount, rebate and/or offer. Terms and conditions apply.

2Check in-store at Samsung Experience Stores for available instalment options. Terms and conditions apply.

3Trade-in value quoted is based on trading in an Apple iPhone 11 Pro Max (512GB) in Grade A condition until 31 August 2020 (inclusive of additional $200 trade-in value). From 17 August until 31 August, an additional $200 trade-in value will be offered, in addition to the standard trade-in value, for the relevant eligible device as quoted. Visit a Samsung Experience Store or samsung.com/sg/tradeup for further details, T&Cs, grading conditions and the list of eligible devices. Eligible devices and trade-in values are subject to change. Samsung Trade Up Programme is provided by PC Dreams Pte Ltd as an independent third party. Apple and iPhone are trademarks of Apple Inc., registered in the U.S. and other countries.

Terms and conditions

•Promotions are not valid with any other promotion, discount, rebate and/or offer.

•Samsung does not represent or warrant that any product or product colour featured will be available at the time of purchase.

•Colour and model availability may vary by retailer. Check in-store for colour and model availability and other details.

•Promotions are available for end-consumers only; not valid for trade, corporate or bulk purchases.

•Products purchased under promotion are not eligible for exchange and/or refund, save in accordance with warranty terms.

•Samsung reserves the right to amend these terms and conditions and/or amend or withdraw the promotions at any time without prior notice and without assigning any reason.


Samsung Galaxy Note20 Ultra 5G and Galaxy Note20 5G are 5G-capable and can be used to access 5G network in Singapore after local 5G network is launched. SIM card upgrade and/or software update may be required. Data subscription fees apply

Images are for illustrative purposes only.
© Copyright 2020 Samsung Electronics Co., Ltd. All rights reserved.
Do not reply. This email address is for outgoing emails only.