Do Bigger Things with Samsung Galaxy Note8, the Next Level Note
Aug 24. 2017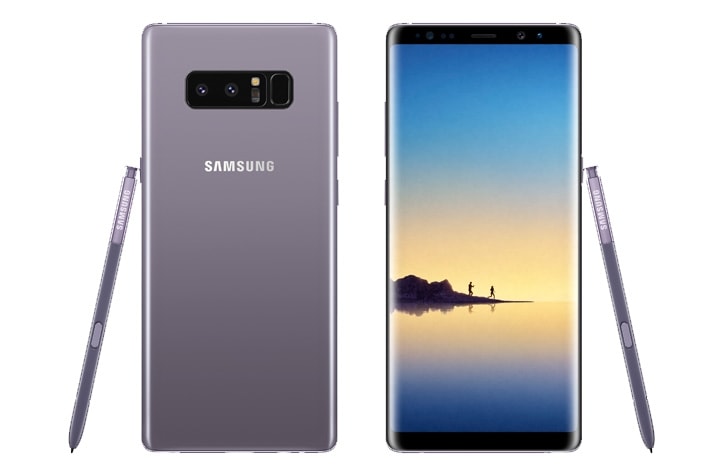 Designed to help users achieve more in work and life with an Infinity Display, an enhanced S Pen and a Dual Camera with Optical Image Stabilisation
Singapore – 24 August 2017 – Samsung Electronics Singapore introduces the Galaxy Note8, the next level Note for people who want to do bigger things. With the Galaxy Note8, consumers get a bigger Infinity Display that fits comfortably in one hand, S Pen to communicate in more personal ways, and Samsung's best-ever smartphone camera1 to capture stunning photos. The Galaxy Note8 is designed for the way consumers lead their lives and lean on technology today.
"The Galaxy Note8 is inspired by the Note community's passion and we want to thank them for their support. With this device, we hope to welcome more consumers into the special Galaxy Note community," said Lee Jui Siang, President, Samsung Electronics Singapore. "Some of the key features in the new Galaxy Note8, such as the best-in-class Dual Camera and enhanced S Pen, are designed to help users push boundaries and do bigger things."
Samsung first introduced the Note series in 2011. Since then, a community of enthusiasts emerged through their affinity for the Note's signature expansive screen and S Pen. According to Samsung market research2, 85 percent of Note users say they're proud to show off their Note and recommend it to friends, and 75 percent say it's the best phone they've ever had.
Enjoy and Do More on the Infinity Display
Featuring a 6.3-inch3 Quad HD+ Super AMOLED Infinity Display4 that allows users to see more and scroll less, the Galaxy Note8 has the biggest screen ever on a Note device, yet its narrow body makes it comfortable to hold in one hand. With the new Galaxy Note8, users are equipped with more room to watch, read and draw—making it the ultimate multitasking smartphone.
Note users have long been able to do more with the Multi Window function. The new App Pair feature lets users create a custom pair of apps on the Edge panel and simultaneously launch two apps with ease. With this new feature, consumers can watch a video while messaging their friends or dial into a conference call with the number and agenda in front of them.
A New Way to Communicate with the S Pen
Since its introduction, the S Pen has been one of the Note's defining features. With the Galaxy Note8, the enhanced S Pen unlocks entirely new ways to write, draw, and interact with the phone and communicate with friends. It has a finer tip, improved pressure sensitivity5, and features such as Live Messaging that enable users to express themselves in ways that no other stylus or smartphone ever has.
When communicating with text just isn't enough, Live Message allows user to reveal their unique personality and tell expressive stories. With the Galaxy Note8, users can now share animated texts or drawings across platforms that support animated GIFs (AGIF). It's a whole new way to communicate with the S Pen—adding lively and emotional connections that bring messages to life.
The Always On Display allows Galaxy users to stay on top of their notifications without unlocking their phone. And with the Galaxy Note8, it's even more powerful. Screen off memo allows users to take up to one-hundred pages of notes as soon as they remove the S Pen. Users can also pin notes to the Always On Display and make edits directly.
For overseas travels or when users come across a website in a foreign language, the improved S Pen Translate feature6 allows them to hover over text to quickly translate not only individual words, but entire sentences in up to 71 languages, and instantly convert units and foreign currencies7.
Better Pictures with Galaxy Note8's Best-in-Class Camera
For most consumers, one of the key things they look for when purchasing a new smartphone is the camera. Samsung has set the standard for smartphone cameras with the Galaxy Note8, delivering their most powerful smartphone camera yet.
The Galaxy Note8 is equipped with two 12MP rear cameras with Optical Image Stabilisation (OIS) on both the wide-angle lens and the telephoto lens. Whether users are exploring a new city or running around their backyard, OIS allows them to capture sharper images.
For more advanced photo-taking, the Galaxy Note8's Live Focus feature lets users control the depth of field by allowing them to adjust the bokeh effect in preview mode and after they take the photo.
In Dual Capture mode, both rear cameras take two pictures simultaneously and allow users to save both images; one close-up shot from the telephoto lens and one wide-angle shot that shows the entire background.
The wide-angle lens has a Dual Pixel sensor with rapid Auto Focus, so that users can capture sharper, clearer shots, even in low-light environments. The Galaxy Note8 is also equipped with an industry-leading 8MP Smart Auto Focus front-facing camera for sharp selfies and video chats.

Galaxy of Features and Services
The Galaxy Note8 is built on the Galaxy legacy—a collection of unique features and capabilities that, together, have redefined the mobile experience:
• Water and Dust Resistance: Four years ago, Samsung introduced the first Galaxy device with water resistance. Today, users can take their Note almost anywhere they want with water and dust resistance (IP688) on the device and the S Pen. Writing is possible even when the display is wet.
• Fast Wireless Charging: Two years ago, Samsung introduced the first Galaxy device with wireless charging. The Galaxy Note8 supports the most advanced wireless charging capabilities9 yet, so that users can get a quick, convenient charge10 without having to mess around with ports or wires.
• Security: The Galaxy Note8 offers a choice of biometric authentication options —including iris and fingerprint scanning. Samsung Knox11 provides defense-grade security at the hardware and software layers and with the Secure Folder feature, users can keep their personal and professional data separate.
• Powerful Performance: With 6GB RAM, a 10nm processor, and expandable memory12 (up to 256GB), users have the power needed to browse, stream, play games, and multitask.
• Innovative Mobile Experiences: DeX Station13 provides users with a desktop-like experience, powered by their Galaxy Note8*. Users can keep their files on their device, conduct work on the go, and use DeX Station when an even bigger screen is required. The Galaxy Note8 includes Bixby14, a smarter way for users to use their phone; it learns, improves over time, and helps users get more done.
*Please refer to appendix for more details
Mobile Performance, Productivity and Security for Businesses
The Galaxy Note8 takes business innovation to the next level with advanced features that improve performance, productivity and security for a wide range of industries, simplifying how work gets done:
• Enhanced S Pen for Business: The S Pen lets professionals do what other smartphones can't, like discreetly taking notes in Screen off memo or quickly annotating documents and photos.
• Non-Contact Authentication: The Galaxy Note8 offers iris scanning for professionals — for example, professionals in the health care, construction, or public safety sectors who may find themselves in a position where they need to unlock their phones without having to swipe or scan a fingerprint.
• Enhanced DeX Capabilities: The Galaxy Note8 powers DeX Station13 for those who need to extend their simple mobile experience seamlessly to the desktop — whether they're in the field, at the office or at home.



Our Continued Commitment to Safety
Samsung continues to uphold its commitment to lead the industry in battery safety. The Galaxy Note8's battery has undergone Samsung's 8-Point Battery Safety Check — the most rigorous in the industry.
"We have been closely working with Samsung to make meaningful advancements in the science of smartphone quality and safety evaluation. As a result, the Galaxy Note8 has successfully completed a rigorous series of device and battery safety compatibility test protocols. We look forward to maintaining our strategic relationship with Samsung to help ensure device safety for all consumers," said Sajeev Jesudas, President, UL International.

Pre-order and Registration of Interest
Pre-Order at telecommunication operators

Registration of interest15 with telecommunication operators for the Galaxy Note8 will commence from 25 August 2017, Friday, 12pm.
Consumers can visit the following URLS for more information:
• M1: www.m1.com.sg/galaxynote8
• Singtel: www.singtel.com/galaxynote8
• StarHub: www.starhub.com/galaxynote8

Pre-Order at Samsung Store online/Samsung Experience Stores
Consumers can also pre-order their Galaxy Note8 (without contract) via the Samsung Store online from 12pm at http://www.samsung.com/sg/galaxynote8/shop or visit the following Samsung Experience Stores from 25 August 2017 during opening hours:
• Central: 313@somerset #B2-24/25/26 Tel: 6836 1809, Bugis Junction #01-54 Tel: 6338 7911, Chinatown Point #01-48 Tel: 6222 7911, Great World City #02-39 Tel: 6235 0985, Paragon #B1-27/27A Tel: 6735 5926, VivoCity #02-28/29 Tel: 6376 9150
• East: Bedok Mall #B1-07 Tel: 6785 1118, Singapore Changi Airport Terminal 3 #02-23 Tel: 6241 4125 (Open to transit and departing passengers only), Parkway Parade #03-30F Tel: 6440 7969, Tampines Mall #02-29 Tel: 6782 9575
• North: Causeway Point #03-12 Tel: 6891 1011, AMK Hub #B1-37/38 Tel: 6753 6070
• North East: nex #04-42 Tel: 6636 7392
• West: Jurong Point #B1-09/10/11 Tel: 6791 2272, Westgate #01-01 Tel: 6369 9175

To pre-order, consumers simply have to place a $100 deposit and select their choice of collection points and appointment timeslots during opening hours from either:
• Galaxy Studio (The Plaza, VivoCity Level 1) or
• Selected Samsung Experience Stores



Pre-Order at Major Consumer Electronics Stores and Lazada Singapore
Pre-order for the Galaxy Note8 will also be available online from 25 August 2017, 12pm at major consumer electronics stores' (Best Denki, Courts, Hachi, Harvey Norman and Newstead) respective websites and Lazada Singapore. More information is available at the following URLs:
• Best Denki: www.bestdenki.com.sg/samsung/galaxynote8
• Courts: www.courts.com.sg/galaxynote8
• Hachi: www.hachi.tech/galaxynote8
• Harvey Norman: www.harveynorman.com.sg/galaxynote8
• Lazada Singapore: www.lazada.sg/galaxynote8
• Newstead: www.newstead.com.sg/galaxynote8

All successful pre-order customers will receive a complimentary16 DeX Station worth $198 during collection of and upon full payment for their devices from 9 September 2017. To enhance their experience with the DeX Station, pre-order customers will also receive in-box vouchers17 for the following promotions:
• 20 percent off the Recommended Retail Price of a Microsoft Wireless All-In-One Media Keyboard (RRP $53) OR 25 percent off the Recommended Retail Price of a Microsoft Designer Bluetooth® Desktop (RRP $139)
• $200 off the Recommended Retail Price of a Samsung C27F397 Curved Monitor (RRP $498)
• Pre-order customers can redeem their vouchers for the above at www.lazada.sg/note8rewards or redeem their voucher for the Microsoft Wireless All-In-One Media Keyboard or Microsoft Designer Bluetooth® Desktop at all Microsoft participating retailers.
Additionally, successful pre-order customers of the Galaxy Note8 without contract at Samsung Store online, Samsung Experience Stores, consumer electronic stores and Lazada Singapore will also receive a $100 Samsung Accessories and Wearables Voucher18 at the point of collection or delivery (upon full payment) of pre-ordered device.

Local Pricing and Availability
The Galaxy Note8 will be available from 15 September 2017 at a recommended retail price of $1,398 including GST. Available in Midnight Black, Maple Gold and Orchid Gray, the device will be available at all local telecommunication operators, major consumer electronic stores, authorised mobile retailers, Samsung Experience Stores and Lazada Singapore.
The following Galaxy Note8 accessories will also be available to complement the device:
From 9 September to 31 October 201719, Samsung will be holding an island wide launch promotion20 for the Galaxy Note8. Customers who purchase or successfully pre-ordered a Galaxy Note8 can enjoy 20% off their purchase of any original Samsung Galaxy Note8 accessories, upon full payment of the purchase price of their Galaxy Note8.

The launch promotion will be available at all local telecommunication operators, major consumer electronics stores, authorised mobile retailers, Samsung Experience Stores and Lazada Singapore.

Additionally, Samsung will also be having two special promotions20 to celebrate the launch of the Galaxy Note8 at all Samsung Experience Stores. From 9 September to 31 October 201719, customers will be able to enjoy the following special bundle offers at discounted prices with the purchase of every unit of the Galaxy Note8:

• Package 1 - $318 (U.P $414)

o Samsung LS22F355FHEXXS 22" Flat Screen Monitor (U.P $158)
o Samsung DeX Station (U.P $198)
o Zeus Wireless Bluetooth® Keyboard HB-086 (U.P $58)
o HDMI Cable

• Package 2 - $398 (U.P $504)

o Samsung LC24F390FHEXXS 24" Curved Screen Monitor (U.P $248)
o Samsung DeX Station (U.P $198)
o Zeus Wireless Bluetooth® Keyboard HB-086 (U.P $58)
o HDMI Cable

Samsung Concierge
With the launch of the Galaxy Note8, the device will be included as a new eligible product for Samsung Concierge, Samsung's service programme developed specifically for its customers in Singapore. Providing all-round convenience and assurance for Galaxy smartphone users, Samsung Concierge offers customers a suite of premium value-added services, including benefits such as yearly device upgrade, 30-day one-to-one exchange for manufacturing defects, on-site servicing or repair, discounted out-of-warranty repairs and data switching assistance for a one-time payment (per device) of $38 (inclusive of GST).

Consumers who have previously purchased the Samsung Galaxy S7 or S7 edge with Samsung Concierge will be eligible for the yearly upgrade to the Galaxy Note8 with their upgrade penalty fee waived if they intend to make the upgrade through their respective telecommunication operator21. Users who purchased the Galaxy S7 or S7 edge and Samsung Concierge from Samsung Experience Stores22 will get to enjoy $350 off the purchase price of their Galaxy Note8 when upgrading.

Samsung Concierge will be available for purchase at all local telecommunication operators, major consumer electronics stores and Samsung Experience Stores. Pre-order customers who wish to purchase Samsung Concierge for their Galaxy Note8 can do so online at Samsung Store online, major consumer electronics stores' respective websites and Lazada Singapore when making their pre-order.

For more information about Galaxy Note8 visit http://www.samsungmobilepress.com, news.samsung.com/galaxy or www.samsung.com/galaxy.
**
Appendix
Samsung DeX Station is a mobile solution that leverages the processing power of the Galaxy Note8 for enhanced productivity. Optimised for use with a keyboard and mouse13, the Samsung DeX Station features a completely redesigned AndroidTM UI, providing users with desktop-like functionality and a user interface previously unavailable from a smartphone. Users can simply insert their Galaxy Note8 into the Samsung DeX Station to start working seamlessly with the connectivity they need, while enjoying added mobility.

Samsung DeX Station provides a convenient way to access your apps on the big screen and allow users to multitask by opening multiple apps at once. You can now easily access your emails, edit photos or documents on your Galaxy Note8, just like on a desktop.

When you are not working, you can enjoy a bigger entertainment experience by streaming videos from YouTube, browsing the Internet and playing games while in DeX mode. Samsung DeX Station provides an easier, faster and smarter way to work and play.

Galaxy Note8 Product Specifications:
1 Compared to the Galaxy S8 and Galaxy S8+.
2 Based on an online survey of smartphone owners, which was conducted by Edelman Intelligence July 21 – August 2, 2017 and included 3,949 interviews with smartphone owners ages 18 or older in the United States, United Kingdom, Singapore, South Korea and China.
3 Measured diagonally, the screen size is 6.3" in the full rectangle without accounting for the rounded corners, and 6.2" accounting for the rounded corners.
4 A near bezel-less, full frontal glass, edge-to-edge screen.
5 Compared to the Galaxy Note 5.
6 Requires internet connection and is dependent on the list of source and output languages available.
7 Requires internet connection and is dependent on the currencies available in Yahoo! Finance.
8 Dust and Water Resistant (IP68 rating) means that the device is protected against entry of solid foreign objects, and harmful ingress of static fresh water at up to 1.5 metres, for up to 30 minutes, under certain defined test conditions. According to accredited test results; individual results may vary. Note: IP68 rating does not mean that the device is waterproof.
9 Wireless charger sold separately.
10 Fast charging requires Adaptive Fast Charging (AFC) or Quick Charge 2.0-compatible charger. Based on Samsung's internal test results, individual results may vary. Actual charging time depends on network configuration, signal strength, operating temperature, features selected, mode settings, backlight settings, browser use, frequency of calls, voice, data and other applications usage patterns, battery condition and other surrounding factors and conditions.
11 Knox is a Samsung mark that is applied by Samsung on a Samsung device tested by Samsung for security and specifically configured with enterprise use in mind. For information about Samsung's Knox device, please refer to http://www.samsung.com/sg/business/solutions-services/mobile-solutions/security/knox.
12 MicroSD card sold separately.
13 DeX Station, HDMI cable, monitor, keyboard, and mouse are sold separately.
14 Bixby service availability may vary by country, and some features may not be available depending on country, region or language. Voice command currently only recognises English (U.S.) and Korean languages; supported languages may be added in the future. Not all accents, dialects and expressions recognized, and actual performance may vary depending on pronunciation, voice level and surrounding environment. Voice command works with a select, growing list of Samsung and third-party apps; see "Apps with Voice" in Bixby for list of compatible apps.
15 Terms and conditions apply. Please check respective Telecommunication Operators' websites for details.
16 Complimentary gift is available for successful pre-orders only, and only applicable after full payment of purchase price of Galaxy Note8. Complimentary gift is while stocks last and not exchangeable for cash or other items. Please check stores for more details.
17 Voucher terms and conditions apply.
18 Voucher is not valid for purchase of the following items: Samsung microSD cards, Samsung Solid State Drives, Samsung Concierge, Mont Blanc Accessories, Samsung Gear S2, Samsung Gear S2 classic, and Samsung DeX Station. Voucher terms and conditions apply. For pre-order from Lazada Singapore, customers will receive the voucher in the form of a promo code.
19 Promotion period may vary between Telecommunication Operators. Please check Operator stores for more details.
20 Launch promotions cannot be used concurrently with other promotions. Please check in-store for more information.
21 The yearly upgrade is subject to eligibility and fulfilment of the respective telecommunication operators' terms and conditions and Samsung Concierge Service Agreement.
22 The yearly upgrade is subject to eligibility and fulfilment of the respective Samsung Experience Stores' terms and conditions and Samsung Concierge Service Agreement.
23 Support of LTE Cat 16 is network dependent.
24 Actual user-accessible internal storage is less than specified total memory due to operating system, software, and other built-in applications, and may vary after software updates/ upgrades.
*All functionality, features, specifications and other product information provided in this document including, but not limited to, the benefits, design, pricing, components, performance, availability, and capabilities of the product are subject to change without notice or obligation.
Specifications are accurate as at time of print and are subject to change without prior notice. Bluetooth® is a registered trademark of Bluetooth SIG, Inc., and any use of such marks herein is under license. Wi-Fi® and Wi-Fi Direct® are registered trademarks of Wi-Fi Alliance. Android and other Google marks are trademarks of Google Inc. All other company, product and service names mentioned herein are marks, trademarks, registered trademarks or service marks of the respective owners.

About Samsung Electronics Co., Ltd.
Samsung inspires the world and shapes the future with transformative ideas and technologies. The company is redefining the worlds of TVs, smartphones, wearable devices, tablets, digital appliances, network systems, and memory, system LSI and LED solutions. For the latest news, please visit the Samsung Newsroom at http://news.samsung.com
List
No Prev Page
No Next Page