Samsung Electronics Sets New Performance Levels for Consumer NVMe SSDs with 970 EVO Plus
Jan 23. 2019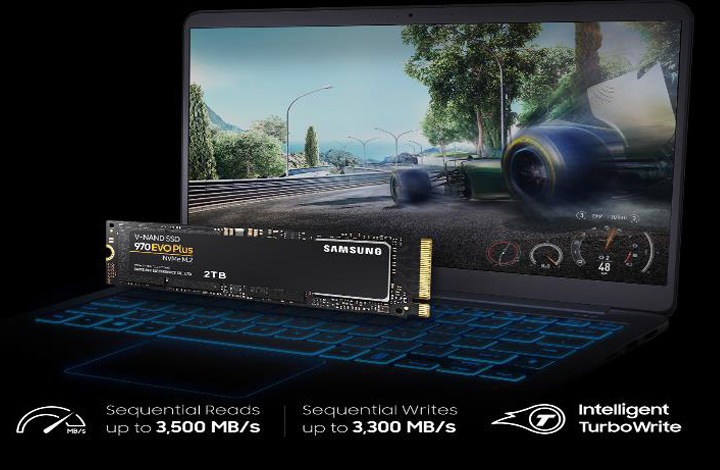 970 EVO Plus delivers significant performance improvements and power efficiency for high-bandwidth applications
SINGAPORE –Jan. 23, 2019 –Samsung Electronics Co., Ltd. has today introduced the Samsung 970 EVO Plus, the newest enhancement in its Non-Volatile Memory Express (NVMe) SSD portfolio. With industry-leading performance and up to two terabytes in capacity, Samsung's 970 EVO Plus sets a new bar for high-performance storage, enabling IT professionals, tech enthusiasts and gamers to handle intensive workloads on PCs and workstations with more ease.
"Since introducing the first NVMe SSDs to the consumer market in 2015, Samsung has continued to challenge technical barriers in SSD design and performance," said Dr. Mike Mang, vice president of Brand Product Marketing, Memory Business at Samsung Electronics. "The new 970 EVO Plus powered by Samsung's latest fifth-generation V-NAND technology will now offer unrivaled performance in its class when taking on demanding tasks like 4K content editing, 3D modeling and simulation as well as heavy gaming."
By integrating the company's most advanced V-NAND chips with optimized firmware, the 970 EVO Plus achieves significant performance improvements –up to 57 percent in write speed1 –as well as increased power efficiency over its predecessor, the 970 EVO. The new drive delivers sequential read and write speeds of up to 3,500 megabytes per second (MB/s) and up to 3,300 MB/s, respectively, while random speeds come in at up to 620,000 IOPS for read and up to 560,000 IOPS for write operations2.
Users can easily upgrade their devices as the 970 EVO Plus comes in a compact M.2 form factor using the PCIe Gen3 x4 interface found in most modern computers. The 970 EVO Plus also offers a five-year limited warranty3 or up to 1,200 terabytes written4.
The 970 EVO Plus comes in a variety of capacity options; the 250GB, 500GB, 1TB and 2TB capacity versions will become available in March 2019. Manufacturer's suggested retail prices at S$132.90 for 250GB, S$235.90 for 500GB, S$450.90 for 1TB and S$924.90 for 2TB. For more information, including warranty details, please visit samsung.com/SSD or samsungssd.com.
Key Specifications
1 Up to a 57-percent performance increase in random write speed for 250GB version.
2 Performances may vary depending on SSD's firmware version and system hardware & configuration. Performance measurements based on IOmeter 1.1.0. The write performances were measured with Intelligent TurboWrite technology being activated. The sequential write performances after Intelligent TurboWrite region are: 400 MB/s (250GB), 900 MB/s (500GB), 1,700 MB/s (1TB) and 1,750 MB/s (2TB). The random write performances after Intelligent TurboWrite region are: 100,000 IOPS (250GB), 200,000 IOPS (500GB), 400,000 IOPS (1TB) and 420,000 IOPS (2TB).
* Test system configuration: Intel Core i7-7700K CPU @4.2GHz, DDR4 2400MHz 32GB, OS-Windows 10 Built 10240, Chipset–ASUS PRIME Z270-A.
3 Five years or TBW, whichever comes first. For more information on the warranty, please find the enclosed warranty document in the package.
4 Warrantied TBW (Total bytes written) for 970 EVO Plus: 150TB for 250GB model, 300TB for 500GB model, 600TB for 1TB model, 1,200TB for 2TB.
5 1GB=1,000,000,000 bytes by IDEMA. A certain portion of capacity may be used for system file and maintenance use, so the actual capacity may differ from what is indicated on the product label.
List
No Prev Page
No Next Page