Samsung Rings in the New Year in Sleekness and Style
Jan 17. 2018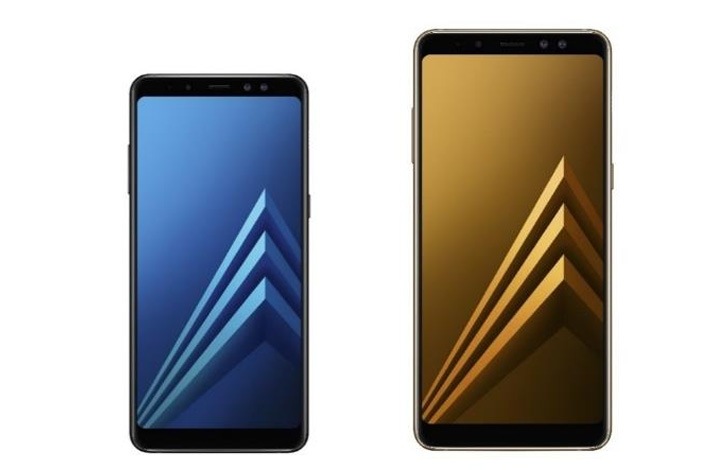 Introducing the latest offering in Samsung's Smartphone Family – The Galaxy A8(2018) and A8+(2018), which was launched at the revamped Samsung Experience Store at VivoCity
Singapore – 17 January 2018 – Launched at its completely revamped Samsung Experience Store at VivoCity, which is the first store in Southeast Asia to feature a contemporary edge to reinvigorate the offline retail experience, Samsung Electronics Singapore today debuted the latest smartphones in the Galaxy A series – the Galaxy A8(2018) and the Galaxy A8+(2018). With a sleek and stylish design that is comfortable to the grip, enhanced camera features and a large Infinity Display screen, the Galaxy A8(2018) and Galaxy A8+(2018) offer consumers the ultimate smartphone user experience.
"This Samsung Experience Store is designed to provide one-stop service to consumers. You can step in to experience our comprehensive range of mobile products and solutions, and you can also visit our Customer Service Centre. Samsung customers can have their devices diagnosed, repaired and serviced here at the Store," said Lee Jui Siang, President, Samsung Electronics Singapore. "We are excited to announce the launch of the Galaxy A series for Singapore consumers. The A series has its fair share of fans and we will continue to offer Galaxy phones at various price points to cater to different consumer preferences."
Enhanced Camera Capabilities featuring Samsung's first Dual Front Camera with Live Focus
The new Galaxy A8(2018) and the Galaxy A8+(2018) feature a new 16MP + 8MP F1.9 Dual Front Camera in addition to an impressive 16MP rear camera, allowing users to capture important moments and memories at any time and location. As the Dual Front Camera is made up of two separate cameras, users have the flexibility in choosing the type of selfies to take – from close-ups with the background, to portrait shots with a clear and crisp background. With the advanced Live Focus feature, users can easily create and adjust the bokeh effect on the smartphones before or after taking a picture.
Featuring low-aperture lenses, the advanced camera on the Galaxy A8(2018) and the Galaxy A8+(2018) ensures vibrant and clear images even in low-light conditions. The smartphones also allow users to have a fun experience in customizing photos, from adding stickers to selfies, to optimising photos and enhancing image colour with Food Mode1.
Shaky video footage will also be a thing of the past with video digital image stabilisation (VDis) technology. Additionally, with the added hyperlapse feature, users can now create time-lapse videos to share longer stories with loved ones.
Refined Viewing Experience with Advanced Security Features
For the first time on the Galaxy A, the smartphones will feature an Infinity Display, which comes in 5.6-inch2 and 6.0-inch2 screen size options. Users can enjoy an uninterrupted, immersive viewing experience when watching movies or playing games. With an 18.5:9 display ratio that goes beyond the bezel, the device provides users with the ultimate cinematic experience. The smartphone screen is also supported with a premium metal frame and a curved glass on the back and front, providing users an ergonomic and comfortable grip when using the sleek and stylish device.
The new Galaxy A8(2018) and A8+(2018) are also equipped with enhanced everyday features. Everyday tasks will be less of a hassle for users as both devices are equipped with IP68-certified water and dust resistant capabilities3, allowing them to withstand elements including rain, sweat, sand and dust. With the Always-on Display, users can quickly glance at the time and calendar without having to wake their device up. Additionally, the Galaxy A8(2018) and Galaxy A8+ (2018) supports microSD cards4, offering users an expandable storage capacity of up to 400GB5 to store their favourite memories and content without ever having to worry about running out of space. Both the Galaxy A8(2018) and A8+(2018) are also the first in the Galaxy A line-up to support the Samsung Gear VR6.
With the Galaxy A8(2018) and A8+(2018), users will no longer have to worry about always having to have their wallet and cash on hand. The smartphones are equipped with Samsung Pay where users can make safe and secure mobile payments almost anywhere7. Simply swipe up to bring up the last transacted credit or debit card, scan your fingerprint or key in your PIN and make payment.
Also fitted with facial recognition security features, consumers can opt for a quick and hassle-free way to unlock their Galaxy A8(2018) or Galaxy A8+(2018) with just a look. By simply scanning your face with the front camera and enabling the facial recognition feature8 under the security settings, consumers are ready to unlock their phone in a quick and effortless manner.
Local Pricing and Availability
The Galaxy A8(2018) and A8+(2018) will be available from 27 January 2017 at a recommended retail price of $648 and $798 respectively, including GST. Available in Gold and Black, the devices will be available at all local telecommunication operators, selected consumer electronic stores, authorised mobile retailers, Samsung Experience Stores and selected online marketplace.
The following Galaxy A8 (2018) and A8+ (2018) accessories will also be available to complement the devices:
*Designed for Samsung Covers are only available at Samsung Experience Stores
Refreshed Samsung Experience Store at VivoCity
Samsung's biggest Experience Store – spanning 463sqm – which is located in the heart of VivoCity, has recently undergone an extensive revamp to showcase a more contemporary feel, complimenting the stylishly designed products by Samsung on display. Unveiled on 30 November 2017, the Samsung Experience Store at VivoCity now features an inviting and wide-open façade, where customers are welcome to step into the store and experience Samsung's innovation and cutting-edge technology
Showcasing Samsung's latest range of products such as smartphones, tablets and smartwatches, a wide range of accessories and a robust ecosystem of content and services, the Samsung Experience Store at VivoCity offers a differentiated and enriching in-store experience for customers. Customers can connect with Samsung products and services in an interactive and immersive way at the store, through its themed areas such as home connectivity with Samsung Connect Home and Smart Home Displays, 4D VR rides with Samsung Gear VR and the Gear S experience table which provides them with a hands-on experience prior to their purchase.
Additionally, the store also offers a personalised customisation service where customers can customise bags with created designs using the Galaxy Note8 or personalise phone covers with the available engraving services.
Opening Promotion
In celebration of the revamping of the Samsung Electronics Store at VivoCity, customers who purchase any Galaxy smartphone or tablet at a recommended retail price of $400 and above will receive a $30 Mapletree voucher9 at the point of purchase. Customers who purchase a Galaxy Note8, S8+, S8 or Tab S3 will receive a $50 Mapletree voucher9 instead. This promotion will commence from 18 January 2018 on a while stocks last basis.
Third Customer Service Centre
As Samsung's third customer service centre in Singapore, the Samsung Experience Store at VivoCity emphasises on providing customers with an enhanced overall in-store and customer service experience. With extended Service Centre hours from 11am to 9pm daily, the store boasts full-fledged services such as in-store repair service for smartphones and tablets. With the new Quick Repair Service10, consumers can also expect their devices to be repaired or serviced within an hour, while they enjoy browsing our store or engage with the different experiential zones.
Alternatively, customers can choose to wait in comfort in a cozy lounge setting to enjoy drinks from our in-house café and even charge their device wirelessly while waiting for their turn or for their device to be ready. The newly revamped store's minimal and open-concept design also provides a space for product consultations and trainings for customers and private events.
Samsung Members
Samsung is not only looking at providing the best in-store retail experience for consumers; consumers can look forward to the same excellent service online as well with the newly launched Samsung Members app. Officially available and preloaded on the Galaxy A8(2018) and A8+(2018), this new mobile app is the one-stop solution for consumers to keep track of their Galaxy device towards optimal working condition. Users can perform diagnostics through the app to optimise settings and RAM storage, test the device hardware and uninstall unused applications to ensure that the device is always in top-notch condition.
Additionally, Samsung Members also includes a comprehensive FAQ section equipped to answer any questions that users may have, from battery and applications to device and system settings. Beside being a platform for technical support and expertise, users can also receive benefits from exclusive event invitations to discounts on services throughout the year through Samsung Members.
For more information, visit http://www.samsungmobilepress.com, news.samsung.com/galaxy, www.samsung.com/galaxy or http://www.samsung.com/global/galaxy/apps/samsung-members/.
***

About Samsung Electronics Co., Ltd.
Samsung inspires the world and shapes the future with transformative ideas and technologies. The company is redefining the worlds of TVs, smartphones, wearable devices, tablets, digital appliances, network systems, and memory, system LSI and LED solutions. For the latest news, please visit the Samsung Newsroom at http://news.samsung.com.
Galaxy A8 (2018) and Galaxy A8+ (2018) Product Specifications:
1 Effect of filters is dependent on quality of original image; individual results may vary.
2 Screen measured diagonally as a full rectangle without accounting for the rounded corners.
3 Dust and Water Resistant (IP68 rating) means that the device is protected against entry of solid foreign objects, and harmful ingress of static fresh water at up to 1.5 metres, for up to 30 minutes, under certain defined test conditions. According to accredited test results; individual results may vary. Note: IP68 rating does not mean that the device is waterproof.
4 MicroSD cards sold separately.
5 Actual user-accessible internal storage is less than specified total memory due to operating system, software, and other built-in applications, and may vary after software updates/ upgrades.
6 Compatible models include the Samsung Gear VR SM-R325, SM-R324 and SM-R323.
7 Availability almost anywhere is based on compatibility of Samsung Pay on MST and/or NFC payment terminals, with some supported for use only after software upgrades. Samsung Pay is exclusive to selected Samsung Galaxy smartphones and smartwatches only, and available across all participating payment networks, banks, and merchants. Availability may vary, please check www.samsung.com/sg/samsungpay for updates.
8 Face recognition is less secure than pattern, PIN, or password, and is not recommended to be used as a security feature.
9 Voucher terms & conditions apply.
10 Quick Repair Service terms & conditions apply.

All functionality, features, specifications and other product information provided in this document including, but not limited to, the benefits, design, pricing, components, performance, availability, and capabilities of the product are subject to change without notice or obligation.

Specifications are accurate as at time of print and are subject to change without prior notice. Bluetooth® is a registered trademark of Bluetooth SIG, Inc., and any use of such marks herein is under license. Wi-Fi® and Wi-Fi Direct® are registered trademarks of Wi-Fi Alliance. Android and other Google marks are trademarks of Google Inc. All other company, product and service names mentioned herein are marks, trademarks, registered trademarks or service marks of the respective owners.
List
No Prev Page
No Next Page