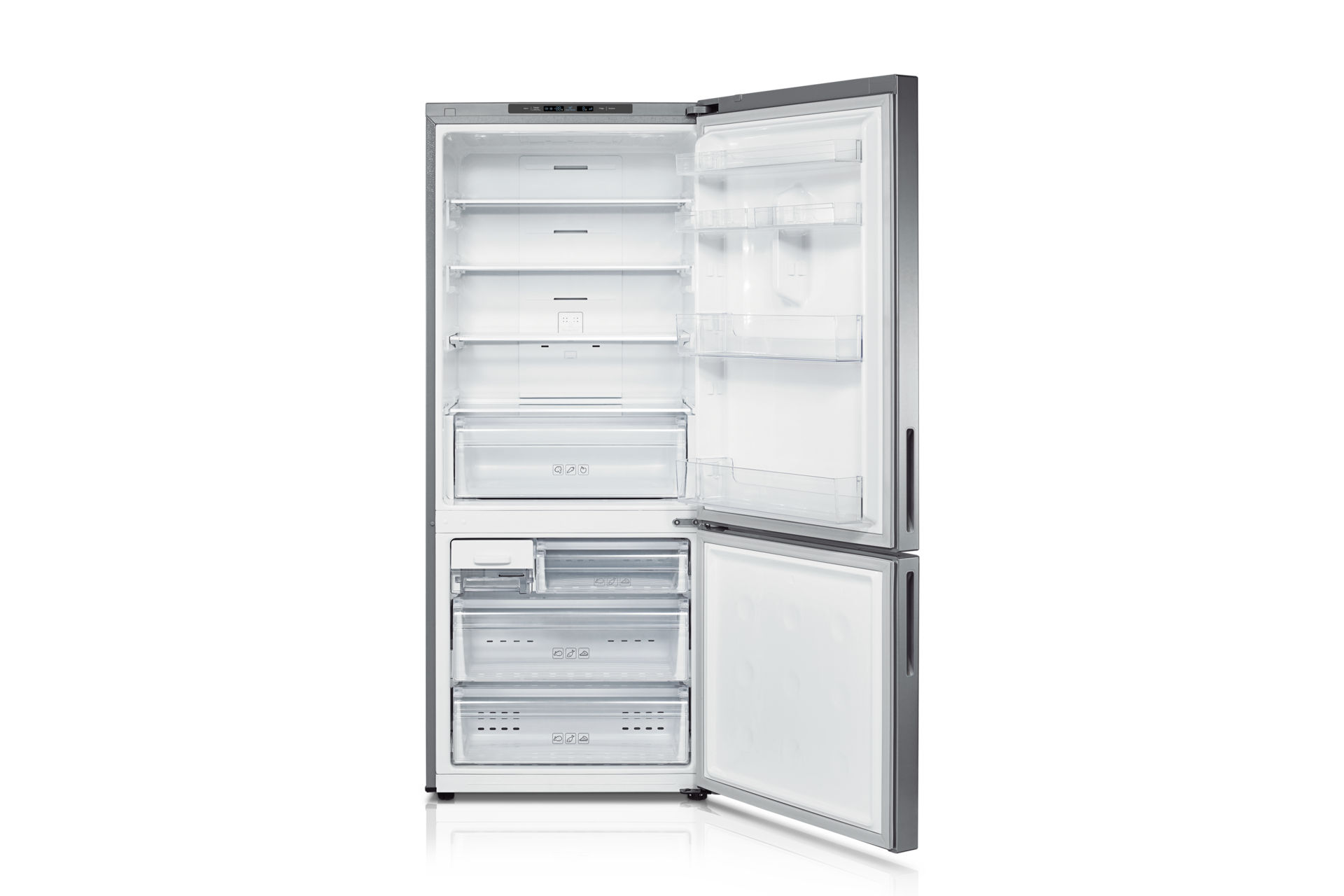 All-around Cooling Bottom Mount Freezer, 402L, Energy Rating 3 Ticks
RL4004SBASL/SS
Digital Inverter Technology
3 Ticks
Energy Efficiency (NEA)
Durability Guaranteed
Samsung guarantees the durability of its Digital Inverter Compressor with a 10-year warranty*. Digital Inverter Technology automatically adjusts the compressor speed in response to cooling demand. It uses less energy, minimises noise and reduces wear and tear for longer-lasting performance.
*10 year warranty is limited to the compressor only.
*10 year warranty is limited to the compressor only.
A shelf that opens up more space
The foldable shelf gives you the flexibility to smartly store bulky items you never could before. Fold back the shelf completely when you need to refrigerate a multi-tiered cake, or fold the shelf in half to accommodate tall-but-narrow items such as a carton of orange juice while preserving storage space.
Deep door guard for greater storage
Since your shopping list changes from week to week, the Samsung refrigerator was designed with four individually adjustable door guards that help you easily and conveniently store your grocery items. The guards can be shifted higher or lower to accommodate taller bottles, while a deep guard holds bulky beverage containers and/or two rows of soda cans.
Brighter with better power efficiency
Located on both sides of the interior, Samsung's high efficiency LED lighting brilliantly illuminates every corner, ensuring better visibility.
Keeps air hygienically clean and fresh
The deodorising Filter keeps the fridge clean and fresh by passing air through an Activated Carbon filter, preserving the original food flavours for a longer period of time
402 ℓ

Net Total(Liter)

EZ Clean Steel

Colour

3 Ticks

Energy Efficiency (NEA)

700 mm

Net Width(mm)

1700 mm

Net Case Height with Hinge(mm)

705 mm

Net Depth without Door Handle(mm)
How It Stacks Up
Digital Inverter Technology

Net Total(Liter)

402 ℓ

Colour

EZ Clean Steel

Energy Efficiency (NEA)

3 Ticks
Optimal Fresh zone

Digital Inverter

All-around Cooling

Energy Efficiency (NEA)

2 Ticks
* Key feature may different from Key Spec
All images shown are for illustration purposes only and may not be an exact representation of the product. Please check in-stores for more details.