"I Found with 108MP" Contest FAQs
1. What is the 'I FOUND WITH 108MP' contest about?
The 'I FOUND WITH 108MP' contest requires participants to explore a series of 108MP high-resolution photos to find and caption specific scenes mentioned in its missions.
Participants may zoom in and out of the 108MP photos, which are captured across Singapore using the Galaxy S20 Ultra 5G.
Participants who are able to find—and caption the scenes in the most creative way—will be announced as winners.
2. Are these photos taken with the 108MP camera on the Galaxy S20 Ultra?
Yes. All photos uploaded onto the 'I FOUND WITH 108MP' website are captured using the Galaxy S20 Ultra 5G.
4. Can I participate more than once using the same email account?
Yes, you may participate more than once using the same email account to increase your chances of winning.
5. Could you delete my first entry so I can resubmit?
No, there is no need for us to delete any of your entries since participants are free to submit as many entries as they like.
6. What is the duration of this contest?
The contest starts on 18 March 2020, 1100hrs (SGT) and ends on 9 April, 2359hrs (SGT).
7. What are the terms and conditions of this contest?
Please see the complete list of terms and conditions here.
8. Where can I find the list of missions?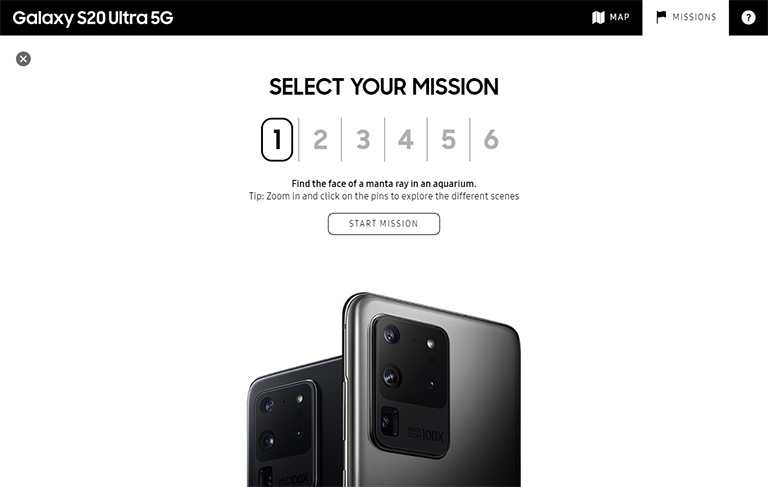 Missions are available on the upper right hand corner of the website.
They are also available on the Samsung Singapore Facebook page.
10. How do you choose your winners?
Only 1 winner from each mission will be chosen. There will be a total of 6 different winners for this contest. The winning criteria will be based on
(1) the accuracy of the scenes captured according to the missions, and
(2) the creative captions that are submitted based on the scenes.
For the full list of contest terms and conditions, please visit here.
11. What are the prizes?
Each winner will be awarded a Samsung Galaxy S20 Ultra 5G.
12. How will I know if I had won?
Winners will be contacted individually 7 working days after the contest ends.