Unfold the future: Chen Xi
COVER STORIES
Unfold the future:
Chen Xi
When Chen Xi is not showing off his acting chops on local television, he can be found honing his artistic side as an up-and-coming local talent in the Singapore fine arts scene. Having a passion for drawing and design since young, Chen Xi pursued his ambitions for art at Nanyang Technological University (NTU) where he eventually graduated as an animator.

He has since carved out a niche for himself in the visual arts scene with his venture into branding and logo designs for local start-ups, game illustrations and non-fungible token (NFT) art works. As his craft continues to flourish, Chen Xi has even been approached by art galleries that were interested in his art — which led to the birth of "The Xi Atelier". We sit down with Chen Xi for a quick chat to discuss his journey as an artist and entrepreneur, and what it means to Unfold the Future in the age of digital creativity.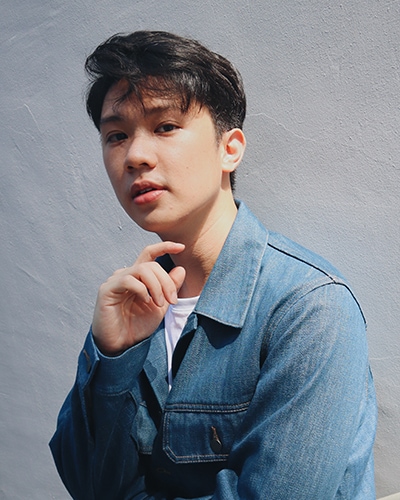 How did your journey as an artist and entrepreneur begin?
Actually, I have always pictured myself as an artist for the longest time. When I was a kid, there weren't many gadgets in my life. I come from the last generation that lived with pagers and video cassettes. So, I spent most of my time drawing, apart from playing traditional games like the wooden Gasing top.

I always had an interest in illustrations, sketching and animations. I also graduated from NTU as an animator. Although I have recently entered showbiz, I still spend a considerable amount of my free time drawing.

Over the years, I have always lent a hand to my friends with logo and artwork designs when they ventured into their own start-ups. I even dabbled in game design and illustration, and more recently, the non-fungible token (NFT) art sector.

As I continued illustrating and sharing my interest in art, I had more and more people asking me to teach them how to draw. Some even expressed interest in purchasing my art! Finally, two years ago, I had an art gallery approach me to purchase one of my works and that was truly the first time I actually sold them. Then, I moved on selling more of my work online. When I started my own Etsy, my craft managed to reach a wider reach overseas with patrons from all over the world.

It was not up till a few months back that I decided to pursue this more seriously and that was how I launched "The Xi Atelier" to cater to the local market.

Through this period, I began to slowly learn the business aspects of art and started speaking to more people who share my vision and interest. So, in terms of being an entrepreneur, I am definitely still finding my way around it and learning more as each day goes by.

Nonetheless, it definitely has been one eye-opening journey!
What was the greatest lesson you have learnt from starting your own business?
"Why wait, when you can create? That is the true power of creativity." This is something that my Dad shared with me, and has been stuck in my head ever since.

There were some low points in my life where I felt I was getting pretty stagnant as I was "waiting for opportunities to come knocking". My Dad, being the driven and self-motivated person he is, told me to get back on my feet and to just get moving.

This resonated strongly with me. As a creative, I believe my strength is my ability to create something from nothing and changing "restrictions" to "resources".

Ultimately, 'creativity' exists only when there are 'limitations'. Learning to cope with that, as tough as it may be, is one of my best takeaways from starting my own business.


What kind of impact or legacy do you hope your actions and art leave behind?
As an "artiste" and "artist" dabbling in business, my jobs require me to share a piece of myself with the public. But my influences in art have always involved heritage and culture as I want to be reminded of my roots. Hence, a large amount of my art pieces involves heritage drawings. Only very recently have I started shifting my focus to nature and plants; because I feel like we've got to remind ourselves to slow down and to reconnect with nature in this increasingly urbanised and fast-paced lifestyle.

So, I do hope that my art will always be a reminder for my audience to not only reminisce and appreciate the legacy of previous generations, but to also appreciate the present and live in the moment.

If I were to sum it up, my legacy would be "a person who reminded everyone to appreciate past legacies".
What has been the best life lesson you have learnt from this experience?
I think one of the best life lessons so far is just learning to be appreciative for the chances in life. I am truly thankful for the opportunities that have been given to me and I feel extremely blessed. I am also very thankful to be given the opportunity for this feature.

I say that because I am only where I am today because of the opportunities people have given me at each stage of my growth; whether it is my role as an artist, an entrepreneur or a performer, this still rings true.

I have learned that opportunities can be taken away just as easily as they have been given. So, I am always reminding myself to not take things for granted because complacency can set in very easily. I also don't want to let anyone down, especially those who have given me the chance to be where I am today.


Have you rewritten any rules?
I'm not sure if there were any "rules" to begin with, but I guess the one special thing about me is the fact that I dabble in whatever interests me.

We now live in an era where juggling multiple jobs and gigs and having side hustles is perfectly normal. No one has to be tied to one profession for life.

For me, this is a blessing as I get to fulfill my aspirations and get to do everything I love. That said, I still think it is rather important to focus on things that truly matter, because we only have limited resources and we should do everything to the best of our abilities.


Can creative people be entrepreneurs?
Definitely! I mean that was what I was saying earlier. But to add on to that, as a creative, I don't always approach business with the 'conventional frameworks' or 'organisational skills' a traditional businessman might. I tend to get super consumed with the creative process and lose track of time or discipline in certain crucial aspects of business. That's why I'm still learning the ropes!

In the end, it boils down to discipline. Discipline in craft and discipline in time management. I try my best to work within the constraints of each project and make sure I manage my time properly to ensure a timely and satisfactory delivery. I believe it's never a one-way process. Artists also have to understand the needs and wants of clients and customers, and we've got to work towards it together.

I am also very thankful to have a solid team that helps me out with the administrative processes whenever I get consumed with the creations. I can't begin to tell you how important is it to find people you can trust in your business.

Last but not least, you've got to work hard and work smart. Make sure you are working hard in the right environment where the right people will appreciate you.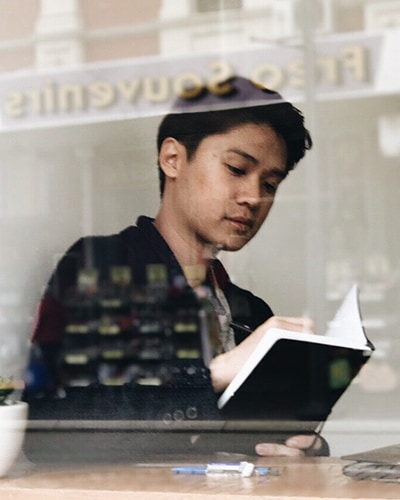 How has technology changed/shaped the way you work now?
In so many ways! I mean, technology has definitely made it easier to work and produce art, both in traditional and digital forms. Apart from writing my scripts, it is also easier to draw on the go!

It also allows cross-disciplinary art forms. The possibilities are just endless and that is why we have new media. I really feel like that is the future of art. Editing and even creation of GIFs have never been easier thanks to new-age technology.

For example, I use the Samsung Galaxy Tab to do my illustrations, which is a very convenient process whenever inspiration strikes. Back in my University days, even purchasing a tablet was an incredibly daunting process, much less to drawing on one. But now, it is so common that almost every creator or artist will have a tablet. I can even create art while on the way to work!


How has the Galaxy ecosystem value-added your lifestyle and work? Are there any features of Galaxy Ecosystem that feel fresh or novel to you?
Switching between devices has never been easier. I own a Galaxy Buds Pro and it allows me to switch between my Galaxy smartphone and tablet seamlessly.

It is truly fuss-free in terms of user experience and creates such a conducive and smart working environment for me. This is especially convenient when I am using the tablet to draw and using the smartphone for reference images.

Workflow can really make or break the creative process!


What do you think is the next development or trend that's going to be big within your industry?
Well, it is hard to say, especially in these unprecedented times of Covid-19. One thing is for sure though — there will be lots of changes and adjustments we should expect. We've also got to learn to adapt to these changes accordingly.


What does Unfold the Future mean to you?
The future is in our hands and it is up to us to unfold it the way we want!


The views and opinions expressed in the article or video are those of the content contributors and do not reflect the official policy or position of Samsung. Any content provided by our content contributors are of their opinion, and are not intended to malign any religion, ethnic group, organisation, company or individual.
You are invited
Get ready for exclusive access to in-depth features with thought leaders, invitations to bespoke events, editorial beats on innovation, and first dibs on the latest Samsung products.
Join our mailing list today.
Subscribe