430 x 55 x 312mm
Product Dimension(WxHxD)
The most flexible way to grow your audio system
Now it's easy to enjoy your music anywhere in your home, from any source you own. The Samsung Multiroom Link mobile app remotely controls volume and music on your system across different devices, including your TV, Soundbar, Home Entertainment System and Blu-ray Disc Player. You can also use the app to create your own wireless surround sound system with multiple speakers.*
Catch-up Services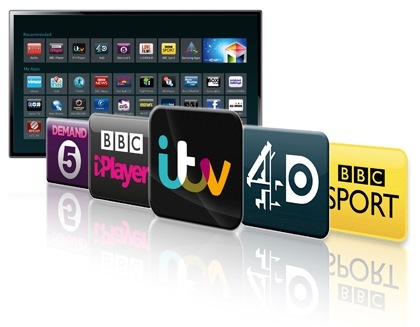 Catch up on all the latest TV programmes Now you never have to miss any of your favourite programmes again. You can watch all the must-see TV shows at your convenience with Catch-up TV services* including ITV Player, BBC iPlayer, the 4oD service from Channel 4, and Demand 5 from Channel 5. They give you access to a world of new comedy, drama, news, documentaries and more. With Samsung Smart Content, you set the TV schedule. It's never been easier to stay up-to-date with the latest entertainment. *Apps shown are available or coming soon on all 2013 Samsung Smart AV products
Enjoy ultimate sound quality with built-in Valve Amplifier
Make the most of amazing audio thanks to Valve Amplifiers. It delivers warm,natural and realistic sound that feels much more natural to your ears and immerses you in your entertainment. The built-in Valve Amp combines with digital amplifier technology to produce sound that is more pure and powerful while minimizing ambient noise and distortion, so you can enjoy your listening experience with great clarity.
Great entertainment on Demand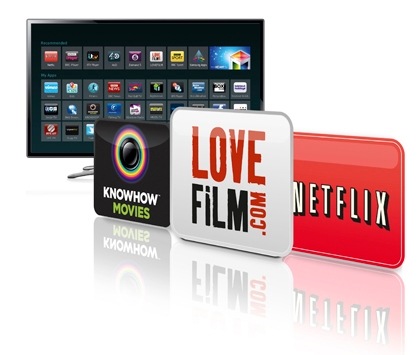 Enjoy the very latest movies and other entertainment at home - on your own terms. It's all delivered straight to you thanks to Samsung Smart Content. Now you can have easy access to a range of great video on demand services including LOVEFiLM, Netflix and more. From the biggest current blockbusters to indie hidden gems and timeless classics, you will discover a huge library of movies and other content that you can watch at your convenience.
Hear it all in high definition with HD sound
Complete your entertainment experience with stunningly realistic HD audio. It reproduces the quality and richness of the original sound much more accurately and vividly, bringing you closer to the sound of live audio. To give you a better idea of how much better HD audio is, CDs are only 44.1 kHz/16-bit while HD audio is 96 kHz/24-bit, meaning you get that much more digital detail. You will hear the difference immediately.
Enhanced surround sound from a wider range of listening positions
With Surround Sound Expansion, your Samsung audio expands the optimal listening area and elevates the height of the sound to the level of the TV screen, so there is no disconnect like with conventional speakers, just richer surround sound that seems like its coming straight out of your TV. Now you can enjoy a realistic, lifelike sound experience with truly immersive surround effects.
Your mobile music ready to play when you are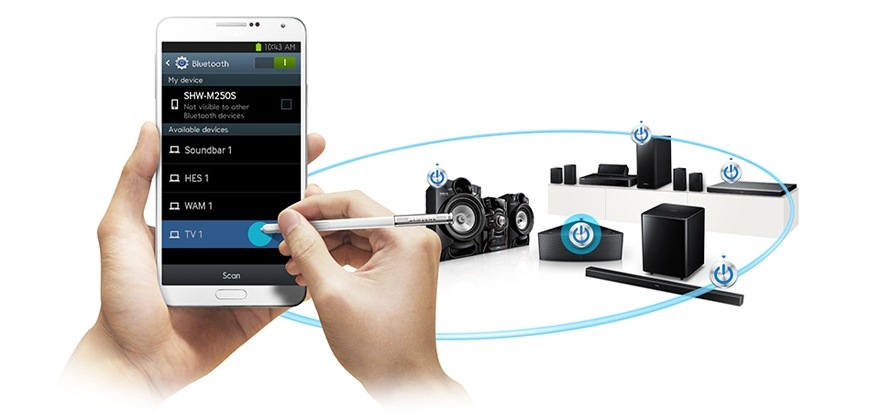 Thanks to Bluetooth compatibility, you can use your smartphone to turn your speakers on remotely. Pair the speakers and your smartphone once, and you can quickly and easily power on your speakers by selecting them on your smartphone. It's that simple. As long as the speakers are plugged into a power source, you can wake it up with just one touch and enjoy high quality audio.
5.1 Ch

Number of Channel

430 x 55 x 312mm

Product Dimension(WxHxD)

1000

Total Power

1

Number of Audio Input

ARC (Audio Return Channel)

ARC (Audio Return Channel)

70W

Operating Power Consumption
User manual & Downloads
Live Chat
How It Stacks Up
* Gorkana (within a set list of TV and AV media. Jan - Dec 2015).
** Which? Best Buy awarded to R1,3,5

* Multiroom functionality available or coming soon on 2014 Samsung 7 Series Home Theatre Systems.

Certain features with the Smart Hub may not be available without expressed consent regarding the collection and use of personal information. Content available through Smart Hub may vary among product categories, models and territories. Certain applications must be purchased and may not be available in all regions.

† Catch up apps available now or coming soon on all 2014 Smart AV models. Apps may not operate on previous Samsung Smart AV models. Recommended minimum broadband speed for catch up apps is 2Mbps.