250 x 113.5 x 145 mm
Product Dimension(WxHxD)
Built-in (2.4 / 5 GHz Dual Band)
Wireless LAN
Enjoy greater flexibility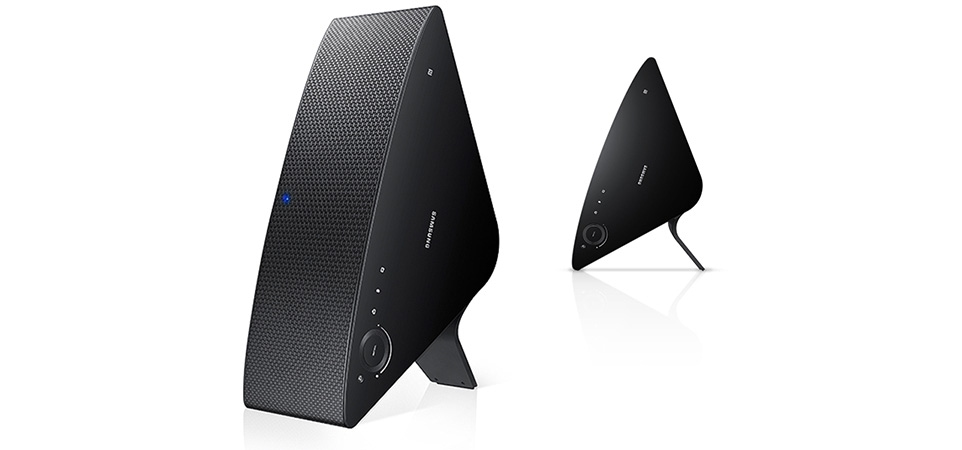 Available in either black or white, the sleek and modern Samsung M Series speakers feature a triangular design that subtly and playfully evokes the shape of a 'play' button. These versatile speakers can also be positioned either vertically or horizontally, depending upon the layout of your surroundings and your needs. The installation position sensor means the speaker even recognises whether it has been set up vertically and automatically switches into mono mode.
The compact way to enjoy crystal clear multiroom sound
Give your music a boost with the Samsung M Series speaker. It's got all you need to play your favourite tracks with deep bass and clear sound across the whole spectrum, from high-pitched tones to low frequencies. This well-balanced audio is made possible from using top-quality construction materials, which makes every tune sound the way it is meant to be heard. You'll love how music sounds when you play it from the Samsung M Series speaker.
The most flexible way to grow your audio system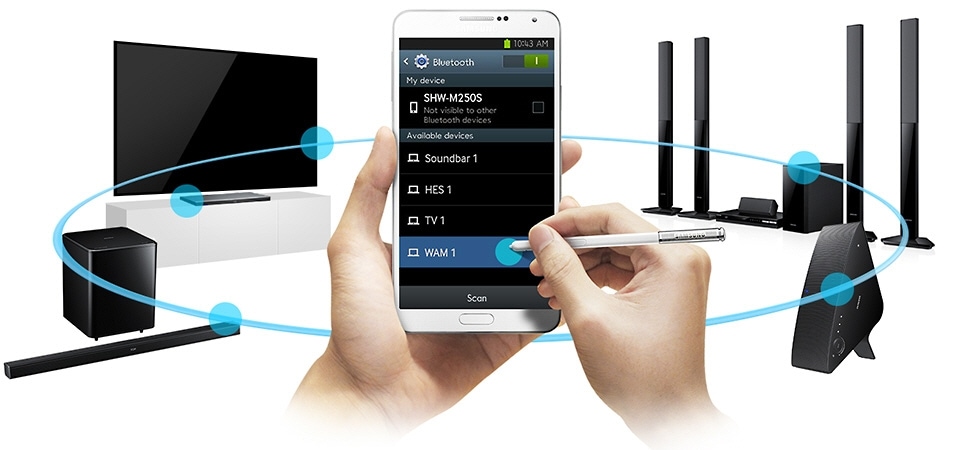 Now it's easy to enjoy your music anywhere in your home, from any source you own. The Samsung Multiroom mobile app remotely controls volume and music on your system across different devices, including your TV, Soundbar, Home Entertainment System and Blu-ray Disc Player. You can also use the app to create your own wireless surround sound system with multiple speakers.
Simple 3-step installation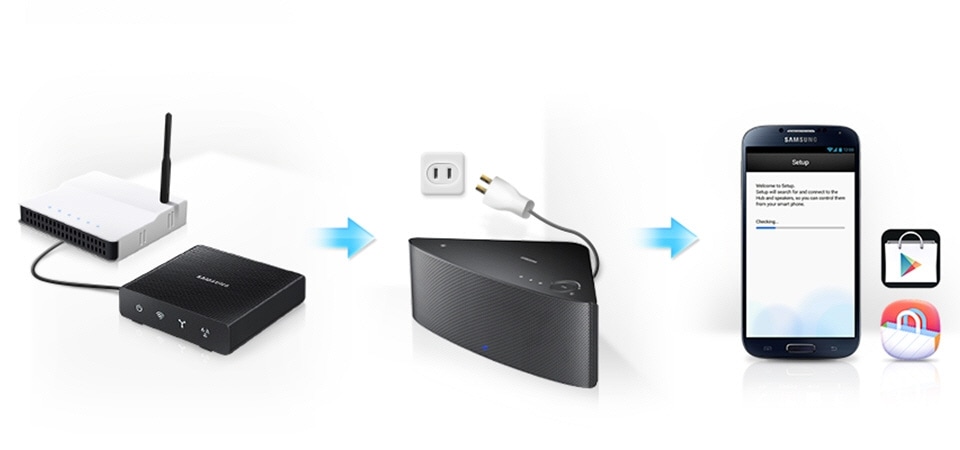 Your Samsung M Series speakers can be set up more quickly and easily than any other multi-room speaker system. The simple 3-step installation means you can enjoy great audio without delay. Plug & Play auto-connection streamlines the process of linking the hub to your router. After that, all you have to do is wirelessly pair it with the speakers and your devices. You can access all your music with no cables and no hassle at all.
The easiest way to access all your favourite tracks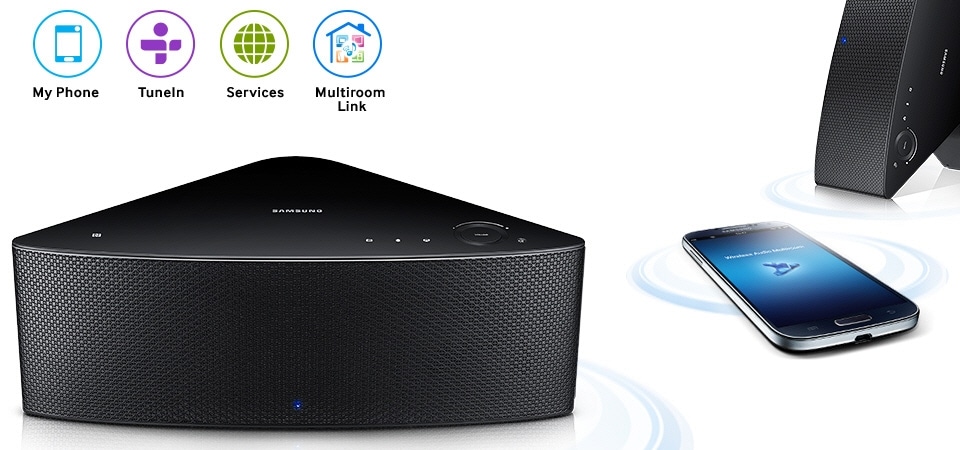 Now you can listen to all your favourite tracks, from all your devices, anywhere in your home. The Samsung M Series speaker brings all your music together in the palm of your hand. You can access your tracks wherever they're stored, which includes your smartphone, PC, tablet and more. You can also enjoy all your favourite online streaming music services such as Spotify, Deezer, Napster, Rdio and 8Tracks. Thanks to Bluetooth technology, pairing with compatible devices is quick and easy.
1.9 kg

Product Weight

250 x 113.5 x 145 mm

Product Dimension(WxHxD)

Built-in (2.4 / 5 GHz Dual Band)

Wireless LAN

Bluetooth

Bluetooth

Remote app (iOS / Android)

Remote Controller

Free Voltage

Free Voltage
Rated

1

out of

5
by
Gary
from
Disaster of a product
This is a terrible piece of equipment. I bought two of these and they haven't worked properly since I bought them more than six months ago. They repeatedly drop out of wifi, blue tooth doesn't work effectively, they repeatedly drop out of a group for no apparent reason and I can't play a song from my iTunes library without it saying that "current track token is empty". It plays the radio. That's it. Utterly useless and has turned me off Samsung completely.
Date published: 2015-12-31
User manual & Downloads
Live Chat
How It Stacks Up
* Gorkana (within a set list of TV and AV media. Jan - Dec 2015).
** Which? Best Buy awarded to R1,3,5