HW-H750 Wireless Multiroom Soundbar with built-in Valve Amplifier
HW-H750/XU
Sorry! This product is no longer available
4
Number of Sound Modes (DSP)
18 kg
Gross Weight (One Packing)
The most flexible way to grow your audio system
Now it's easy to enjoy your music anywhere in your home, from any source you own. The Samsung Multiroom Link mobile app remotely controls volume and music on your system across different devices, including your TV, Soundbar, Home Entertainment System and Blu-ray Disc Player. You can also use the app to create your own wireless surround sound system with multiple speakers. *
Enjoy ultimate sound quality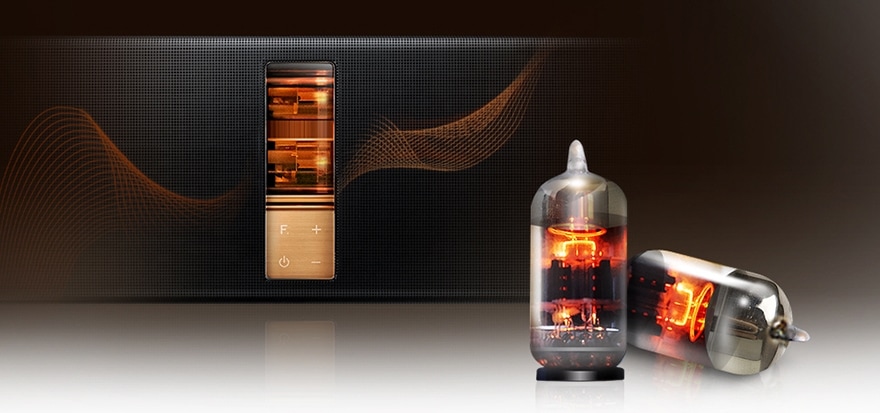 Make the most of amazing audio thanks to a vacuum tube amplifier. It delivers warm, rich and realistic sound that feels much more natural to your ears and immerses you in your entertainment. The built-in vacuum tube amp combines with digital amplifier technology to produce sound that is more pure and powerful while minimizing ambient noise and distortion, so you can enjoy your listening experience with great clarity.
Enhanced surround sound from a wider range of listening positions
With Surround Sound Expansion, your Samsung audio expands the optimal listening area and elevates the height of the sound to the level of the TV screen, so there is no disconnect like with conventional speakers, just richer surround sound that seems like its coming straight out of your TV. Now you can enjoy a realistic, lifelike sound experience with truly immersive surround effects.
Your mobile music ready to play when you are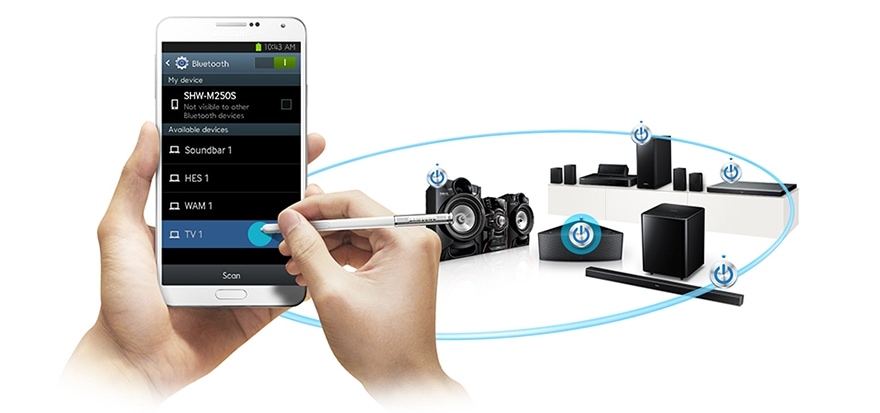 Thanks to Bluetooth compatibility, you can use your smartphone to turn your speakers on remotely. Pair the speakers and your smartphone once, and you can quickly and easily power on your speakers by selecting them on your smartphone. It's that simple. As long as the speakers are plugged into a power source, you can wake it up with just one touch and enjoy high quality audio.
The wireless way to upgrade your TV sound
Connect your TV and Soundbar easily through Bluetooth to gain better sound with TV Sound Connect. The absence of trailing wires between the Soundbar and TV allows you to showcase the slim and sleek design of both systems, while maintaining a clean look in your living environment. Easily control the Soundbar and TV from a single TV remote. You can simultaneously turn on and manage the volume of your TV and Soundbar with Bluetooth or HDMI connectivity.

※ TV Sound Connect is all available from 2013 Samsung 3D TVs except LED F6100.
4.1 Ch

Number of Channel

320W

Total Power

4

Number of Sound Modes (DSP)

18 kg

Gross Weight (One Packing)

1006 x 465 x 361mm

Gross Dimension (WxHxD): One Packing

49 W

Operating Power Consumption (Main)
User manual & Downloads
Live Chat
*Multiroom functionality available from 21st April 2014. Multi-channel functionality available from 9th May 2014.

Certain features with the Smart Hub may not be available without expressed consent regarding the collection and use of personal information. Content available through Smart Hub may vary among product categories, models and territories. Certain applications must be purchased and may not be available in all regions.