Samsung Climate Solutions
Innovations throughout the years
Samsung has been manufacturing air conditioners and challenging the status quo of the cooling and heating industry for over 40 years with a continuous drive to innovate.

It was in 1975 that we introduced our first residential air conditioner. Today, exactly 45 years later, Samsung continues to be at the forefront with air conditioners and heat pumps that feature new intelligent technologies to make our daily lives more comfortable and easier. Just as you would expect from Samsung.

We are proud to look back on the innovative technologies and designs we have developed over the past years for both residential and commercial solutions to optimise indoor comfort. Read about them now in the article.

Thanks to cutting-edge innovations in design and technology, we will continue to aspire to be a leader in the cooling and heating industry in the years to come.
1975
Samsung entered the residential air conditioning market with its first modern Room Air Conditioner (RAC), a wall-mounted indoor unit that provided homes with a comfortable indoor environment.
1975 – 2010
Over the next decades, Samsung invested heavily in the research and development of its air conditioning systems, continuously improving indoor comfort for businesses and homes. By the early nineties Samsung began to focus more on ducted and commercial-grade air conditioning and by 2008, a VRF system with a complete vapor injection compressor was launched with enhanced heating performance and improved energy efficiency.
2010

Eco Heating System TDM
The Samsung Eco Heating System TDM can produce water and heated or cooled air with a single outdoor unit. Up to 7 air-to-indoor units can be connected to the TDM to rapidly achieve a stable indoor temperature, while the air-to-water system delivers hot water to radiators, under-floor heating and sanitary water supplies. In 2017 the TDM Plus was launched with a new chassis and new communications protocol to communicate with commercial air conditioning.

2012

First Wi-Fi Control implemented in room air conditioner
Samsung introduced smart Wi-Fi Control to manage the room air conditioner with a smartphone1 at home: turn it on or off, switch between modes or change the temperature. Over the past years, Samsung has further innovated on the smart features of its air conditioners, such as the optional Wi-Fi Control for commercial applications that allows users to control up to 16 connectable indoor units. In 2020 the new geofencing functionality for commercial use allows the room temperature to be automatically set at the desired level when the user approaches within a preset distance of 100 m – 150 km from the building.
2015

360 Cassette, world's first circular air conditioner
The 360 Cassette is the world's first circular air conditioner that keeps occupants comfortable while fitting seamlessly into the design of any space. Due to its design, it is able to effectively and evenly discharge cool air with a horizontal and uniform airflow that is able to reach each corner of the room.

2016

HydroVariableMulti (HVM)
Samsung HVM (HydroVariableMulti) is a water-based, hybrid VRF (DVM) solution that offers ultimate flexibility – from design to installation to operation. HVM provides efficient cooling and heating all year long and offers the existing benefits of traditional VRF systems, with the added advantage of future-ready versatility. By adding our data management server, the HVM system turns into a water-based VRF system with its integrated and standardised control concept.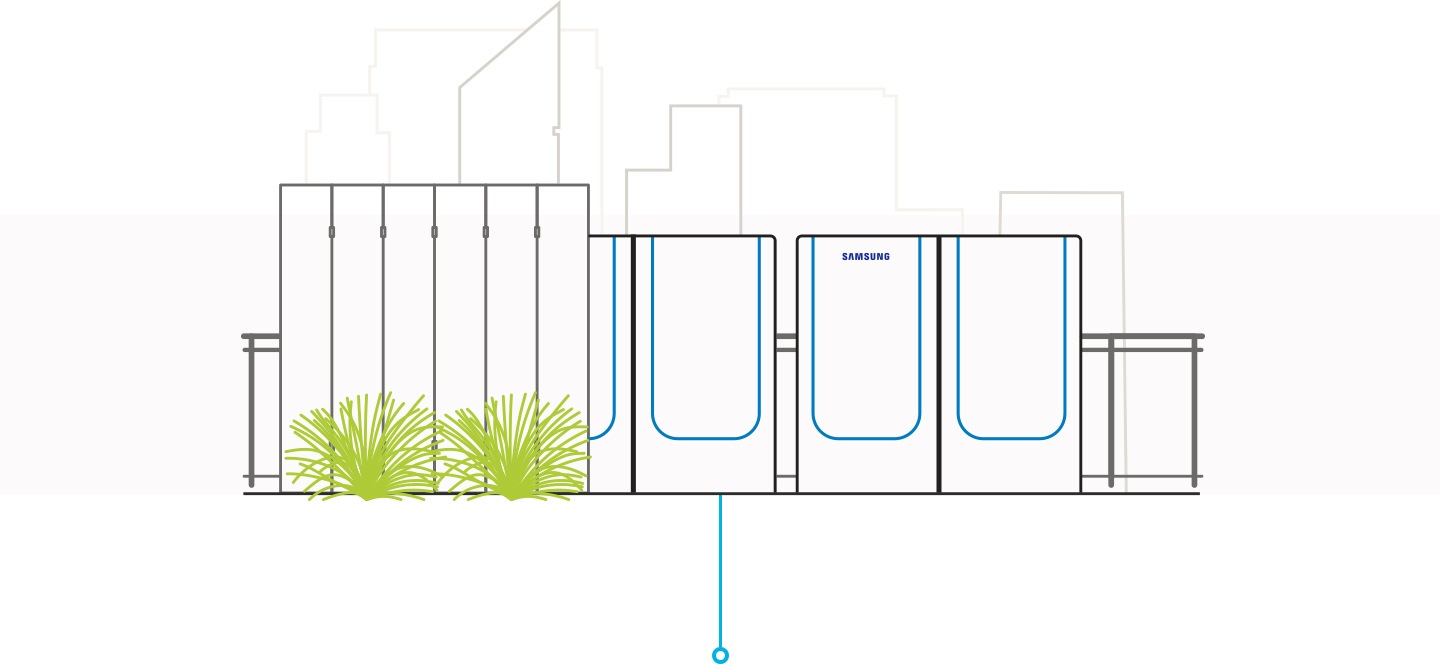 2017

First air conditioner with unique Wind-Free™ technology
Wind-Free™ Cooling disperses fresh air gently and evenly through thousands of micro-holes, creating "Still Air" conditions2. This allows people to live, work, and relax comfortably without experiencing unpleasant cold drafts.

2017

b.IoT
Samsung b.IoT (building Internet of Things) is a building management solution that is designed to efficiently manage various devices in your building and save on energy consumption. It is an open platform with various expandability and compatibility options, enabling the integrated control of the facility's major systems, such as VRF and third-party devices via BACnet interface.

2018

Air conditioner integrated in Samsung SmartThings platform
The Samsung air conditioners were integrated in the Samsung SmartThings app3 to further expand the smart home experience. Through the app, the user can check indoor temperature, outdoor temperature and air quality levels, and the app then recommends the optimal operating mode.
2020

Artificial
Intelligence implemented in room air conditioner
The 2020 Wind-Free™ wall-mounted range features AI Auto Comfort, which introduces an intelligent way of living by making use of Artificial Intelligence. Based on the user's preference and the temperatures outside, it automatically adjusts the temperature to optimise the room's climate conditions, guaranteeing total comfort at all times4.
2020 - …

We will continue to aspire to be a leader in the cooling and heating industry in the years to come
1 A Wi-Fi connection is required.
2 ASHRAE (the American Society of Heating, Refrigeration, and Air-Conditioning Engineers) defines "Still Air" as air currents moving at speeds below 0.15 m/s, with no cold drafts.
3 Available on Android and iOS devices. A Wi-Fi connection and Samsung SmartThings account are required.
4 A Wi-Fi connection and Samsung SmartThings account are required. Stores user data, preferences and usage patterns to suggest the most useful options.