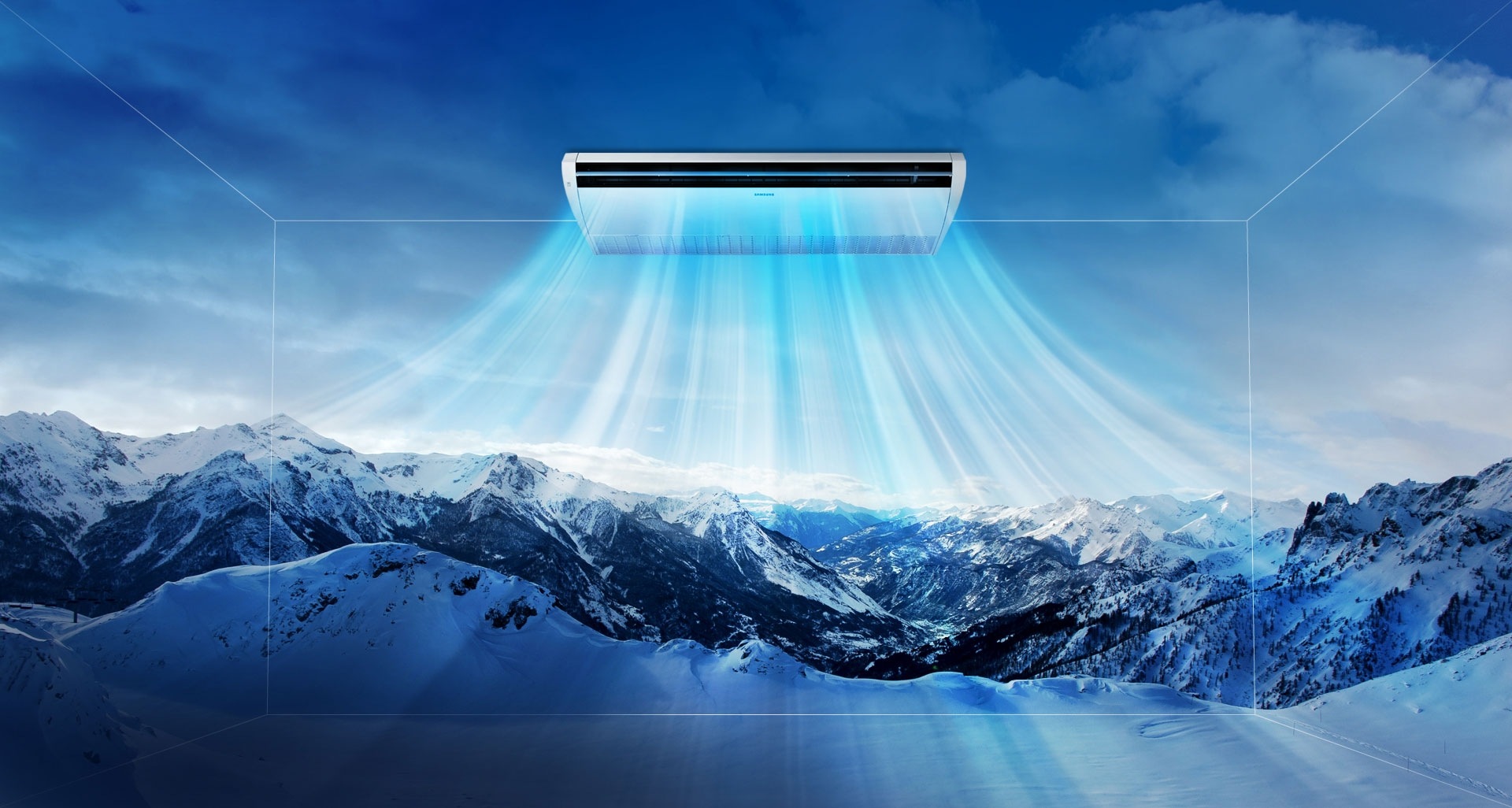 Cools more, cools faster
Samsung Big Ceiling is a simple and stylish indoor unit that delivers a powerful cooling performance. So as well as blending harmoniously into any workplace, it cools a larger area much faster.
Wide & Long distance cooling
Samsung Big Ceiling air conditioner's powerful cooling means you can cool a larger space in a shorter time. It blows cool air over a long distance, up to 15 m.
Gentle Drive
It creates a much more comfortable and productive work environment than ever before. An enlarged blade, single motor and enhanced fan mean its noise level is lower than other conventional models.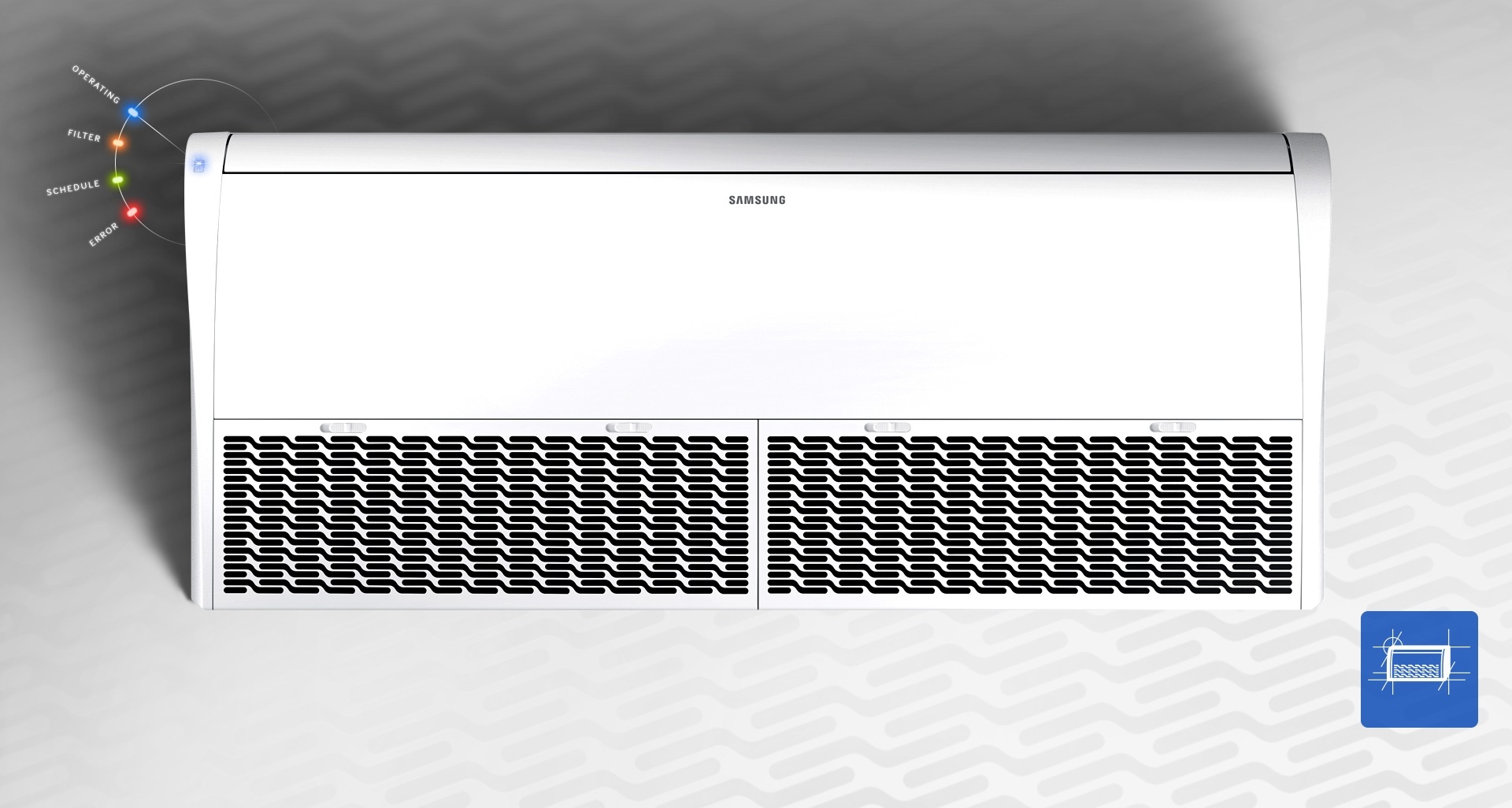 Simple & Unique Design
Air conditioning is essential in modern workplaces, so it might as well look good! Also, the simple & colourful display adds to the overall aesthetic, while also providing clear status information.
Filter Dust Alarm + Virus Doctor
It has Filter Dust Alarm that monitors the running time and air volume to precisely calculate when the filter needs cleaning. Also its optional Virus Doctor system also eliminates up to 99.7%.
High Elevation (up to 15 m)
It provides much greater flexibility as it can be installed even in places where the elevation is up to a height of 15 m – which is higher, or two storeys more, than conventional air conditioners.
Specification
Features
Model Name

Indoor Unit

AM140JNCDKH/EU

Power Supply (Indoor Unit) [Φ, #, V, Hz]
System
Capacity

Cooling [kW]

14 

Cooling [Btu/h]

47800 

Heating [kW]

16 

Heating [Btu/h]

54600 

Power Input (Nominal)

Cooling 1) [W]

160 

Heating 2) [W]

160 

Current Input (Nominal)

Cooling

1.45 

Heating

1.45 

Fan

Type

Sirocco Fan

Motor (Output) [W]

355 

Air Flow Rate (High / Mid / Low) [CMM]

36.4 / 30.8 / 26 

Air Flow Rate(High/Mid/Low)[L/S]

606.66 / 513.33 / 433.33

Piping Connections

Liquid Pipe (Φ, mm)

9.52 

Liquid Pipe (Φ, inch)

3/8"

Gas Pipe (Φ, mm)

15.88 

Gas Pipe (Φ, inch)

5/8"

Drain Pipe (Φ,mm)

VP25 (OD25, ID 20)

Field Wiring

Power Source Wire

1.5 ~ 2.5

Transmission Cable

0.75 ~ 1.5

Refrigerant

Type

R410A (Fluorinated greenhouse gas)

Control Method

EEV INCLUDED

Sound

Sound Pressure (High / Mid / Low) [dB(A)]

46 / 43 / 38 

Sound Power

63 dBA

External Dimension (Indoor Unit)

Net Weight(kg)

42.5 

Shipping Weight (kg)

48.5 

Net Dimensions (WxHxD) (mm)

1650 x 235 x 675 

Shipping Dimensions (WxHxD) (mm)

1739 x 758 x 321 
Manual Download
DVM, Ceiling, Heat Pump, 14.0 kW (AM140JNCDKH/EU)
Manuals

14 Jan, 2019

User Manual ver 03

(ENGLISH)

23 Jun, 2016

Safety Guide ver 1.0

(ENGLISH, DUTCH, FRENCH, GERMAN, GREEK, HUNGARIAN, ITALIAN, POLISH, PORTUGUESE, RUSSIAN, SPANISH)