Works smart, saves energy
An energy-efficient Digital Inverter 8-Pole maintains the desired temperature without frequently turning off and on. So it uses less energy* and helps you stay comfortable for long periods.
* Tested on AR09MSFHBWKNET compared with Samsung conventional model AQ09TSB.
Fast Cooling
Fast Cooling Mode cools much faster by running the compressor at the maximum level with the fastest fan speed for 30 minutes*. It's Digital Inverter 8-Pole also helps it quickly reach the maximum Hz when it starts.
* Tested on AR09MSFHBWKNET compared with Samsung conventional models.
Keeps the air clean
The 3 Care Filter keeps your air fresh and the inside of the unit clean. As well as capturing dust, it eliminates up to 99% of certain viruses, bacteria and allergens* as they pass through its dense filter mesh.
* Tested on TG07 ZEOMIC compared with TG07. Tested by FITI for Staphylococcus aureus, Klebsiella pneumoniae and Aspergillus niger. Tested by Japan Food Research labouratories for H5N1. Tested by Institute of Tokyo Environmental Allergy for Cry J1, Derf1.
Keeps comfortably cool
The 2-Step Cooling Mode begins cooling the air fast using its Fast Cool mode. It then automatically changes to Comfort Cool mode to maintain the desired temperature, so don't have to keep changing the settings.
Stable performance
Keeps going in the most challenging environments with Triple Protector Plus technology. It prevents overloads, without a separate voltage stabiliser*, has an anti-corrosive coating, and can endure extreme heat.
* Tested on AR09MSFHBWK compared with Samsung conventional model AR09HPSDFAP/RC.
Enjoy good night's sleep
Good Sleep mode creates the desirable climate for a good night's sleep. With its temperature control, it keeps you comfortable, so you fall asleep fast, sleep deeply, and wake up refreshed.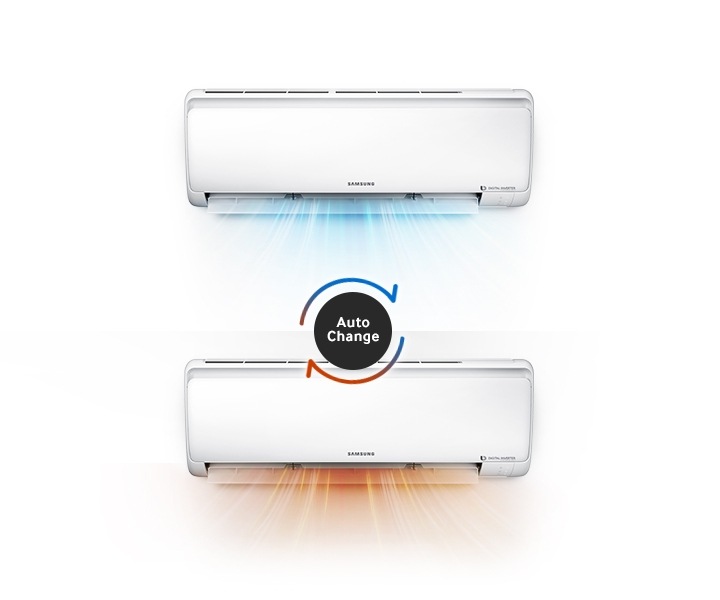 Automatic temp. control
Auto Change Over automatically selects the operating mode (cooling or heating) required to maintain the set temperature. So you can enjoy a consistently comfortable environment without continually changing settings.
Stays fresh
When the air conditioner is turned off the Auto Clean function automatically runs a fan to remove dust and moisture in the heat exchanger. So it stays clean and dry, which prevents the growth of bacteria and mildew.
Specification
Capacity

Capacity (Cooling, Btu/hr)

23203 

Capacity (Heating, Btu/hr)

26273 

Capacity (Cooling, Min - Max, Btu/hr)

4777 ~ 26956 

Capacity (Heating, Min - Max, Btu/hr)

4095 ~ 27980 

Capacity (Cooling, kW)

6.8 

Capacity (Heating, kW)

7.7 

Capacity (Cooling, Min - Max, kW)

1.4 ~ 7.9 

Capacity (Heating, Min - Max, kW)

1.2 ~ 8.2 

Capacity (Cooling, kJ/h)

24480 

Capacity (Heating, kJ/h)

27720 

Capacity (Cooling, Min - Max, kJ/h)

5040 ~ 28440 

Capacity (Heating, Min - Max, kJ/h)

4320 ~ 29520 

Energy Efficiency

EER (Cooling, W/W)

3.01 

COP (Heating, W/W)

3.01 

Energy Efficiency Class for cooling (Grade)

A++

Energy Efficiency Class for cooling (W/W)

6.1

Energy Efficiency Class for heating in 'Warmer' heating season (Grade)

A+

Energy Efficiency Class for heating in 'Warmer' heating season (W/W)

4.5

Energy Efficiency Class for heating in 'Average' heating season (Grade)

A

Energy Efficiency Class for heating in 'Average' heating season (W/W)

3.8

Noise Level

Sound Power Level(Indoor, Cooling, dBA)

63 

Sound Power Level(Outdoor, Cooling, dBA)

69 

Noise Level (Indoor, High/Low, dBA)

45 / 29 

Noise Level (Outdoor, High/Low, dBA)

54 

Electrical Data

Power Source(Φ/V/Hz)

1, 220 ~ 240, 50

Power Consumption(Cooling, W)

2260 

Power Consumption(Heating, W)

2560 

Operating Current(Cooling, A)

10.0 

Operating Current(Heating, A)

11.2 

Physical specification

Gross Dimension (Indoor, WxHxD, mm*mm*mm)

1125 x 290 x 375 

Gross Dimension (Outdoor, WxHxD, mm*mm*mm)

1023 x 911 x 413 

Net Dimension (Indoor, WxHxD, mm*mm*mm)

1065 x 298x 230 

Net Dimension (Outdoor, WxHxD, mm*mm*mm)

880 x 793 x 310 

Gross Weight (Indoor, kg)

13.8 

Gross Weight (Outdoor, kg)

55 

Net Weight (Indoor, kg)

11.4 

Net Weight (Outdoor, kg)

51 

Loading Quantity (20/40/40Hft without Pipe)

52 / 108 / 124

Loading Quantity (20/40/40Hft with Pipe)

52 / 108 / 124

Technical Information

Piping Length (Max, m)

30 

Piping Height (Max, m)

15 

SVC Valve (Liquid (ODxL))

6.35

SVC Valve (Gas (ODxL))

15.88

Moisture Removal (l/hr)

2.5 

Air Circulation (Cooling, m³/min)

18.3 

Refrigerant (Type)

R410A (Fluorinated greenhouse gas, GWP = 2088)

Refrigerant (Charging, kg)

1.5 

Refrigerant (Charging, tCO2e)

3.14 

Low Ambient (Cooling, ℃)

-10 - 46 

Low Ambient (Heating, ℃)

-15 - 24 

Outdoor Unit (Compressor Type)

8-POLE

Outdoor Unit (Anti-Corrosion Fin)

Yes

Air Flow

Air Direction Control (Up/Down)

Auto

Air Flow Control Step (Cool/Fan)

5/4

Air Purification

Allergy Care

Yes

Anti-Bacteria

Yes

Auto Clean (Self Cleaning)

Yes

Virus Doctor

No

Convenience

Smart wifi

No

Filter Cleaning Indicatior

No

Indoor Temp. Display

No

Display On/Off

Yes

Beep On/Off

Yes

24-Hour Timer

Yes

Auto Changeover

Yes

Auto Restart

Yes

Operating Mode

2 Step Cooling

Yes

Fast Cool

Yes

Comfort Cool

Yes

Dlight Cool

No

Good Sleep

Yes

Single User Mode

Yes

Dehumidification

Yes

Fan Mode

Yes
Manual Download
FJM, Wall Mount Maldives, Inverter HP, Non-SPI (AR24MSFPEWQNEU)
Manuals

14 Dec, 2016

User Manual ver 00

(ENGLISH)