Wireless Enterprise
WE VoIP
At Samsung, we are proud of our reputation as the world's number one telephone manufacturer. The Samsung WE VoIP solution is a smartphone application specifically designed for business users working not only remotely, but also in-house. This tool incorporates a 3G dialler, HD voice technology and WLAN handover capabilities to bring professionals a simple, hassle-free user experience and provide a clear telecommunications service. Compatible with Samsung Communications Manager (SCM), this solution provides conference calling, transferring, call back later and hold functions. In addition, business data and contacts are made available to facilitate collaboration with colleagues.

Combined Mobile and VoIP Dialling
Unlike other mobile telephony systems, the Samsung Mobile VoIP application is integrated with a basic 3G dialler, enabling it to operate just like a standard mobile phone. Convenient log management features let users distinguish between mobile and VoIP phone calls within a call record list. Both modes are fully integrated, and it is possible to receive or reject incoming calls when in VoIP mode. For added convenience, VoIP contacts can be customised to enable direct connection from the select screen.
HD Voice for Clearer Quality
Clear sound and high quality are provided via the tone tuning feature available with Samsung Voice Engine technology. This operates with wideband and super wideband codec such as AMR-WB and Silk to deliver business users a more reliable, uninterrupted service. Stable performance is further guaranteed by fast handover between access points (APs), minimising downtime for better all-round call quality.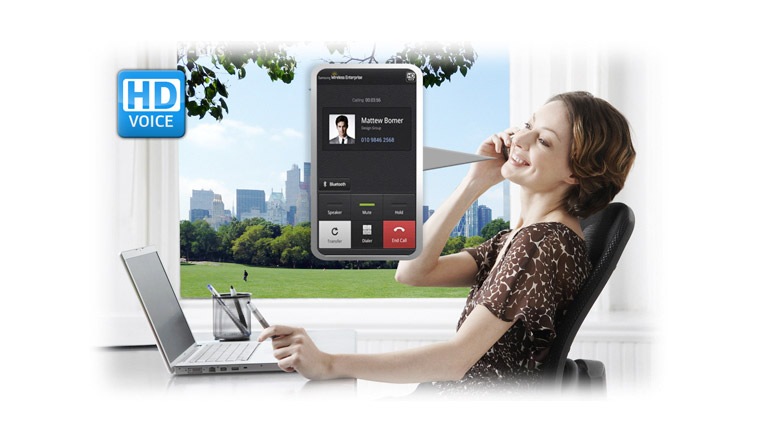 Greater Flexibility with Call Control
Multiple options are available to offer a flexible communications experience. Users can elect to "Receive" or "Reject" incoming calls, or to postpone those via the "Hold" function, or just to "Call back later", either via voicemail or via the saved contact. Additionally, it is possible to carry out teleconferencing, and there are speakerphone and recording capabilities for further convenience.