Event
Samsung captivates the class at BETT 2017
BETT returned to ExCeL London between 24th and 27th January 2017, welcoming over 35,000 guests keen to explore the latest technology and IT solutions for education.
Nov 07. 2017
Now in its 33rd year, BETT is one of the biggest events in the education calendar – attracting teaching professionals, education experts, IT decision makers and more from all across the globe.

On top of a full line-up of insightful seminars and guest speakers – including actor Sir Tony Robinson, Grammy-winning composer Imogen Heap, and world-class chef Heston Blumenthal – were hundreds of brands, manufacturers and suppliers exhibiting their latest educational products and services.
Samsung captivates the class

BETT 2017 gave Samsung the opportunity to show everyone involved with education just how great our products are for teachers and students alike. Not everyone immediately connects Samsung with education, but BETT showed just how committed to it we are. Our ecosystem of connected devices – interactive Displays, LED screens, tablets, 360 cameras, VR, networks, printers and third-party learning platforms, help to create an enhanced learning environment that brings subjects to life, encourages collaboration and controls the classroom.

Our Interactive Displays are at the heart of this ecosystem, and we were keen to showcase just what they could do at BETT.

During the event we teamed up with key partners to demonstrate the Interactive Displays' full capabilities. Software provider, Educational App Store joined us alongside eTextbook platform Kortext and innovative enterprise Class Of Your Own to put the displays through their paces and give visitors a real feel for how they can be used in a classroom environment.

We also had the pleasure of partnering with schools and students that use our technology on a day-to-day basis in their classrooms. They advocated and demonstrated our Interactive Displays to visitors, highlighting how they're capable of breaking down complex subjects into manageable and enjoyable learning experiences.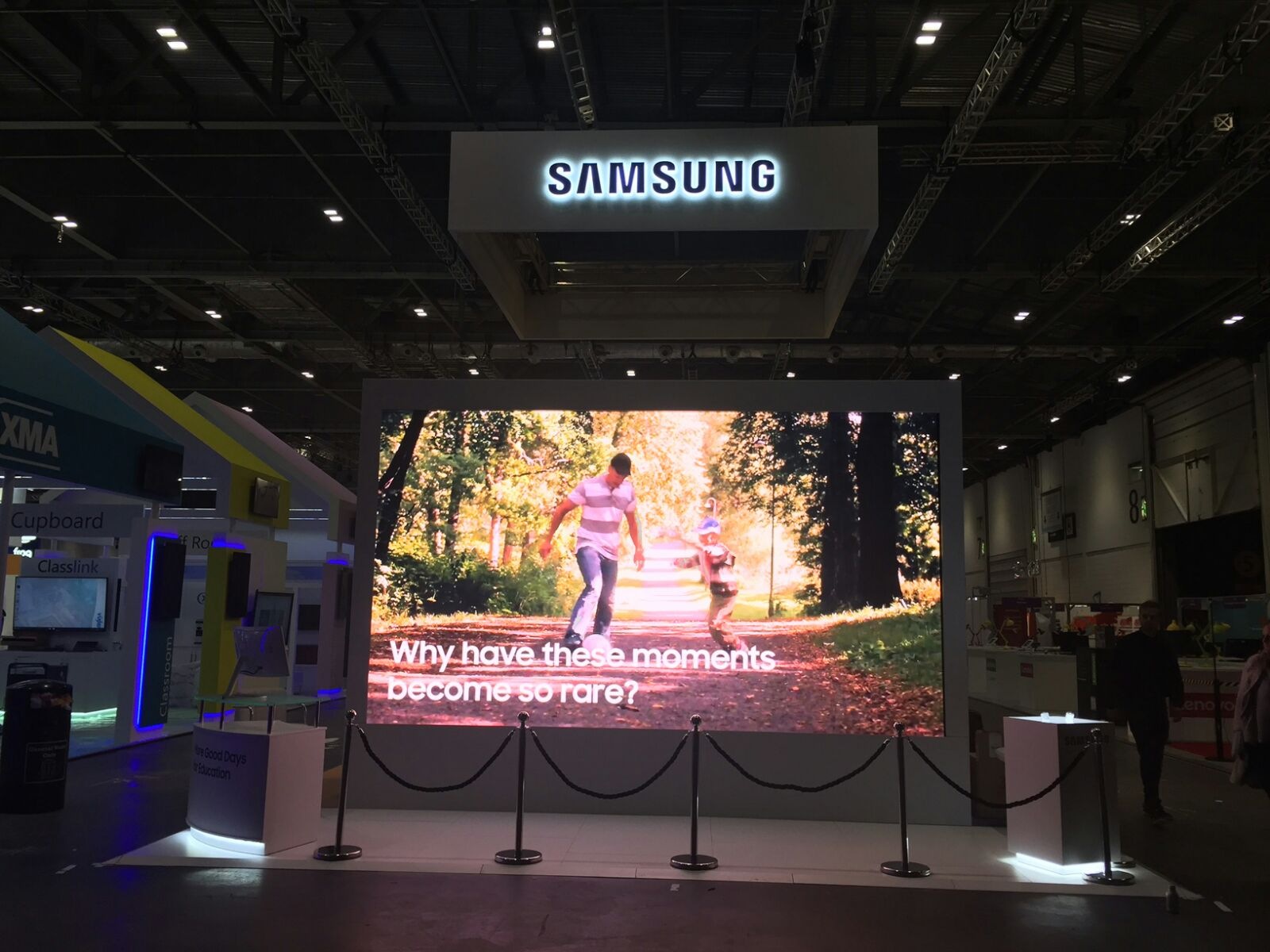 VR also proved immensely popular with visitors, who could experience virtual reality first hand by wearing one of our Gear VR headsets. For schools, the possibilities for creating classroom-friendly VR content that brings to life subjects such as history, geography and science are endless.

But perhaps the most eye-catching element of our exhibition area was the big, bright and bold LED screen which stood next to BETT's main stage. The large display showed pixel-perfect footage of our key success stories in Display and More Good Days story, attracting visitors to our stand to see more and learn about our smart signage solutions.

Speaking on the success of the day, B2B Display Marketing Manager Alison Hall, said: "BETT was the ideal opportunity for Samsung to show how committed we are to Education and to developing and delivering the best products to address the needs and challenges teachers and educational leaders face today. We welcomed visitors from more than 40 countries and our dedicated team gave more than 470 demonstrations on our interactive display boards."

To learn more about our Interactive Displays click here

Follow us on LinkedIn and Twitter to keep up to date with the latest events and Samsung products.